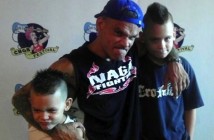 Founding (but ex-) Cro-Mags bassist Harley Flanagan - who has been in the news a bit lately for stabbing two people - still apparently has supporters. Some devoted fans have launched an ambitious fundraiser to try and assemble $50,000 to cover Flanagan's bail and legal fees. They explained their surprising reasons:

On Friday, [Harley was involved] in an incident at Weber Hall. All of the details arent out, though certain stories are being bandied about in the court of public opinion.[…] Everybody knows Harley; he doesnt react short of reason.So he didn't just show up and do things because it was a dull Friday and he was bored. When I last heard anything from him, he was exceedingly happy about passing his black belt test, and wasnt even discussing the Cro Mags. […]The guy is a legend.And right now he's up against it big time,and needs a helping hand.
As of right now, the group has raised just shy of $600, but with 117 days left till the close of the fundraiser.
As for Harley himself, he recently spoke to New York Natives about the issue and said that: " all of his actions were in self defense.."