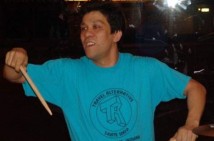 Another story of inter-band fighting, but this time with more tragic consequences. Steven Pratt was most recently of Fullerton band Poop but also multiple Indianapolis rock bands dating back to the 1980s. Poop also notably included Rikk Agnew of The Adolescents and Christian Death.
According to a report from the OC Register, Steven was beaten to death on Tuesday during an altercation at the band's Fullerton rehearsal studio. The group's bassist Jacob Leeroy Bach was taken into custody. Both men was found bleeding outside the studio just before 6:30 a.m. and were taken to UCI Medical Center. Both were admitted to the hospital, where Pratt died of his injuries.
Our condolences to his friends and family.