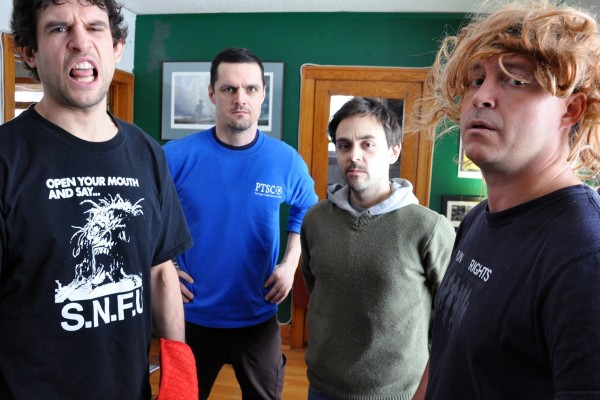 Hot on the heels of the trailer we brought you yesterday, Propagandhi are streaming the title track from their upcoming album, Failed States. The album is due out September 4, 2012.
In related news, though it's one of the worst kept secrets, the veteran band will be releasing the record through Epitaph Records. But you all figured that out already. Vocalist Chris Hannah commented:

Our goal is always to create a no-holds-barred, forward-thinking, tip-of-the-hat to the giants -- Voivod, Rush, NoMeansNo, SNFU, Sacrifice, Razor, Guilt Parade – that have gone before us. We are in their debt and take the mission seriously. Even when we're singing about liking Kurt Russell as Captain Ron, we take the mission seriously. Failed States is our most formidable – and to me personally, our most surprising -- attempt at conjuring the numinous from the quotidian. Yes, I had to look those words up."
You can pre-order the album on CD or LP along with some shirts exclusive to the pre-order here.
Note to Self
Failed States
Devil's Creek
Rattan Cane
Hadron Collision
Status Update
Cognitive Suicide
Things I Like
Unscripted Moment
Dark Matters
Lotus Gait
Duplicate Keys Icaro (An Interim Report)