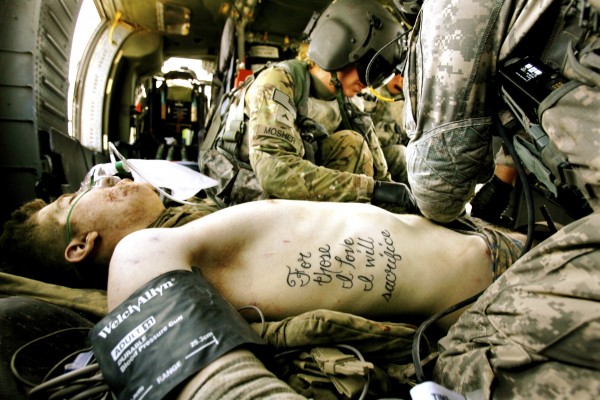 Justin Brannan, of Indecision and (more recently) Most Precious Blood, was recently introduced to Pfc. Kyle Hockenberry, a wounded serviceman who had tattooed lyrics from Indecision's song, "Hallowed Be Thy Name" from To Live and Die in New York City. The tattoo in question read: "For those I love I will sacrifice" and had become a popular slogan with New York cops, firefighters and soldiers. Hockenberry got the ink just three weeks before being deployed to Afghanistan where he lost both legs and his left arm in a roadside explosion.
Brannan has had an unusual career since Indecision split in 2000 - spending time at doomed bank, Bear Sterns and running for the New York State Senate. He is currently an aide to Councilman Vincent Gentile (D-Brooklyn) Justin was made aware of the tattoo when it was photographed by Stars & Stripes last year, gaining Kyle (and Justin) national attention.
Since then, he began selling shirts with the slogan. All proceeds will go on Hockenberry's behalf to the Stephen Siller Tunnel to Towers Foundation, which raises money to build "smart" homes for wounded soldiers.
Find the New York Post report here. The original song can be streamed here.