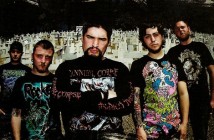 A few months after the story first broke, metalcore outfit All Shall Perish was able to get their label and distributor to stop suing people for illegally sharing their last album, This is Where it Ends. The suit was launched by a Panama-based company called World Digital Rights. The label issued this statement:

To be able to recoup the investments [we] have made, is crucial in order to produce new music and to survive in this business. Nuclear Blast, SKP Enforcement, and World Digital Rights want people to be aware that the peer-to-peer file sharing is illegal and hurts the bands and record companies they love.

That said, Nuclear Blast also respects bands such as All Shall Perish that do not wish to pursue file sharers. [They were] not consulted about this course of action and did not wish to participate in it whatsoever. When they learned about it, they immediately asked us to cease all legal action against their fans, file traders or otherwise, as soon as they learned this action had been taken in their name. Therefore Nuclear Blast and World Digital Rights decided recently to stop legal actions against the file sharing with songs from the band All Shall Perish.
(Of course, this only rules out suits involving All Shall Perish.)