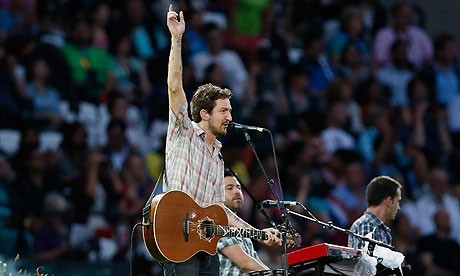 Frank Turner just completed a performance at the opening ceremonies of the 2012 Olympic Games. Turner was asked to perform by visionary director Danny Boyle (Sunshine, 127 Hours, Shallow Grave) and performed a short three song, fifteen minute warm-up set prior to the Olympics Opening Ceremony. The audience of 200,000 spectators watched as Frank performed his somewhat subversive hit, "I Still Believe."
Of course, besides the 200,000 people in the stadium, an estimated 25 million people are believed to have tuned in to watch. Other performers tonight include Dizzee Rascal and Paul McCartney. Turner commented on the show:

Being asked to play the opening ceremony was something I never imagined was going to happen in my wildest most feverish dreams; but the fact that Danny Boyle asked me personally, as a fan, convinced me to do it. It's a pretty terrifying prospect, but I'm secretly pretty happy to be part of it, it's a once in a lifetime thing.
No clips are available yet, so you can click Read More for the original video for the song.
Update: