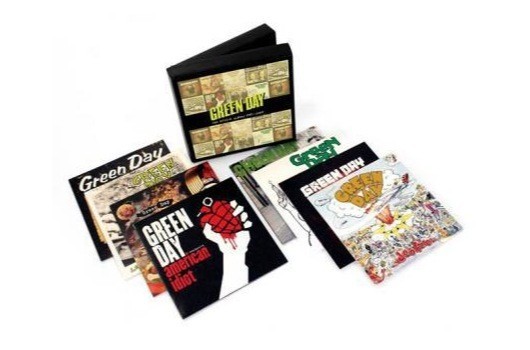 Green Day has announced plans to release The Studio Albums (1990-2009); as you might guess from the name, it will include every one of the band's albums prior to the upcoming release of ¡Uno!, ¡Dos! and ¡Tré!. Due out September 4, 2012, the Best Buy-exclusive release don't appear to include any bonus material or remastering but includes eight albums, each in an individual CD paper-sleeve with original artwork, housed in a clamshell box.
Also, while it is being issued by the band's currently label Reprise, it does include the band's Lookout! Records releases which the band had to take back from the label after claiming significant unpaid royalties. It was by no means the only band to do so, but was certainly the highest profile defection from the then-suffering label. The label did continue on in some form until earlier this year.
The full list of albums in the box is: 1,039/Smoothed Out Slappy Hours , Kerplunk! , Dookie , Insomniac , Nimrod , Warning , American Idiot , and 21st Century Breakdown.