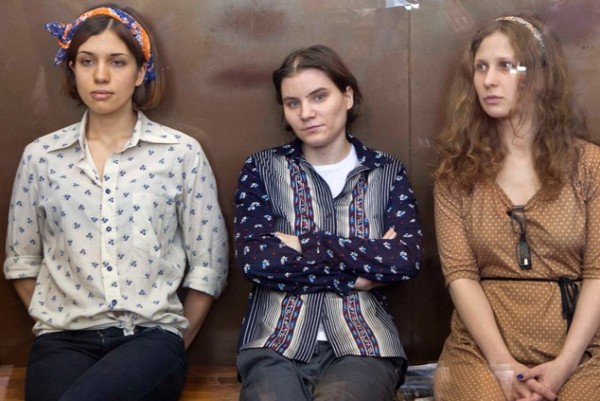 Reports have come in that Russian activist punk collective Pussy Riot have been found guilty of "hooliganism motivated by religious hatred." The band members, including Nadezhda Tolokonnikova, 22, Yekaterina Samutsevich, 30, and Maria Alyokhina, 24, were convicted on Friday after staging a protest performance in Moscow's cathedral. Sentencing has not yet occurred. We'll share more details as they arrive.
The Huffington Post is reporting that before the verdict Samutsevich commented that, regardless off the outcome of the trial, the ordeal served to highlight the oppressive nature of Putin's regime. She commented, "The system cannot conceal the repressive nature of this trial… Once again, the world sees Russia differently than the way Putin tries to present it at his daily international meetings."
We've been following Pussy Riot's activity since early February. The group's arrest has since been condemned worldwide and the trial this week has become international headline news.