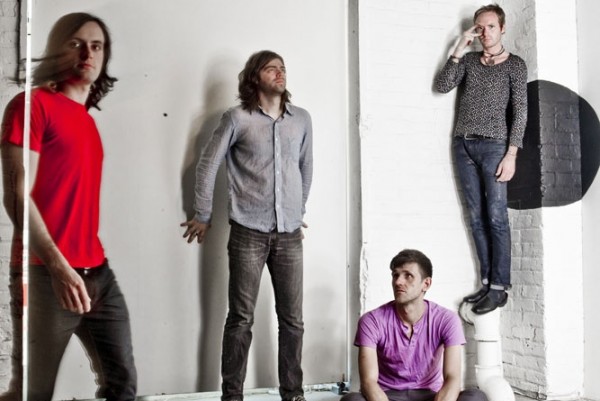 Saddle Creek Records electro/punk outfit The Faint are the latest act to get the reissue treatment. The label will be releasing a remastered deluxe version of the band's 2001 album, Danse Macabre on October 30, 2012.
The deluxe release will feature the original album, along with six bonus tracks, an extensive booklet, and a DVD with archival video footage from the band, live projection videos from that era's tour dates, the "Agenda Suicide" music video, live footage, and more. You can check out one of the remastered bonus tracks from the release "Take Me To the Hospital" by clicking Read More .
The band has also announced a full album tour in November.
| Date | City | Venue | With |
| --- | --- | --- | --- |
| November 8, 2012 | Denver, CO | Ogden Theatre | Trust |
| November 9, 2012 | Salt Lake City, UT | In The Venue | Trust |
| November 10, 2012 | Reno, NV | Knitting Factory | Trust |
| November 13, 2012 | Vancouver, BC | Commodore Ballroom | Trust |
| November 14, 2012 | Portland, OR | Roseland Theater | |
| November 16, 2012 | Sacramento, CA | Ace of Spades | Trust, Casket Girls |
| November 17, 2012 | San Francisco, CA | Regency Ballroom | Casket Girls |
| November 20, 2012 | San Diego, CA | House of Blues | Casket Girls |
| November 23, 2012 | Phoenix, AZ | Crescent Ballroom | Trust, Casket Girls |
| November 24, 2012 | Las Vegas, NV | House of Blues | Trust, Casket Girls |
| November 27, 2012 | Dallas, TX | House of Blues | Trust, Icky Blossoms |
| November 28, 2012 | Austin, TX | Emo's East | Icky Blossoms |
| November 30, 2012 | Nashville, TN | Cannery Ballroom | Trust, Icky Blossoms |
| December 1, 2012 | Atlanta, GA | The Masquerade - Heaven Stage | Trust, Icky Blossoms |
| December 2, 2012 | Asheville, NC | The Orange Peel | Icky Blossoms |
| December 5, 2012 | Washington, DC | 9:30 Club | Trust, Icky Blossoms |
| December 6, 2012 | Philadelphia, PA | Trocadero | Trust, Icky Blossoms |
| December 7, 2012 | New York, NY | Terminal 5 | Trust, Icky Blossoms |
| December 8, 2012 | Boston, MA | Paradise Rock Club | Trust, Icky Blossoms |
| December 9, 2012 | Montreal, QC | Club Soda | Trust, Icky Blossoms |
| December 11, 2012 | Toronto, ON | Sound Academy | Trust, Icky Blossoms |
| December 12, 2012 | Chicago, IL | Metro | Trust, Icky Blossoms |
| December 13, 2012 | Minneapolis, MN | First Avenue | Trust, Icky Blossoms |
| December 14, 2012 | Omaha, NE | Sokol Auditorium | Trust, Icky Blossoms |