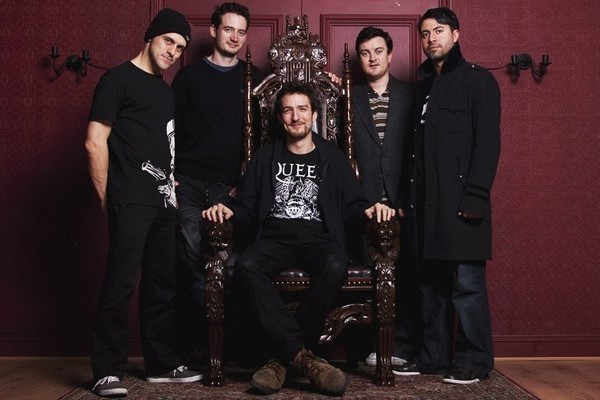 Sometime after his imminent US tour, Frank Turner will be headlining a run through the UK leading into the end of the year. The musician has a new DVD due out soon. The bulk of the shows are full band performances with The Sleeping Souls but Frank is also planning a handful of solo shows at the every end.
The US release is titled Last Minutes and Lost Evenings and is due out October 2, 2012 via Anti- while the UK edition is called Live From Wembley and is due out September 3, 2012 via Xtra Mile.
In related news, Frank's hardcore band, Mongol Horde, have premiered another new song. You can find a studio recorded version of "Tapeworm Uprising".
Mongol Horde: "Tapeworm Uprising"
Frank Turner UK Tour
| Date | City | Venue | With |
| --- | --- | --- | --- |
| November 11, 2012 | Nottingham, UK | Rock City | The Sleeping Souls (Full Band) |
| November 12, 2012 | Leeds, UK | O2 Academy | The Sleeping Souls (Full Band) |
| November 13, 2012 | Liverpool, UK | O2 Academy | The Sleeping Souls (Full Band) |
| November 14, 2012 | Swansea, UK | Brangwyn Hall | The Sleeping Souls (Full Band) |
| November 15, 2012 | Reading, UK | Hexagon | The Sleeping Souls (Full Band) |
| November 17, 2012 | Newcastle, UK | O2 Academy | The Sleeping Souls (Full Band) |
| November 18, 2012 | Edinburgh, UK | HMV Picture House | The Sleeping Souls (Full Band) |
| November 19, 2012 | Sheffield, UK | O2 Academy | The Sleeping Souls (Full Band) |
| November 20, 2012 | Norwich, UK | UEA | The Sleeping Souls (Full Band) |
| November 22, 2012 | Margate, UK | Winter Gardens | The Sleeping Souls (Full Band) |
| November 23, 2012 | Wolverhampton, UK | Civic Hall | The Sleeping Souls (Full Band) |
| November 24, 2012 | Leamington Spa, UK | Assembly | The Sleeping Souls (Full Band) |
| November 25, 2012 | Lincoln, UK | Engine Shed | The Sleeping Souls (Full Band) |
| November 26, 2012 | Oxford, UK | O2 Academy | The Sleeping Souls (Full Band) |
| November 28, 2012 | Brighton, UK | Corn Exchange | The Sleeping Souls (Full Band) |
| November 29, 2012 | Southampton, UK | Guildhall | The Sleeping Souls (Full Band) |
| November 30, 2012 | Truro, UK | Hall For Cornall | The Sleeping Souls (Full Band) |
| December 01, 2012 | Bath, UK | Pavillion | The Sleeping Souls (Full Band) |
| December 06, 2012 | Cork, Ireland | Cypress Avenue | (Solo) |
| December 07, 2012 | Galway, IE | Roisin Dubh | (Solo) |
| December 08, 2012 | Belfast, UK | LImelight | (Solo) |
| December 09, 2012 | Dublin, Ireland | Whelans | (Solo) |
| December 10, 2012 | Dundee, UK | Fat Sams | (Solo) |
| December 11, 2012 | Inverness, UK | Ironworks | (Solo) |
| December 12, 2012 | Aberdeen, UK | Lemon Tree | (Solo) |
| December 15, 2012 | Munster, Germany | Grand Munster Slam | The Sleeping Souls (Full Band) |