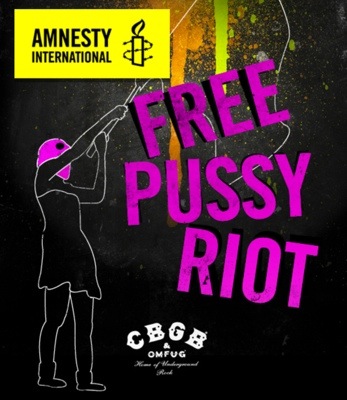 More figures have lined up to support Pussy Riot and their battle against the Russian judicicial system which sentenced the three activists to two years in a prison colony over their protest of the Putin government.
Yesterday, according to a Rolling Stone report, Pink Floyd's Roger Waters, Peter Gabriel, No Reservations host Anthony Bourdain, Hole's Patty Schemel, Cheap Trick's Bun E. Carlos and the family of the Ramones' Joey Ramone, have signed a joined letter from the current owners of CBGB and Amnesty International. Tim Hayes and Louise Parnassa Staley - who currently hold the CBGB name - explained:

Amnesty International had 100,000 signatures and took them to the Russian Embassy in Washington, and were physically removed from the building. They had a scheduled meeting and presented them with the names, and the Russian officials immediately asked them to leave. They said they were leaving the petitions behind and the Russian officials refused to accept them and physically escorted them from the building and threw the petitions on the curb.

After that happened, [we] decided to take the single letter signed by the celebrities and hand-deliver it to the prosecutor's office in Moscow. While we were in Moscow, we went to a Pussy Riot rally, and we met with family members and Nadia Tolokonnikova's husband. Nadia really runs Pussy Riot, and she's been in prison for five months. We met with their legal team and other supporters, and spent the weekend working with them and helping to organize more ways to globally help keep pressure on the [Vladimir] Putin administration. [Pussy Riot] think that the Putin election was unfair, and that he shouldn't be in office – that he cheated, that the election was fraudulent. And that he suppresses freedom of expression, freedom of speech.
You can find more on the Amnesty International page on the issue.