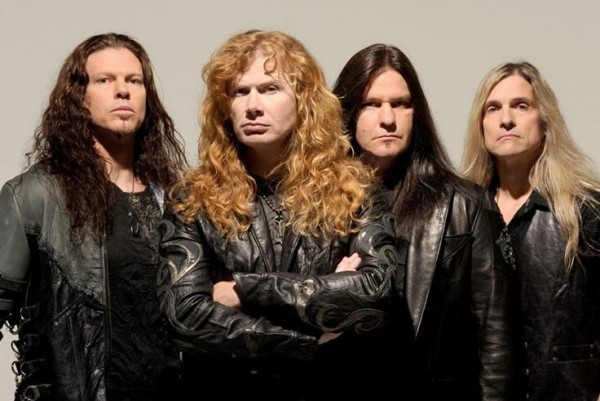 Though it seems like frontman Dave Mustaine is getting more attention these days for slightly deranged and paranoid theories, his band Megadeth will soon celebrate the 20th anniversary of their most successful album, 1992's Countdown to Extinction.
Due out November 6, 2012, the deluxe double CD release will be in a "lift-top box" and include the remastered album with a 1992 concert, recorded live at San Francisco's Cow Palace. The concert audio has been newly remixed for this release. The physical and digital versions both include a booklet with a new liner notes essay by music journalist Kory Grow, and the 2CD box also contains a 24" x 36" poster and four collectible postcards.
The current lineup of the band will also celebrate the release with a headlining tour set to begin in November.
Remastered Album
Skin O' My Teeth
Symphony Of Destruction
Architecture Of Aggression
Foreclosure Of A Dream
Sweating Bullets
This Was My Life
Countdown To Extinction
High Speed Dirt
Psychotron
Captive Honour
Ashes In Your Mouth
Live At Cow Palace, 1992
Intro
Holy Wars…The Punishment Due
Skin O' My Teeth
Wake Up Dead
Hangar 18
Countdown To Extinction
Foreclosure Of A Dream
This Was My Life
Lucretia
Sweating Bullets
In My Darkest Hour
The Conjuring
Tornado
Ashes In Your Mouth
Symphony Of Destruction
Peace Sells
Anarchy In the UK
| Date | City | Venue |
| --- | --- | --- |
| November 9, 2012 | Providence, RI | Lupo's at the Strand |
| November 10, 2012 | Huntington, NY | Paramount Theatre |
| November 11, 2012 | Worcester, MA | The Palladium |
| November 13, 2012 | Wallingford, CT | Oakdale Theatre |
| November 14, 2012 | Sayreville, NJ | Starland Ballroom |
| November 16, 2012 | Atlantic City, NJ | House Of Blues |
| November 17, 2012 | Niagara Falls, NY | Rapids Theatre |
| November 19, 2012 | Stroudsburg, PA | Sherman Theater |
| November 20, 2012 | Columbus, OH | LC Pavilion |
| November 24, 2012 | Myrtle Beach, SC | House Of Blues |
| November 25, 2012 | Charlotte, NC | Fillmore |
| November 26, 2012 | Atlanta, GA | The Tabernacle |
| November 28, 2012 | Kansas City, MO | Midland Theatre |
| December 1, 2012 | Salt Lake City, UT | Great Saltair |
| December 2, 2012 | Boise, ID | Knitting Factory |
| December 4, 2012 | Reno, NV | Grand Sierra Theatre |
| December 6, 2012 | Las Vegas, NV | House Of Blues |
| December 7, 2012 | Pomona, CA | Fox Theatre |