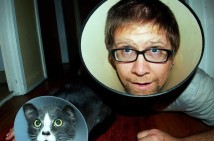 UPDATE: We've officially wrapped this little shindig up. Thanks everyone who posted questions and (of course) huge thanks to Todd Congelliere for taking part. You can see the complete Q&A below.
In an effort to bring you ever closer to the artists and people who make Punknews what it is, we're kicking off a new series called, "We'll do it Live." Here you have a chance to engage in a live question and answer session with a variety of different artists. And who better to kick this project off than Todd Congelliere. Congelliere plays in Toys that Kill, Underground Railroad to Candyland and F.Y.P. (all of whom are playing at Fest 11 in October). Additionally, he operates Recess Records (home to The Arrivals, Screeching Weasel, Japanther, Stoned At Heart and all of Congelliere's own bands).
So if you have a burning question for Todd Congelliere post it in the comments section and look for a response via user name ToddCongelliere.
As this is not a typical story, in that we've asked Congelliere to be here, we will have editors watching the comments section and we may delete comments that are harassing or unnecessarily rude or offensive. We'd like to keep this as an ongoing series but it requires cooperation, so play nice and everyone can get something cool out of this.