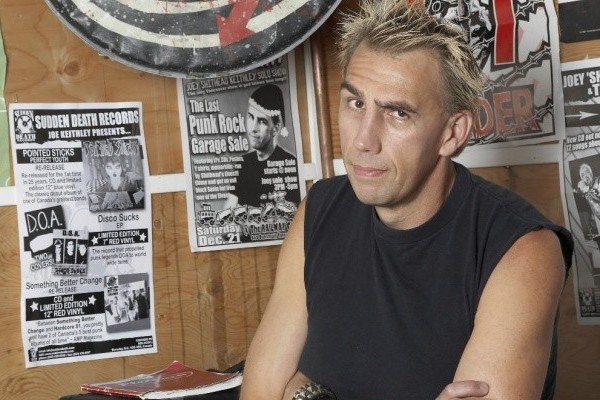 Tonight marks the first stop on D.O.A.'s farewell tour. Given frontman Joe Shithead Keithley's foray into provincial politics this may be the band's last set of shows for some time (and potentially their last ever). The veteran punk band is celebrating their 35th anniversary and supporting the release of their 14th studio album We Come In Peace.
Tonight's show in Peterborough, ON kicks off a set of Ontario, Quebec and Maritimes dates including a stop at the Halifax Pop Explosion Festival. Western Canadian dates are to be announced.
Keithley is seeking the New Democratic Party (NDP) nomination in the British Columbia riding of Coquitlam–Burke Mountain. In both the 1996 and 2001 he ran for the Green Party in the (now dissolved) riding of Burnaby-Willingdon. He recently spoke to CBC Radio 3 about the change (you can listen to the audio here):

Put it this way: if I'm elected, I won't be able to do any D.O.A. shows for four years… If I get re-elected, I won't be doing any for eight years. If I'm elected for 12 years, maybe I'll be premier and can laze around. I'm joking, right? So yes, it is a farewell tour in that sense. But if I'm defeated, I still own my guitar.
| DATE | VENUE | CITY |
| --- | --- | --- |
| Wednesday October 10, 2012 | Red Dog | Peterborough, ON |
| Thursday October 11, 2012 | The Casbah | Hamilton, ON |
| Friday October 12, 2012 | Lee's Palace | Toronto, ON |
| Saturday October 13, 2012 | venue TBA | Ottawa, ON |
| Sunday October 14, 2012 | L'Agite | Quebec City, QC |
| Monday October 15, 2012 | Foufounes | Montreal, QC |
| Tuesday October 16, 2012 | The Mansion | Kingston, ON |
| Wednesday October 17, 2012 | Venue TBA | Halifax Pop Explosion Festival, Halifax, NS |
| Thursday October 18, 2012 | The Old Cosmo | Moncton, NB |
| Friday October 19, 2012 | Nicky Zee's | Fredericton, NB |
| Saturday October 20, 2012 | TBA | TBA |