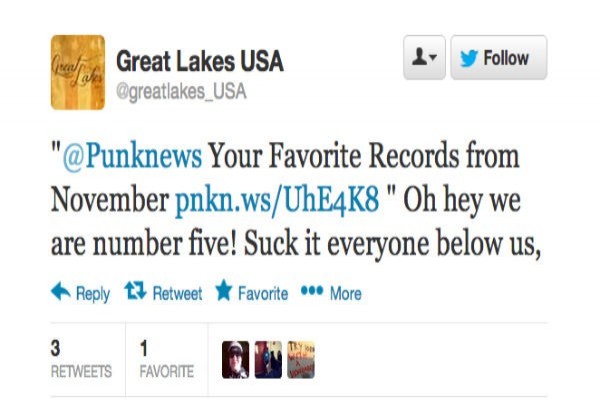 Punknews content is syndicated to a handful of your favorite social networks, including Twitter, Facebook, and Tumblr. Join our Last.fm group and contribute your listening habits to our weekly charts. All of our high definition video footage can be found at Vimeo.
Here's your question and answer of the week from the Punknews Formspring:

Q: Is the Misfits font played out?

A: I think most band logos who have had their font re-purposed are played out. Metallica, would be another good example. It was kind of interesting but now it's just a reference, like Family Guy. Just giving a head nod to something doesn't make it funny.

-Rich
Of course your day wouldn't be complete without knowing every inane detail of your humble editors' lives. Follow @aubinpaul, @adamwhite, @justinaugust, @brian_shultz, @dante3000, @ameliaaacline, @kiraface, @mcflynnthm, @kidecono, @wackymondo, @BrittStrummer, and Bryne Yancey's every move at Twitter.
Where else are you online? Share your links below and keep connected with the Punknews community.