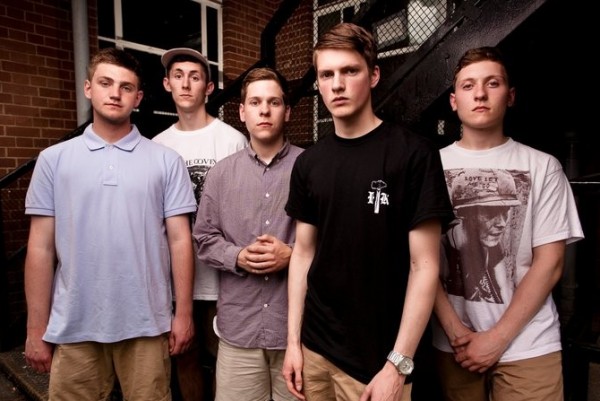 After announcing last July that they'd be going on an indefinite hiatus, Basement said farewell in October with their final record Colourmeinkindness, but they didn't go out quietly. In fact, they went out with a bang. After a few shows to promote the record in the US and in England, they stuck true to their word of looking at endeavors outside the musical realm to pursue. Punknews staff writer Renaldo Matadeen caught up with them to pick their thoughts on the road looking back while they got sentimental about the journey.
Colourmeinkindness has been touted as the crowning achievement for Basement, so was the creative process the same as your other records? Guitarist, Alex Henery: There was no formula or special format, if anything this was the most chaotic process we have ever gone about writing a record. We would write parts and send them to each other via email, and talk about what we liked and what we wanted to change. And because I was living in the States at the time, we didn't have the luxury of being able to write together in a practice room. Instead we were forced to work as hard and as quickly as we could in the limited time we were given in the studio. The first night we stayed up till 4 a.m. putting the parts together for songs and pretty much writing songs from scratch. It was something we have never done before, and it definitely gave us a fresh approach to writing the album.
It's really hit fans that this record is all we have in the interim as you guys exit the stage, so what drove and inspired you guys when helming this record? AH: We just wanted to explore new sounds and techniques and make a record we are all proud of. There was no target audience in mind and we have never written to please anyone but ourselves so it's a massive bonus that people actually like what we have written. We all wanted to push the sound of the band into new places; writing the same record over and over isn't something that appeals to us. Luckily Sam Pura really understood where we were going with the record sonically and helped us enormously in creating the record we wanted. He gave us so many ideas and helped us explore new techniques in layering and texturizing the sound of the album.
"Covet," "Wish" and "Breathe" - three of the most sublime Basement offerings ever; was there ever a point you guys would have considered one video to go out on as well? AH: If you mean to make a music video, then yeah, we thought about ideas for a few songs but nothing has been set in stone. It would have been nice since we have never done anything like that before, but I guess it's too late now.
Andrew, directing this to you specifically, would you be focusing a lot more on solo stuff or even take a chance working on another band project? Lead singer, Andrew Fisher: Oh no, I don't really have anything specific to focus on. I'm really busy at work so that's really where most of my effort is going. I am in a few bands, but that's just to keep me busy on the weekends and to give me a chance to see other cities and friends.
How's the mood like and the nostalgia with all you gents now that the ride is 'over'? AF: Um, it's pretty normal to be honest. We all are very busy with our lives outside of the band and so we haven't had to much time to think about it. Obviously, whenever I see my friends' bands play or see a photo of them on the road I get the feeling of just wanting to jump in a van. But on the whole, we are all still involved in music and art and so that creative energy is being put into other projects. We all love music and will always be involved in some way or another. More than anything, I miss hanging out as a band and writing music together, that was always so fun.
Any chances of surprise reunion shows to promote this final record, or any chance that Basement is going to be reconsidering that hiatus and popping back up sometime next year? AH: At the moment, there are no plans on us doing anything as a band. Like I have said in other interviews, we have to focus on other aspects of our lives that come first and they are still the priority right now. But I guess we'll see what happens.
Words of advice for bands trying to come up?
You don't need a manager, you don't need a label and you don't need to drop everything to be in a band. The most important thing is to enjoy making music and enjoy the company of the people you make it with. Just focus on having fun instead of trying to make it.
Final message to fans who are sad to see you go?
We are forever grateful to the people who have made the last two and a half years so special. Thank you to everyone who has supported us, it really means a lot to us all.