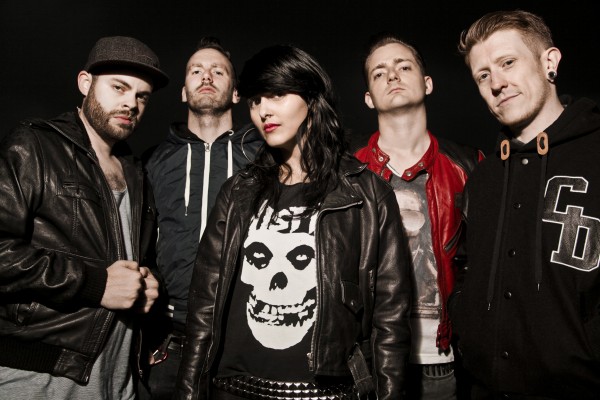 It's been a long journey for Sonic Boom Six have spent the past decade tirelessly making a name for themselves in the UK punk scene and their hard work seems to have paid off, signing to Xtra Mile Recordings (Against Me!, Frank Turner), gaining more attention in the mainstream press, and selling out shows. Punknews interviewer Faye Turnbull sat down with Barney Boom (vocals & guitar) near the end of their recent UK tour in Newcastle; he talked about the band breaking free from people's ideals and the ska-punk scene, the importance of their social and political message, and how the band's future was in jeopardy.
Sonic Boom Six has been going for about 10 years, and it seems that you've been getting a lot of attention lately from the UK mainstream and press. Do you feel this is the height of your popularity, thus far, as a band?
Yeah, certainly a resurgence, if you can call it that. We changed our whole outlook on what we were going for in terms of the whole band and where we fit in with music in the UK. We decided we weren't going to limit ourselves with preconceptions of where we belong, in terms of any particular scene. We decided to see ourselves as a band and see what happens. We were talking about it the other day, that it's sad when there's a band that supports you, there's always political motivations of why a band supports another band in terms of the way the music industry works. It is sad, but that's the way the world works sometimes and if you're like, "This is the game we're playing," then you've got to play the game as well and remain nice people. We've learned from the punk scene's values and our roots, and they still mean a huge deal to us, but we're certainly not just looking at the punk scene for where we want to be and the bands we want to play with.
You recently released your fourth studio album Sonic Boom Six, and it seems to be a lot more accessible, focusing more on the electronic element of the band. Was that intentional to release an album that would appeal more to the mainstream, because I read you're "done preaching to the converted?"
It's weird, because obviously there's that aspect to it, but it's generally what we wanted to do, because when Ben left after City of Thieves, we thought we took the band in that direction as far as it could go anyway. It felt like we made the same album three times for same set of people, but when we started, we wanted to be a band that mixed rock music, drum and bass and hip-hop, and we were always the ska-punk band that did that. So, we were in a position where we reassessed that goal that we had at the beginning, but do it in the present day. The ska-punk scene had so many different bands at the time like Adequate Seven, NoComply and all of these bands that took the ska-punk thing and added something else to it, and that's basically what we did. If you take that whole scene away, we're just a rock band that adds all these elements to it. So, that's why we approached it in that way and that's what we wanted to do. Saying that we're done preaching to the converted sounds a bit harsh, because it sounds like you're saying the people who previously liked you, you don't want to be with them anymore, and that's really not the case. With us, it was the case of not aiming the music at a particular demographic, which happened to be the UK ska-punk scene when it started. We put a lot into that scene and we helped people in the scene, we put our blood, sweat, and tears into it, but it was time to break free from that marriage and move onwards and upwards, and just be a band and not base our decisions on what the scene will think.
Musically, the self-titled is a bit different from your past work, but lyrically there's still a lot of substance, which your previous records are known for—focusing on social and political topics. Is it important for you to speak about them on a platform?
As Sonic Boom Six, this is what's totally vital. Sonic Boom Six now, in my head, even though it's evolved, it's still got those important elements of who we were in 2002. We'd have the sort-of bombastic, cartoonish make-up of it. It was always party music, but it always had the lyrics with the message. The first couple of songs that we tried to write for this album, they were just aborted attempts. We tried to write songs that didn't have that element and political message to it, and it just doesn't feel or sound like us. We know that the new music is more accessible, but we didn't sit down and write it like, "Let's try and be more accessible." We literally just wrote what we wanted to and what makes sense to us as what Sonic Boom Six should represent in 2011, when we were writing it. That meant that the message and the philosophy behind the whole thing was always retained as much as it was in the start. Some of the lyrics are going to be different, because the first EP, some of the lyrics were generic punk lyrics about anti-racism and anti-war, but not doing it in an interesting way. As we got older and wiser, we started writing more interesting songs about personal politics. With the new album, we're 10 years older so I think the lyrics are better, because you don't need to know the ins and outs of what I'm talking about to understand and get something from them. I really hope the message is still there, just 10 years more mature.
Even though you've been going for a decade, you still come across so passionate about the band, has there ever been a point where you questioned the band's future?
Yeah, absolutely. When Ben left we got a replacement guitarist, and then we knew we were going to get James after this replacement guitarist. But something happened on tour and he left abruptly on tour, so we had to get James in, and James wasn't ready in that role, but we knew we were going to be at right with him. So, we went through this really difficult patch and the first tour we did with James, the songs we played just didn't go over. We were playing our back-catalogue and we felt we had so much more to give and represent, but then we were getting slagged off in reviews for not playing "Piggy In The Middle." We just wanted to move on and were in such a horrible place. When Ben left, we were like, "Should we call it a day?" and we were like, "No, let's get James in." So James ended up playing and his old band ended up splitting up and there was a lot of serendipity there, but there were still times where we asked if it was worth it. Because we've always been friends since we were young, we've never been the kind of band who've been like, "Oh, well, I'm going to leave this band!" in anger. We've never said that, we've had awful rows, but we've never had rows and been like, "I'm going to leave this band!," because we all knew how much it meant to each other. It was said around the table, where we said maybe we should just leave it, but I'm glad we didn't.
I don't know if it's because you released this album on a pretty big label and you have had more of a push and backing, but it seems like you placed a lot of importance on this album, almost as if it was make or break.
I guess in any terms it's a make or break thing, but we weren't looking at the album like, "Well, if this album doesn't make it, then we're not going to do it," but we've already seen the upward leverage that we need to keep things going. Even with people getting interested in us, the magazines that write about us now, the TV and radio support, if that hadn't have happened then it wouldn't have been great, but we've already been speaking to people about doing the next album. We've got some producers that want to work with us and there's talk about going to America to do it. It's a very humble make or break, but we need to get to the point where we're not constantly going back to our old jobs. There was a point in 2007 when we were living off the band and then we tried to run a label and got into a lot of debt, and it was really difficult. Make or break to us was just getting out of the doldrums we were in, which was a pretty bad situation for a band to be in, but still believed in it and still wanted it to do it. Just playing London the other night and a lot of the other shows were sold out and they've been awesome, and we're already looking towards the next record, so it's been good.
It wasn't until that long ago that you were still doing your own press, is it weird having a proper PR and marketing team behind you?
Yeah, we tried to get that thing kind of happening when we did City of Thieves but it was all coming from our own pocket and we ran out of money very quick and were in debt. Now we see what went wrong, because you've got to have everything at once and they've all got to be working together. If one magazine gives you the nod, then another eventually will, and you can see why it works like that. I can see why people get cynical and angry about using business, but if you just accept it for what it is—and there are a lot of really, really nice people, like Matt Stocks at Kerrang! FM and Beez at Scuzz, off the top of my head—they're just two people who have prominent roles within breaking bands and they're highly passionate about it. I'm sure it helps that they like our band for me to look at them positively, but there's perception that all those kind of people in those positions are soulless wheeler-dealers that don't care about the music, and as far as we've experienced, that's not the case for a lot of people, even people in the magazines. It's just that print media is having a hard time at the moment. A lot of people complain about Kerrang! Magazine putting Black Veil Brides in every issue, but so many kids like that band and so many kids buy that magazine. It's just simple economics.
You mentioned before that you got into a lot of debt running your own label, Rebel Alliance Recordings. Was self-releasing the new album not an option?
No. I think if you look at bands that we've played with, like Less Than Jake and Reel Big Fish, you can see why they would do that, because they're so associated with that music and they're so good at it. They've got a fan base and they know how big it is, but people keep getting into that music again, and they can build a career by selling music off their own label. I think we started our label because we were at the point where we could release on Deck Cheese again, which is a very small UK label, or do it ourselves. If we did it ourselves, then we'd get £10 back for a CD, and that makes sense if you're choosing between Deck Cheese and yourselves, but without any leverage to take a band further, then you've not really got a career, because you're just going to be treading water and not getting any bigger, as far as we found it. A lot of bands get big by word-of-mouth, but a lot of bands don't. We've seen bands that were playing before us at festivals a few years ago and there was no one there and no one cared, but now, they're absolutely huge and they've had a huge amount of money spent on them to get them there, which is fair enough. Maybe we're the kind of band that needs pushing a little bit as we figured because we've been around a bit, a lot of people knew the name and maybe had a perception of us being "the ska-punk band," and we didn't want that, so going with a label and not doing it ourselves was all part of that same decision of changing the way we did everything.
As you said, you've always fit within the UK ska-punk scene, and there seemed to be a little resurgence a couple of years ago, with yourself, he King Blues, The Skints, Random Hand and your label, Rebel Alliance. While you guys and the Skints are doing really well, overall, it seems to have fizzled out.
Yeah, we know it has. It's funny, because we still speak to the Skints and I joked about it with Jamie. I said let's just fly away and do our own thing for a bit and who knows? Maybe we'll do an arena tour in 2014 together. [laughs.] They're doing really, really well and they've almost got it from word-of-mouth, they're so good live and you see their fan base just grow exponentially. Whereas we've kind of gone in a different direction, getting in the magazines and getting on the music channels, I think they have as well, but we're all doing our own thing for a bit. Every interview we do, we talk about the Skints, we're still associated with each other, but we're not constantly playing gigs together anymore like we used to. We miss them, but we're happy with what we're doing and they're certainly ecstatic about what's going on with them, it's awesome.
So, what does Sonic Boom Six have planned for 2013?
We've got a UK tour with the Blackout in January and a headline tour in February in a lot of the places where we didn't get to go to on this tour, so a lot of the B-towns. I think we're going to America and hopefully doing some music festivals over there, and then possibly to Japan. Straight after this tour, we're going to Europe for two weeks. I need some rest; I'm shattered now, in terms of touring. Two days at home would be nice.
Do you want to say anything else before we finish?
Just "hello" and "thank you" to the readers of Punknews and I look forward to your comments, which are always illuminating and thought-provoking. [laughs.]