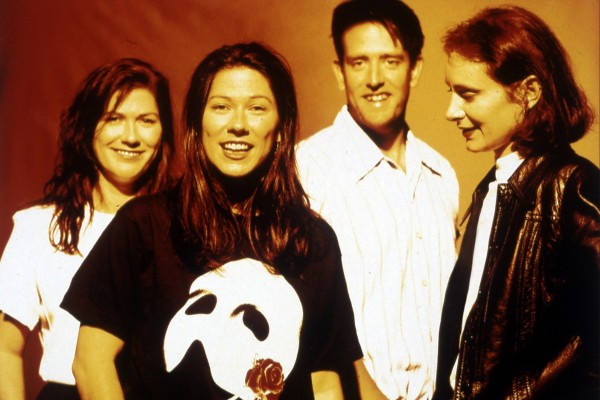 The Breeders - the band band formed by Pixies' Kim Deal in 1988 - have announced European and US tour dates as they celebrate the 20th anniversary of their 1993 full length, Last Splash. They plan to perform the full album at most stops. The album itself is slated for a reissue on 4AD Records this year as LSXX.
The record also included the band's best known track, "Cannonball." The track featured a video famously directed by Kim Gordon of Sonic Youth and filmmaker (and frequent Weezer director) Spike Jonze.
Update: Added a photo with the lineup that will be playing the shows.
| Date | Venue | City |
| --- | --- | --- |
| March 29, 2013 | Bell House | Brooklyn, NY |
| May 3, 2013 | Mr. Smalls Theatre | Pittsburgh PA |
| May 4, 2013 | 9:30 Club | Washington,D.C. |
| May 5, 2013 | The Trocadero | Philadelphia, PA |
| May 6, 2013 | Webster Hall | New York, NY |
| May 9, 2013 | Royale Nightclub | Boston, MA |
| May 11, 2013 | Danforth Music Hall | Toronto, ONT Canada |
| May 12, 2013 | Majestic Theatre | Detroit, MI |
| May 14, 2013 | Mercy Lounge | Nashville, TN |
| May 15, 2013 | Variety Playhouse | Atlanta, GA |
| May 24, 2013 | Primavera | Barcelona, Spain |
| May 27, 2013 | Le Bikini | Toulouse, France |
| May 28, 2013 | Le Rocher De Palmer | Bordeaux, France |
| June 1, 2013 | Trianon | Paris, France |
| June 2, 2013 | Ancienne Belgique | Brussels, Belgium |
| June 3, 2013 | Paradiso | Amsterdam, Holland |
| June 14, 2013 | Vicar Street | Dublin, Ireland |
| June 17, 2013 | ABC | Glasgow, Scotland |
| June 18, 2013 | Ritz | Manchester, England |
| June 19, 2013 | Forum | London, England |
| June 21, 2013 | ATP Festival | Camber Sands, UK |