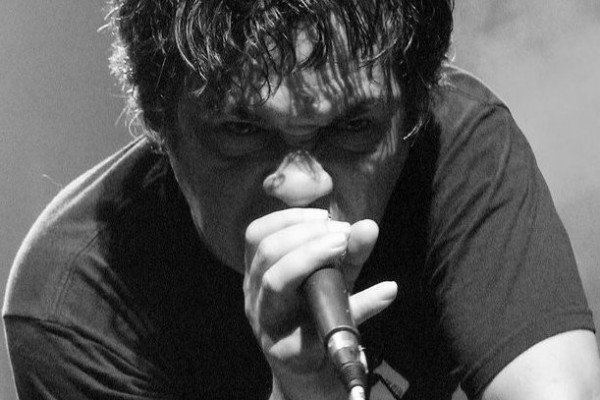 There is no modest way to say it. Ron Reyes is a pivotal part of West Coast punk. He played drums in Redd Kross when they were still called Red Cross. He got a Germs Burn directly from The Germs. He cut the vocals for Black Flag's Jealous Again. He was one of the main subjects in The Decline of Western Civilization. He once harassed David Lee Roth.
After tearing it up on the sunset strip, Reyes moved to Vancouver where he continued to write and perform with various bands, including the Stooges meets punk of Crash Bang Crunch Pop. But now, he's got a brand new band called Piggy. For the first time ever, and after some 30 years of hoping, Reyes plays guitar in a band and they rip. Piggy is combination of hard rock, punk and that unquantifiable ingredient Ron Reyes, baby. On top of that, Reyes has once again joined up with guitarist Greg Ginn to reunite Black Flag, which will be touring and releasing a new album this year.
In order to learn a little history and to get the scoop on all of Reyes' current projects, Punknews features editor John Gentile phoned up Reyes and the two spoke about Piggy, a band called the Happy Tampons, Black Flag and just what the deal was with DLR.
Your new band is called Piggy! It has you on guitar, Izzy Gibson on vocals, Lisa Lloyd on bass and Craig Mckimm on drums. What kind of band is it? Is it punk rock? Is it avant garde? Is it Stooges-Influenced?
Just about anything I do is going to be Stooges-influenced. It's just kind of in my blood. But nothing I do is going to be super pretentious, or Stooges-strictly, but it does seep through. It's got a little bit of punk, a little bit of rock and roll, a little [bit of] slow, heavy stuff. It's a mix of things. It was a band I wanted to do for many, many years. I wanted to play guitar in a band; I've never played guitar in a band before. I just started writing songs and picked up a team of friends here in Vancouver.
In your other bands you've drummed, you've done vocals. Why aren't you singing in Piggy?
Well, I kind of wanted to save the singing for something special. [Laughs] I just never played guitar in a band and always wanted to. The person who first encouraged me to play guitar was Greg Ginn of Black Flag while I was in the band. He just put it in my hand. If things would have went as planned in that band, I would have been singing and playing guitar in that band. But that never happened. I put the guitar down and didn't pick it up again until Piggy. It's just something I've always wanted to do.
You say that Piggy is the band that you've wanted to do for a while. What is the difference between Piggy and your other bands, such as Crash Bang Crunch Pop? What is it that you've been wanting to do for a while?
For me, it signifies something I've never done before. I've sung, I've drummed in bands, I've even played bass. But I've never played guitar. It's a challenge. I had all these songs that I was writing with a guitar, but I didn't want to sing with them necessarily, though I did sing on the demos that I created. It's a different expression, it's a different energy.
Piggy has already laid down some tracks, correct?
It's been a work in progress. Several months ago, down in Seattle, we did a session with Jack Endino. We did five songs. We recorded them live on the floor. Unfortunately with time restraints, we had to get back to Vancouver, so we couldn't finish it. We've been working with Cecil English to finish the vocals. Working with these people was really cool. They're both really great.
Jack Endino has worked with Nirvana, Mudhoney, and even the Dwarves on Blood, Guts, and Pussy. What was it like working with him?
I never met him before. I didn't really know much of his history. Super, super, super nice guy. Really easy to work with. He really lets you do your thing. [It's] just really, really easy to work with Jack. Good sound, live on the floor. He really knows what he's doing.
Do you write the lyrics for Piggy?
Some. I don't like to write for other people. I'm not the type of guy that tells people how to do things. I'm not "It's my way or the highway." Some of the lyrics were there. I did write the lyrics for the demos. Some came complete with lyrics and vocals, and some did not. Piggy has gone through a history of chewing up and spitting out singers. We've gone through four singers. I've had to do more or less work, depending. But, Izzy is a great singer.
Do you have a specific goal for Piggy? Are you just looking to have a fun time?
Goals change as you reach them or pass them. Originally, my goal was to be as good as a band from Vancouver called No Exit. No Exit were a band that really impressed me and were an influence on me when I came to Vancouver. Not too many people know about them. They were just four young kids that did things DIY and loud and snotty. Not terribly polished. My goal was to model ourselves after that philosophy. We had gigs booked before we had two practices under our belt. Just come out and do it; it's gonna be loud and snotty and rough. But as you rehearse, you get better, and then your goals change. You go "Hey, let's do a record. Let's do some touring. Let's have a facebook page." Right now, we certainly want to get this record out. We certainly want to play some more shows in Vancouver and The States as well.
Fantastic. Now, let's jump back in time. Who were the Happy Tampons?
[Laughs.] Uh yeah, that was Dez Cadena [of Black Flag, DC3, Misfits] and me. We were neighbors in Redondo Beach. At the time, Dez already played guitar. I didn't—I played air guitar. I used to bring a tennis racket over and he would play and I would wail on the racket and he would play. It was quite funny, actually. I would sing along to Rodney on the ROQ and records that we would pick up at ZeD Records. Two records that were really important to us were Wire's Pink Flag album and the First Eater album. Those albums were and remain some of the greatest records ever. When we heard them, we said, "We can do that!" And that's not putting it down, because it's awesome stuff. It's so awesome because it's so simple to the bone. We would record in Dez's garage because he had two cassette players. We would record on one and play it on over to the other one so we could have multi-track recordings, which would just be him playing and me thrashing away. We never got out of the garage really. When I moved to Church [a famous Hermosa Beach squat/practice area], we played for some friends and we never got to the point were we did shows for anyone outside of our friends. [Laughs]
Now maybe you can help me out on this. I'm an Elton John fan, but all the punk rock guys rag one me for rocking Goodbye Yellow Brick Road. Did you have any connection or appreciation for Elton John back then, namely the Don't Shoot Me, I'm Only the Piano Player album?
[Laughs] I love that album. I loooove that record. As a matter of fact I was recently in Texas and all I could think of was "Texas Love Song." I love Elton John. I mean, to this day, I really struggle when people try to put labels on people. Sometimes people will try to say I'm some sort of type of punk rock. I'm like "Really? Because when I go home I'm going to listen to Freddie Mercury and Elton John." So yeah, I love that stuff. Honky Chateau and all that stuff, all that old stuff. And they could sing! People think that they can sing, but they can't, they can just scream and yell.
Well Ron, you are a punk rock legend. Also, you were one of the first punk rock singers with a Hispanic background, isn't that true?
Well, I don't know about that. There were the Zeroes. They kind of came before us. I'm sure there were lots of others. Surely, it wasn't typical. Punk rock was a lot of white boys, but that's what was so great about the early scene, everyone was accepted—if you were a boy, girl, black, white, straight, gay, it didn't seem to matter at all back then. I've never paid too much attention to that aspect.
Do you think punk rock has become less welcoming?
Oh God, yes! In the early days, there wasn't a template. The template wasn't complete, so we kind of made it up. Even with guys like Dez and me, when our generation came along, that restriction was already appearing, but then it became, the SoCal hardcore scene became so militant, we did not fit into the little square box that was created. You're not welcome and there was a real gang mentality that crept in. That's why I left California and Black Flag. That is not what I'm into at all. It's probably changed by now and has opened back up. You can walk into a bank these days and the tellers have pink hair. It's all kind of mainstream. That element that came in and started existing in the Hollywood scene, calling people "art fags," I mean, maybe that was true, but that's what made it awesome. All those bands, the bands that had dropped out of art school, The Germs, The Weirdoes - I loved that stuff.
Is it true that you jammed in a band with Duff McKagan of Guns 'n' Roses?
Yeah, Duff and I first met in Vancouver or Seattle. When I moved up to Vancouver, Vancouver and Seattle were connected and the borders were more wide open. I would go back and forth. Duff was one of those guys I knew from Seattle. He would come up. When I left Vancouver with my buddy Steve to go form a band in Hollywood, I called up Duff because he was down there. The band was initially called Funhouse and eventually became Crash Bang Crunch Pop. Duff and I, and Steve and a guy named Randy on guitar, we played a few shows in Hollywood. At the same time, Duff was in a band called Guns 'n' Roses, and you know, that kind of took off. That was the end of Duff and I playing, but we've been in contact throughout the years. In fact, he just called me the other day.
You have a story about David Lee Roth. Can you tell that story to the Punknews audience?
Yeah, briefly. It was one of those things, we were all pretty drunk at the time. I'm not sure if Keith Morris [Black Flag / Circle Jerks / OFF!] remembers it. We were out at a club. This is after Funhouse and I moved down to LA. We were being loud and obnoxious. David Lee Roth was down at the club, just kind of hanging out. Keith, Steve and I were getting into David Lee Roth's face about what happened with Van Halen, meanwhile I'm a closet Van Halen fan. We were getting in his face and then he walked out of the club and me and Keith tried to follow him or chase [him]. I don't know if we meant him any harm or whatever, but Keith was in the back seat, at least this is how I remember it. Steve was driving and David Lee Roth was in our path, so I reached over and touched on the gas and aimed the steering wheel at David Lee Roth. I think it was Keith who grabbed the steering wheel and said, "No! Don't do that!" So, David Lee Roth escaped our wrath. I don't know if he remembers it, but that's my story and I'm sticking to it.
You and Greg Ginn have recently reformed Black Flag. Was the genesis of that when Greg Ginn played with you on stage at your 50th birthday party?
I've been in contacted with Greg off and on throughout the years. I did the reunion in 1983. I wanted to do the reunion show in 2003, but I couldn't make it. It was just not the right time and place for me. For personal reasons, I bowed. But we kept in touch. I had a special birthday a few years ago so I called him up, and asked him if he wanted to come up, and he said "Yeah." He said, "I don't really like to do that old stuff." I said "That's fine. You can just hop on play what you like… or we can play some new stuff." So, two days before the show he sent me some stuff he had written. We tried playing one of the songs live, but it was a bit of a disaster. I was actually writing the lyrics the day of the show. I vowed never, ever to do a show with a piece of paper, but I was committed to doing the song and Greg was there, so I did it. He started the song and the lyrics got kicked under the monitor. We're playing the songs, we only rehearsed it twice and I didn't have the lyrics. But, you know what, it was great. It was totally in the spirit of the music. The seed was planted and from there we started communicating and sharing ideas back and forth, sharing demos and that eventually moved into a full new album.
So, you have a new Black Flag album coming out fairly soon?
Yeah, it's all recorded, more or less. There's a few little touch ups and some mixing and that's it.
Is the reunion of Black Flag, which includes you and Greg Ginn, and Flag, the band featuring Keith Morris, Chuck Dukowski and Dez Cadena, just a coincidence?
Yeah, completely. Just completely. And in some ways, it's unfortunate because a few so called "fans" like to stir up a lot of heat. I don't want to get involved in that. I love all those guys. I wish them all the best.
So, you have no ill will towards, Keith, Chuck or Dez?
Oh, no! Hell no! Oh, God no. No, no, no, no, no. Absolutely not. Not at all.
Any last comments?
This is an exciting time of my life and it's great to be doing music and having fun. We played a show last night, we had a small crowd, probably less than a hundred people, but they were all energized about what we were doing and that's what matters to me. Whether it's 50 people, 500 or more, that's what matters. I still get people that say, "Wow, that really made my night." And that's no small thing. The music that we do, in some ways, it's not gonna save the world, but sometimes it saves one person at a time just by getting them through the night. I know what music means to me, I know what it means to the kids, and it's a pleasure to be doing that, whether it's Black Flag or any other band.