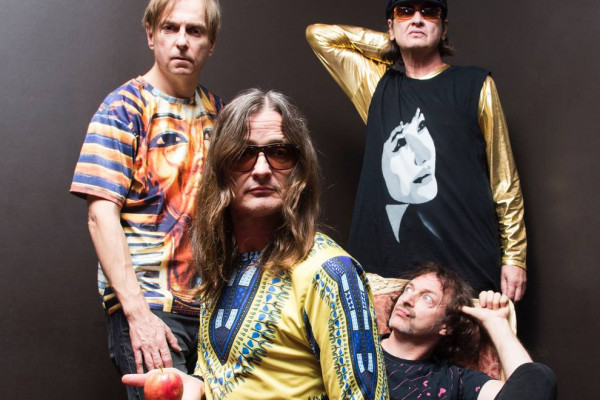 Founded 34 years ago in Los Angeles by brothers Jeff and Steven McDonald (then pre teens), Redd Kross cut their teeth opening for Black Flag during the first wave of LA punk rock. Their debut EP "Red Cross" caught the attention of Rodney Bingenheimer, who spun the Ramones inspired songs on the world famous KROQ.

The following releases maintained their firmly planted punk roots, and the band started to experiment with different elements. Redd Kross boldly broke new ground by intuitively and inventively mixing their eclectic inspirations. They understood the esoteric commonalities between the Partridge Family with the Manson Family; the Beatles with Black Sabbath; Sony and Cher with the New York Dolls. The results were daringly original, artistic and uncontrived. "Teen Babes from Monsanto", "Born Innocent" and "Neurotica" are said by some to have been catalyst of the Seattle Grunge movement, and unquestionable an inspiration to many indie and alternative rock bands.

A sampling of evidence to this are songs from "Born Innocent" being covered by the Pavement ("Pseudo Intellectual") and Mudhoney ("Notes and Chords"). Several Redd Kross songs have been documented to be included on mix tapes by Nirvana\'s Kurt Cobain. Sonic Youth\'s Thurston Moore went on record in Entertainment Weekly by saying \'(Redd Kross) are definitely one of the most important bands in America.\'

In 1991 the band released their major label debut, "Third Eye". The song writing matured with more complex arrangements and harmonies and lush production. Redd Kross had their first single chart with "Annie\'s Gone", and began to tour with notable artists such as the HooDoo Gurus, The Posies, Jellyfish, the Lemonheads, and Sonic Youth.

Robert Hecker took leave as lead guitarist and the McDonald brothers were joined by Eddie Kurdziel (guitar), Brian Reitzel (drums), and Gere Fenneley (keyboards). They released the critically acclaimed "Phaseshifter" album in 1994 featuring the hit songs "Jimmy\'s Fantasy", "Lady In The Front Row", and a cover of Frightwigs "Crazy World".

Redd Kross toured relentlessly for the next several years and appeared on television sets across America performing on the John Stewart Show (pre Daily Show), Conan, and the Tonight Show.

Perhaps the band\'s most polished album, "Show World" followed with a string of singles and tours with Sloan and the Presidents. After nearly 20 years of non stop activity – touring, recording, and making movies, the band went on a hiatus. Fans wondered when they would return, and things seemed more uncertain after the untimely passing of guitarist Eddie Kurdziel in 1999.

The McDonald brothers launched ReddKross.com and began to innovatively reconnect with their fans and make new ones. As they experimented with the new medium, Steven McDonald released an online only mashup album called "Redd Blood Cells" by adding bass tracks to the White Stripes album, Jeff McDonald began podcasting ("Hit It!") before iPods or podcasts were invented, and also released a web based video series (Bitchin\' Ass") far ahead of YouTube.

Redd Kross reissued their classic "Neurotica" album as they worked on a variety of other projects including "Ze Malibu Kids", "The Steven McDonald Group", and worked in various capacities with other bands on stage and in studio such as the Donnas, Turbonegro, Imperial Teen, Anna Waronker, Sparks, Jack Black\'s Tenacious D, and Beck. Current Redd Kross members Steven McDonald also plays bass in OFF!, Roy McDonald drums with The Muffs, and Robert Hecker fronts his band IT\'SOK.

In 2006, Jeff and Steven were ready to saddle up again and reunited with the "classic Neurotica" line up – guitarist Robert Hecker and drummer Roy McDonald. They are currently playing select shows and festivals such as the Azkena Festival, Coachella, and Pop Monteral.

A new album\'s worth of songs is nearly finished, and being prepared for a 2012 release.