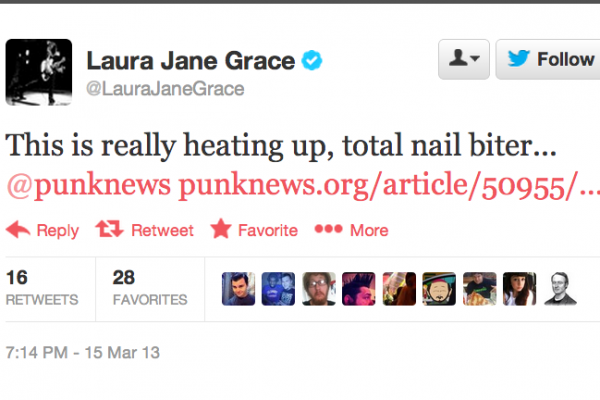 Punknews content is syndicated to a handful of your favorite social networks, including Twitter, Facebook and Tumblr. Join our Last.fm group and contribute your listening habits to our weekly charts. All of our high definition video footage can be found at Vimeo.
Here's your question and answer of the week from the Punknews Formspring:

Q: Who would you rather see between Flag and Black Flag if they were playing adjoining clubs on the same night?

A: Good question, Justin! Good question, indeed! I would really be torn. On one hand, you have Greg Ginn, who is a certified genius. Like for real. If you've ever seen one of the multitudes of live shoes that Ginn has done, it will just blow you away. Ginn has been criticized for being a difficult person to get along with, and just generally being a weirdo, but, honestly, if that's what one has to accept to get pure, magic guitar like Ginn plays, it's way worthwhile. Don't believe me? Here is evidence of Ginn's genius- watch the second half where he just DESTROYS the theremin (Greg Ginn @ Coachella 2012) Also, Black Flag has Ron Reyes who i just interviewed and is a hella nice dude. Plus, live he still kicks out the jams. (Black Flag Jealous Again - Greg Ginn at Ron Reyes 50th B-Day July 24, 2010).

But, on the other hand, the last Black Flag project with Ginn, the ill fated 2003 shows, were… terrible. Still, I am sure that the Black Flag shows will be stellar.

On the other hand, Ginn was fundamental to Black Flag, but he wasn't the only fundamental part of Black Flag. Flag has Keith Morris who is making some of the best music of his life and is still in his prime with OFF!, it has Chuck Dukowski who is still in his prime with CD6 (I saw them live and they were AWESOME), when Dez is doing BF songs with the Misfits, they are totally awesome. Plus, Bill Stevenson and Stephen Eggeton are as clutch a unit as there is.

Word is that Keith may also do some post-damaged material. Also, we know that FLAG is amazing live, because they already played an amazingly amazing set. (BLACK FLAG - Nervous Breakdown EP (FULL SET). LIVE 2011 Santa Monica Civic. GV30)

So, it's a tough choice. Right now I have plans to see both bands. But, if I had to pick…

Because Flag has 5 legends that I'd love to see play BF songs, (as opposed to Black Flag's 2), because Flag might have Keith perform "My War", and because Keith Morris is THE MAN (The Duke is the man, too) (and Dez Bill, and Stephen) I'd have to go see Flag.

But, as both Ron Reyes and and Stephen Eggerton expressed, you don't have to pick! You can see both, and I HIGHLY advise that.

Also, stay tuned for a really awesome FLAG feature coming up soon.

-John G
Of course your day wouldn't be complete without knowing every inane detail of your humble editors' lives. Follow @aubinpaul, @adamwhite, @justinaugust, @brian_shultz, @dante3000, @ameliaaacline, @kiraface, @mcflynnthm, @kidecono, @wackymondo, @BrittStrummer, and @bryneyancey's every move at Twitter. A few of the new fathers on staff have even started a punk dad blog.
Where else are you online? Share your links below and keep connected with the Punknews community.