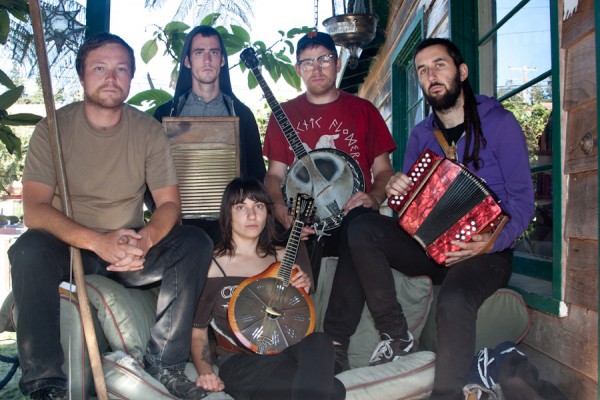 Today we are excited to bring you the premiere of a new video from acoustic crust-punk rabble rousers Blackbird Raum. The extra disturbing video is for the track "Disfigured Isolation" and appears on their latest full-length, False Weavers, recently released on Silver Sprocket.
The album was recorded at all-analog Tiny Telephone Studios and features artwork by legendary Dungeons And Dragons artist Russ Nicholson. The 12-inch vinyl includes a bonus treat from Nicholson, an 18x24 map of the "Known Lands in the Age of False Weavers" with references to DIY organizations, venues, and squats world-wide that the band has interacted with over their travels.
False Weavers is available now via mail-order from Silver Sprocket on CD and limited edition white vinyl.
| DATE | CITY | VENUE |
| --- | --- | --- |
| 5/18/2013 | Petaluma, CA | The Phoenix Theater |
| 5/19/2013 | Arcata, CA | Phil's House |
| 5/20/2013 | Eugene, OR | Tiny's |
| 5/21/2013 | Olympia | Northern |
| 5/22/2013 | Friends hangout day! | n/a |
| 5/23/2013 | Friends hangout day! | n/a |
| 5/24/2013 | Seattle, WA | Vera Project Folklife |
| 5/25/2013 | Seattle, WA | Comet Tavern w/ Danbert Nobacon of Cumbawamba |
| 5/26/2013 | Portland, OR | TBA |
| 5/27/2013 | Redding, CA | TBA |
| 6/11/2013 | Frankfurt, Germany | Klapperfeld |
| 6/12/2013 | Bremgarten, Germany | KuZeB |
| 6/13/2013 | Lyon, France | TBA |
| 6/14/2013 | Barcelona, Spain | TBA |
| 6/15/2013 | Torelol, Spain | Eclectic Club |
| 6/16/2013 | Palafrugell, Spain | TBA |
| 6/17/2013 | Madrid, Spain | Wurlitzer Ballroom |
| 6/18/2013 | Spain | TBA |
| 6/19/2013 | Bordeaux, France | TBA |
| 6/20/2013 | Le Mans, France | TBA |
| 6/21/2013 | Tours, France | TBA |
| 6/22/2013 | Nevers, France | TBA |
| 6/23/2013 | France | TBA |
| 6/24/2013 | France | TBA |
| 6/25/2013 | France | TBA |
| 6/26/2013 | Grenoble, France | TBA |
| 6/28/2013 | Laussane, Switzerland | TBA |
| 6/29/2013 | Geneva, Switzerland | TBA |
| 6/30/2013 | France | TBA |
| 7/1/2013 | Reims, France | TBA |
| 7/2/2013 | Paris, France | TBA |
| 7/3/2013 | Leuven, Belgium | Chaosbar |
| 7/4/2013 | Nijmegen, Netherlands | De Onderbroek |
| 7/5/2013 | Den Haag, Netherlands | De Piraat |
| 7/6/2013 | Amsterdam, Netherlands | Anarcho Folkfest at Binnenpret |
| 7/7/2013 | Groningen, Netherlands | TBA |
| 7/9/2013 | Hengelo, Netherlands | TBA |
| 7/10/2013 | Antwerp or Gent, Netherlands | (help!) |
| 7/11/2013 | Koln, Germany | Osterinsel |
| 7/12/2013 | Munster, Germany | Baracke |
| 7/13/2013 | Bremen, Germany | Sportverein |
| 7/14/2013 | Hamburg, Germany | Gangeviertel |
| 7/15/2013 | Copenhagen, Denmark | (help!) |
| 7/17/2013 | Malmo, Sweden | (help!) |
| 7/18/2013 | Gotenburg, Sweden | TBA |
| 7/20/2013 | Oslo, Norwal | Blitz |
| 7/21/2013 | Halden, Norway | TBA |
| 7/22/2013 | Horten, Norway | TBA |
| 7/24/2013 | Trondheim, Norway | TBA |
| 7/25/2013 | Bergen, Norway | TBA |
| 7/26/2013 | Stavanger, Norway | TBA |
| 7/27/2013 | Kristiansand, Norway | Makeskrit Fest |
| 7/28/2013 | Aalborg, Denmark | TBA |
| 7/29/2013 | Recklinghausen, Germany | AKZ |
| 7/31/2013 | Braunschweig, Germany | Nexus |
| 8/2/2013 | Berlin, Germany | Kopi |
| 8/3/2013 | Poznan, Poland | TBA |
| 8/4/2013 | Warsaw, Poland | TBA |
| 8/5/2013 | Lublin, Poland | TBA |
| 8/6/2013 | Krakow, Poland | TBA |
| 8/8/2013 | Leipzig, Germany | TBA |
| 8/9/2013 | Flensberg, Germany | Haversmarkt |
| 9/23/2013 | Corsept, France | Couvre Feu Festival w/ The Offspring |
| 9/27/2013 | London, England | TBA |
| 9/28/2013 | Bristol, England | TBA |
| 9/29/2013 | Leeds or Bradford | (Help!) |
| 9/30/2013 | Liverpool or Norwich | (Help!) |
| 10/1/2013 | Brighton, England | Cowley Club |