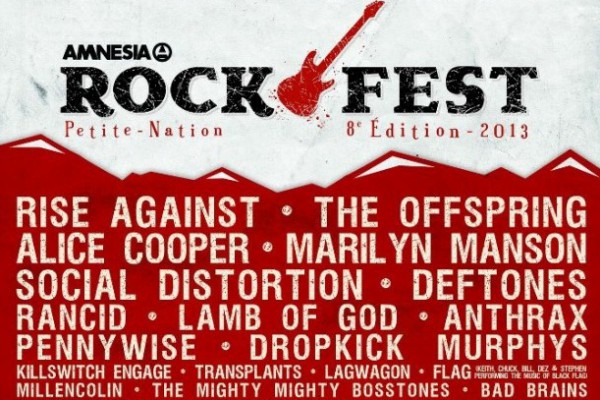 Many of you wrote in with news about some serious problems with this past weekend's Amnesia Rockfest in Montebello, Québec. The festival had a notable lineup with bands including Rise Against, Rancid, Social Distortion, The Offspring, The Mighty Mighty Bosstones, Flag and Screeching Weasel.
However, many sources have covered the backlash after what appear to be severe logistical problems. The Ottawa Citizen spoke to attendees as well as bands like the Mighty Mighty Bosstones. Bassist Joe Gittleman commented:

[We] got bumped because Marilyn Manson's crew was allowed to set up late [and so] we essentially just found our own slot on the side stage, We went over there and talked to the guy who was running that stage. When we realized our set time was going to come and go, we kind of just took it upon ourselves to figure it out. The guys in Anthrax were nice enough to give us one of their [dressing rooms too.] What we experienced was a bunch of really nice people who I think had the best of intentions to put on a festival. I think the festival is bigger than they were ultimately maybe ready to handle.
One attendee, Adam Moody, was stuck waiting in a lengthy will-call line for three hours outside the venue trying to pick up pre-purchased tickets. Eventually, he gave up and had to leave. Another, Dan Edmunds waited two hours for a shuttle bus to see The Offspring and despite leaving the show early to beat the rush, Edmunds found that the shuttle bus to their campsite was full and was the last of the night leaving them stranded at the venue.