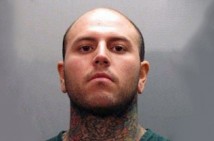 In a unexpected bit of news, Eric Ellis, the infamous guitarist from metalcore outfit Bury Your Dead has recorded a solo album while serving 20 years for racketeering. Ellis talked about the project via press release saying:

This project began to take shape in my time off between Bury Your Dead tours. it went through many different forms as it evolved over the years You [will] have the choice collection from that expanse [for] those who can appreciate the precision and beauty of technical music, Gevicht is my legacy.
The record is titled Gevicht and is due out this fall. Ellis began the appeals process in June.
Ellis was convicted of being a member of a gang inspired by Sons of Anarchy. He, along with fellow gang members, was convicted of conspiracy and violation of the Racketeer Influenced and Corrupt Organizations (RICO) Act. Charges included violent crimes including an extortion that left one man nearly dead, the choking of a young woman until she passed out, armed bank robberies, armed home invasions, daily cocaine and opiate sales, and theft of thousands of dollars' worth of merchandise from local stores.