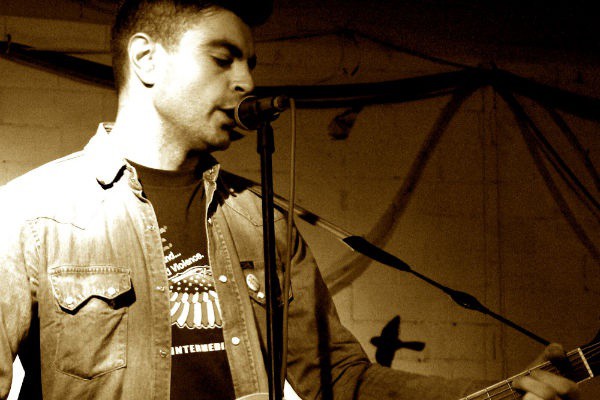 Today we are excited to exclusively premiere the new video from Jimmy Islip and the Ghosts entitled "It Tastes Bitter" from their latest release Wild West Riding.
According to Islip "It Tastes Bitter" is a song about "family and sometimes in life your family grows and prospers and sometimes you lose people or you even gain people that you might not even like! Family has a pull on you emotionally in a way nothing else has." Islip experienced traumatic events within his family that inspired him to write the song.

I wrote the song during a particularly sad time where I lost some family whom I really loved and other family members moved away from the area where I lived and I suddenly felt that this unit that I once had wasn't there anymore. I wasn't in control of it and it was an extremely sad time.
Jon Snodgrass, who contributes vocals to the track, could also relate to the message behind the song.

I played the song at a show in Leeds (that I did with Jon Snodgrass and Cory Branan) just after I wrote it and Jon really loved the song. His daughter was very young at the time and I think Jon was missing her a lot whilst on that tour. So when I recorded it I asked him to record some vocals on it and I'm really happy that he did. I'm a huge Snoddo fan.
The video takes on a slightly different tone though.

The video is, I hope, a bit more fun and I wrote the little story or screenplay as a metaphor for the fact that sometimes in life things will happen that will control your emotions and you can't do much about it. It was filmed by my friend in the warehouse where we work with a budget of $0. Actually that isn't true because the heart cost me approximately 78 cents and the cleaver cost about $10 but I now use that it my kitchen at home. There is a little nod to the TV show "Dexter" in the video which I hope people pick up on.
The song comes from Islip's album from earlier this year, The Wild West Riding, which we streamed in its entirety.
| DATE | VENUE | CITY |
| --- | --- | --- |
| 04/12/2013 | Brudenell Social Club | Leeds UK 7pm |
| 06/12/2013 | Pop Recs | Sunderland UK 7pm |
| 07/12/2013 | Star & Garter | Manchester UK 7pm |
| 08/12/2013 | Palmyra Bar | Warrington UK, matinee gig |