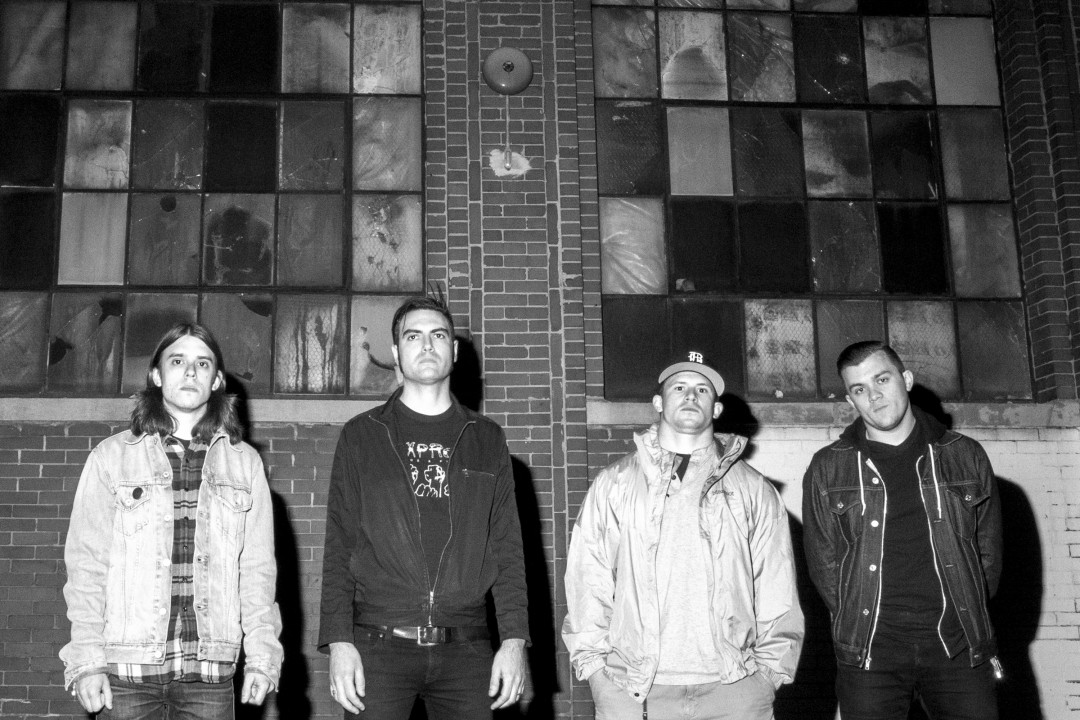 Chicago hardcore act Harms Way have blazed a long path since the early days of the band. Starting as a straightforward traditional powerviolence band (goofy sound clips and all), they made a name for themselves in the American hardcore underground. Years later, the band has transformed into a behemoth act, melding together elements of 90's metallic hardcore and traditional industrial metal to create the Blinded EP, the band's first release for Deathwish Inc. Staff interviewer Gregg Harrington recently connected with Harms Way drummer Chris Mills via Skype to talk about the band's evolution, working with Deathwish, and how they were singled out on the Internet this summer by European festival attendees.
Harms Way just released the Blinded EP, your first for Deathwish. How did you guys approach the writing and recording process for this album and did it differ from prior recording experiences?
This record more so than any other record prior to it was more, as far as writing goes, a collective process. We kind of collaborated more; we brought more stuff to practice and structured songs as a band together. So it was more of a collaborative process. As far as the recording process, we were strapped for time. We wanted to make sure the record would be out in time for our European tour that we just finished up, and we had a strict deadline on when the recording and mixing had to be done. So we were kind of rushed for time, and honestly that's one of the more unhealthy things we did as a band. Most of us have jobs and I'm in graduate school so we spent a lot of really late nights in the studio, and into the early morning as well. We pulled through it and I feel we put out something we're really proud of. It's a good representation of the direction we're going.
Speaking about your relationship with Deathwish, how did you two get connected?
We heard through the grapevine that Jake was a fan of the band and wanted to work with us. When we were thinking of who we wanted to put out the next record, I sent Jake an email and said we would love to work together in the future. He replied back and was really into the idea, and we kind of took it from there. We've been working together ever since.
You guys have definitely progressed as a band over your tenure so far, and evolved more than most bands do their entire careers. What kind of influences are you bringing to Harms Way now as opposed to when the band first started?
Yeah, we started as more of a fast hardcore, powerviolence type band. Since then we've slowed it down a bit, we've gotten into heavier music. I shouldn't say gotten into but we've introduced different elements of that into our sound. I think it's clear that there's a bit of a death metal sound. With our newer stuff, we've tried to incorporate a lot of industrial components into our stuff. I guess we don't necessarily think we want to sound this way or that, but it's a more natural progression.
I think it sounds organic too. It's funny that you mention the industrial elements because I think they shine through on Blinded a lot.
Yeah, that was something we were a little more conscious of. On Isolation we did a little bit of that and on Blinded we've added more of that. I think it's something we're going to pursue in our future releases. I mean, we all love Godflesh and other industrial bands so it's kind of hard to not introduce those elements into our sound.
I listened to Blinded< the other day to just get the gears going on what to ask you, and I put on Godflesh right after and it all kind of clicked. I think it's an influence you guys wear on your sleeve but not in the corny way that a lot of bands wear their influences on their sleeve.
Definitely. It's something I would hope sounds really organic, something we don't want to be too overt about. When you think about loud, angry music, it's hard to not think of a band like Godflesh.
You also recently filmed your first music video for "Mind Control" with Max Moore. How was the experience of shooting a professional music video? I know some people are apprehensive at the idea of a hardcore music video, so I was wondering what you took away from the experience.
Well, not very many hardcore and punk bands shoot music videos that have a narrative or other certain elements in videos Max has done. So going into the video, we didn't want it to be too corny or anything. As far as the narrative part, Max did all of that in Louisville and then came up to Chicago to do the live portion. It was pretty awkward at first. I had never done it before. And we shot the live parts behind the school that I grew up going to, but we got over the awkward part. Little by little you get over that and get more into playing. It was weird but it was also a ton of fun at the end of the day, and Max is really cool and really professional about everything. He really naturalized and normalized the experience of shooting a video. We were really happy with the way it turned out, because we weren't sure how it was going to look.
I was actually glad to see you guys did a narrative music video, because I've noticed that when hardcore bands do make videos, they're usually narrative only and has little to no footage of bands playing.
We definitely didn't want to make a Biohazard-type video, but we also didn't want to make a super artsy video, and I think we found that happy medium, and Max did a great job at balancing those two elements.
Recently you ran into some trouble with your recent appearance at Fluff Fest in Europe, and were kind of singled out by some of the fest's patrons. What did you make of that whole ordeal, and did it affect how you guys played as a whole during your allotted time?
A couple weeks prior to the tour, we kind of heard some rumors that some people were going to try to protest us at the fest, and then that "No Way For Harms Way" Facebook group popped up and we all kind of looked at it. In all honesty, it all seemed pretty silly. None of the people behind it approached us at the fest, and they didn't approach us prior to the show. It seemed like they tried to build an image of our band around things that we aren't, talking about patriarchy and sexism and racism and social Darwinism. We had a lot of friends that played Fluff and they were informing us of some of the emails that were being spread by this group. They were trying to build traction for their cause, but the response seemed in our favor. We've have a lot of friends overseas that vouched for us and I think that worked in our favor as well. Again, it was just a sad situation because we were never approached by anyone and they never asked us any intellectual questions and never tried to gain insight into who we are as people. If they had, they probably would have been surprised. As far as our performance at Fluff, there was really no heat at all. No one protested us, and it ended up being one of the best shows of the tour, and we played in front of a few thousand people.
This fall you'll be hitting the road with Dead In The Dirt and Homewrecker, which might be one of the heaviest tour lineups of the year. How did this tour come together?
We were brainstorming ideas and bands that we'd like to go out with. Dead In The Dirt is a band that we're all into, their new record is great. We've played a few shows with Homewrecker too. So when we threw out some names to Bailey at State Of Mind Booking he reached out to the bands and helped put it together. That was kind of it. We're good friends with some of the guys in Dead In The Dirt too so that helped. We're really excited to go out. We haven't gone west in a long time, so we'll be playing a lot of cities that we haven't been to in about two years. It's also the first shows in the US since Blinded came out, so we're pretty stoked to see what the reaction is going to be to the new record.
What plans do you guys have after that tour?
We're trying to go over to Japan and Southeast Asia. I think that's something we're trying to do in winter. As far as what the New Year brings, we're going to start working on an LP. We've actually already started the writing process but it's something we really want to take our time with. From then on, we're probably going to try and take this thing as far as we can, to go to as many places as we can. That's really about it. We have other commitments with school and work so it's hard for us to tour as much as we'd like, so we just do as much as we can.