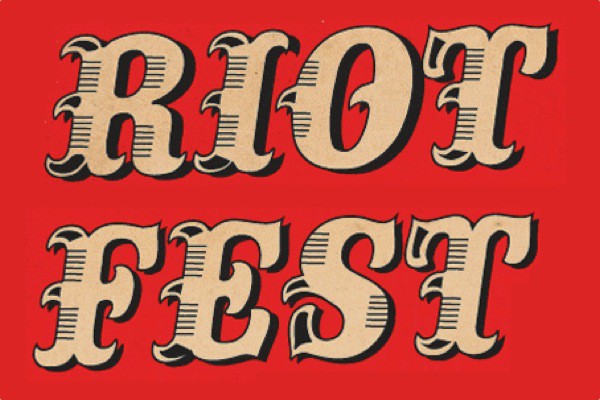 Punknews is a proud sponsor of Riot Fest this year and this weekend, September 13-15, is main event in Chicago. The set times have just been posted and can be seen here.
We thought we'd highlight a few food gems to keep you nourished so you can have a full, happy belly when enjoying the likes of The Replacements, The Pixies, Andrew WK, Dismemberment Plan, Bad Books, Lawrence Arms, Masked Intruder and more in Humboldt Park this weekend.
Trust, we realize that there is SO MUCH good food in the Windy City that this barely scratches the surface, but under Read More are eight of our favorites. Feel free to add your pro tips in the comments. We'll see you in the pit (or probably more likely, in line at Hot Doug's).
3324 N California Ave Chicago, IL 60618
(773) 279-9550
Hours: Monday - Saturday, 10:30 am - 4:00 pm, closed on Sundays
CASH ONLY
Hot Doug's calls itself the Sausage Superstore and Encased Meat Emporium, and it lives up to its name. In addition to your standard hot dogs, veggie dogs, and sausages, this shop features a rotating stock of wild game gourmet sausages. Grab a group of friends you haven't seen in a while and use the time waiting in line to get caught up (we're honestly talking about a good hour or two wait). Don't forget that it's cash only, friends. – Justine Rowland

Kuma's Corner: 2900 W Belmont Ave
(773) 604-8769
Hours: Sun: 11:45 am - 11:45 pm, Mon - Wed: 11:15 am - 11:45 pm, Thur - Sat: 11:15 am - 12:45 am
Kuma's Too: 666 West Diversey Parkway
773-472-2666
Hours: Sun: 11:45 am - 10:45 pm, Mon - Wed: 11:15 am - 10:45 pm, Thur - Sat: 11:15 am - 11:45 pm
With Jack Daniels on tap and burgers named after metal bands, this burger joint is likely right up the alley of many Riot Fest attendees. Kuma's Corner touts a long craft beer list that is sure to appease any palate. Make sure you show up hungry because the plates are massive! – Justine Rowland

3315 W Armitage Ave, Chicago, IL 60647
(773) 772-9446
Hours: Tues - Thur: 5:00 pm–10:00 pm
Fri - Sat: 5:00 pm–11:00 pm
Sun: 5:00 pm–9:00 pm
Closed Mondays
You gotta check out Ground Control because it's a great vegan/veggie spot AND it's owned/operated by Dan Hanaway of The Broadways, Honor System, etc. Dan's music may be gritty, but his restaurant is classy and clean, while the prices are still affordable. People love the Tofu "Wings," and since you're in a Puerto Rican neighborhood, you should probably try a Jibarito. They offer a wide variety of sandwiches, taco plates, salads, and pastas. And if you're like me, you'll also get a side of the garlic mashed potatoes. Did I mention that it's practically next door to Riot Fest and they have lotsa wine and beers? That too. – Tobias Jeg

2537 N Kedzie Blvd Chicago, IL 60647
(773) 489-9554
Hours: 9 am–2 am
Closed Tuesdays
Lula Cafe is one of those local, organic joints so their menu changes all the time, but in a really great way. Even though their fare could be construed as being a bit fancy, the feel of the Lula is completely down to earth and accessible. And although they serve dinner, brunch is where they really shine. Vegans, vegetarians and meat eaters alike can all get down on the Lula Cafe menu. A bonus is they serve Intelligentsia Coffee and were trained by our beloved Jesse Raub of Wizard's Beard fame. – Kira Wisniewski

2537 N Kedzie Blvd Chicago, IL 60647
(773) 489-9554
Hours: Mon-Thu 11 am-10 pm, Fri 11 am-11 pm, Sat 10 am-11 pm, Sun10 am-10 pm
Boystown Location: 3411 N. Halsted St
Logan Square Location: 2333 N. Milwaukee Ave
The Chicago Diner's new Logan Square location is an easy commute for vegetarian and vegan Riot Festers. Even your non-veg*n friends will be happy with the delicious meat-free meals on the menu. The wait staff is consistently friendly and attentive, and the vegan milkshakes are to die for. – Justine Rowland

1912 N Western Ave Chicago, IL 60647
(773) 252-1414
Tues, Weds, Thurs, Sun: 11:30 am – 9 pm
Fri & Sat: 11:30 am – 10 pm
Closed Monday
Located pretty much right under the Western stop on the Blue line is Belly Shack, created by husband and wife duo Bill Kim and Yvonne Cadiz Kim. They took their respective Korean and Puerto Rican roots to create what they refer to as Ko-rican cuisine and it's delightful. Where else can you get an Asian pork meatball sandwich with a side of tostones? It's BYOB and the most expensive thing on the menu is $9. – Kira Wisniewski

3028 W Armitage Ave Chicago, IL 60647
(773) 342-0002
Hours: 11:00 am - 11:00 pm
While we're upping the punx, we gotta plug Dante's Pizzeria because it's run by the great Tim from Canadian Rifle and it's inspired by "The Inferno" (the epic poem, bro). It's fast, NY-style pizza by the slice or pie (with hilarious names like the "Minotaur" or the "Gorgon"). They have plenty of vegan/veggie options and also offer subs, appetizers, stromboli, etc. A nearby hell-themed BYOB pizza joint run by good people in the punk scene? Seeya there.– Tobias Jeg

1143 N California Ave Chicago, IL 60622
(773) 772-8895
Hours:
Tue-Thu 4 pm - 1:30 am
Fri 12 pm - 1:30 am
Sat 12 pm - 2 am
Sun 12 pm - 12 am
CASH ONLY
This late night taco and whiskey bar will be perfect for your post-Riot Fest cravings. They've got a great, daily rotating special that includes a beer, taco, and shot. I highly recommend the Sweet Potato taco, and be sure to ask your server for their recommendation on which of the many whiskeys you should try with your order. – Justine Rowland