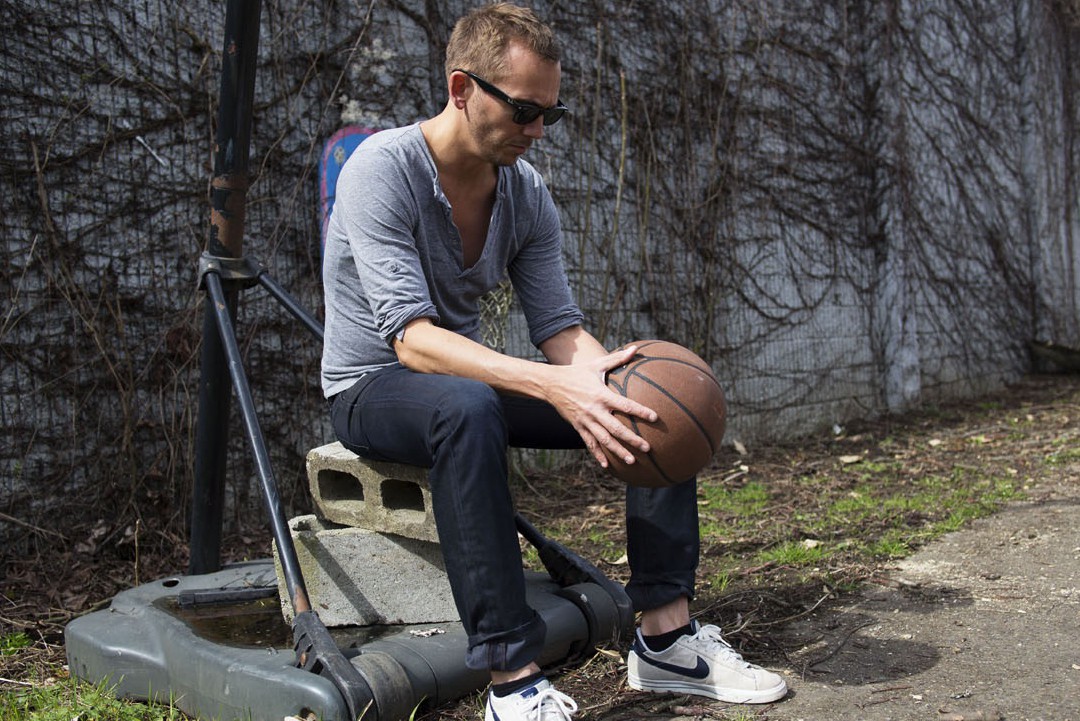 It's been three years since Chris McCaughan released an album under the alias Sundowner. Having recently been picked up by Fat Wreck Chords, Sundowner's third full-length album entitled Neon Fiction was released on September 2, 2013. Interviewer Samantha Barrett spoke with Chris right before the release and discussed the new album and future plans for Sundowner and his other band, The Lawrence Arms.
Your third album Neon Fiction is set to drop on Fat Wreck Chords in September. I noticed that you have a full band arrangement for this album. What was the recording process for Neon Fiction?
Yes, it sounds like a full band but it was actually Neil Hennessy of the Lawrence Arms and myself trying to build the sound. I wrote the songs starting out as acoustic songs and while we were in the studios we started building it. I kind of envisioned from early on that this record needed more than the last couple of records so Neil and I planned how to accomplish that. I really wanted electric guitar to fill out the sound this time. Neil played both bass and drums and I played all the guitars and did all the vocals. It's just one of those things that it's been awhile since I made any record.
Yeah, it's been three years.
Yeah, it's been three years since a Sundowner record and seven years since The Lawrence Arms Full length. I was really excited to build a different kind of record than the earlier Sundowner records. I feel like it is really important to shift the perspectives from album to album. For this record it is really about the sonic kind of shift. I think you can find the threads between records but I don't think this sounds like a different record. I think there is a genealogy from the first record to the second one.
There is a continuity but there is a distinct difference between the three records.
Yeah, that's what I am interested in doing.
What was the vision for this one?
The vision of this one was to build a full sound and that it would give these songs a new life outside of acoustic songs. That being said, I really think these songs translate to the acoustic medium in a way that I can perform them on my own and feel comfortable doing that. I just had a greater vision for this record. I just wanted to be more lush and I wanted to experiment with electric guitars more. Doing guitar work in the studios is something I love, It's really fun to write guitar melodies and to layer stuff and get into those elements. Writing this new Sundowner record has made it a possibility.
It's not a real band but Neil and I really felt like it would be so cool if we made a record that felt like a real band. In that respect, it's a piece of work that hopefully stands on its own as a record. We really set out to make the best record we could with the elements available. I really wasn't concerned about all the other stuff about being a band or making a record. We really set out to make a record that sounded great or was cool.
How important is it to have Neil help you work with you on songs for Sundowner?
Working with Neil is very important. I think we share a collective vision on this thing and not only is he a great player in terms of playing drums and writing great bass lines but he also has a great aesthetic and ear. He mixed this record and he did a fantastic job. We just have a long working relationship and we understand where each other come from and we can talk about things that are just really fluid. For me it is really essential that he is a part of it.
This time we were really fortunate that Justin Yates, who works with Matt Allison over at Atlas Studios in Chicago, engineered it and also help produce it. We had a tight knit crew going while making this record. We didn't make this in a two week block, we kind of made this broken up over a period of time. I think the process worked really well. Neil helped me put together what my vision was when it was said and done.
It's really great that you guys are still working together and collaborating in this way. The lyrics to "Life in Embers" are really relatable to growing up and coming to terms with things. Is this song a mantra to this point of your life?
Certainly, themes I've been exploring in my life for a long time. I think a lot of the record is about coming to terms with a certain life we lived, what you have done and whatever you are doing now, it's like the process of self-actualization, finding a way to be who you are and embracing your nature a little bit. It is really relatable themes in my life. I've changed a lot, in locations, which is fairly superficial but I don't wanna be totally defined by my geography. I was born in Chicago and I lived in Chicago my whole life. I deeply identify with that place and I still do but you take those things with you wherever you go. A lot of the record was written thinking about how you get so hung up on geography that it defines you so much. I think a lot of these songs are about just because things change, it doesn't mean that what happens in your past is not irrelevant but you have to keep pushing ahead. It's a letting go song, but it's also an acceptance song.
It's really uplifting considering some of your songs on We Chased the Waves.
A lot of people have said those songs are so sad and I realize some of the songs on the second album were so somber. I've always felt like that's just who I am and how I write but there's always things better ahead.
You tour minimally; will you be touring with this album?
Definitely. I'm doing some solo shows in patches for right now, as opposed to stretches of shows. I just feel like it works better for me right now. Clearly I come from a background of really hard touring. The Lawrence Arms went nonstop for many, many years. I want to keep doing this in some way but I want to balance it my life, either way it works.
As of right now there is always shows booked in the midwest and we're working on some east coast dates and definitely doing some in the west. I am also playing The Fest.
I believe in this record, I am really proud of it, I really want to be out there doing these shows. Unfortunately going out there with a full band has become difficult for me based on the economics of things, living in the northwest, Neil living in Chicago. We'll see what happens. But for now I am just focusing on mini runs of shows. It's nice to have a lot of Sundowner songs to draw from for live shows. I think I can put together some cool sets.
I am really stoked because I am on Fat Wreck and I really want to do something for the record. I think The Lawrence Arms have operated in similar fashion, and really try to be smart about what we do with what is really going on in our lives and still have fun. This is our general philosophy.
Speaking of Fat Wreck, the first two albums came out on different labels (Red Scare and Asian Man respectively) and this time you teamed up with Fat. Why the change?
All these labels have deep histories in The Lawrence Arms and in my life. I think it totally makes sense that I have a record out on each of these labels. Initially Toby (Red Scare) was the first person who wanted to do the first Sundowner record and he really helped me put it together and get that stuff dialed in. He is still very instrumental in helping me figure things out and same with Mike Park (Asian Man). I've known Mike Park since I was 16 years old and without Mike I would probably not be doing any of this at all. I feel eternally indebted and grateful to Mike. He's one of my best friends, and I love him dearly. I am so happy working with him on the last record and he was definitely someone I talked to about what I was going to do with this record. He has been nothing but supportive to make the decision of what's best for me now. I am really thankful for that.
Those guys are a part of my family, not just a part of my musical family. I feel the same way about Fat Wreck. We have worked with them for a long time now and I just felt really good that they heard the record, they liked it, and they wanted to give it a home. To me that was really cool. I know Fat has done some stuff that is a little more mellow or indie sounding but traditionally people expect some things from Fat Wreck and they are willing to take a chance on this record. This is different, it means a lot to me that they like it. It's nice when people like what you do.
I actually made this record thinking it would never be made. It wasn't until I got deep into the process of writing it that I thought, "Man, we should really figure this out." My focus was trying to write these songs without thinking about where they would land or how people would respond to them. As a writer, there is always some sort of audience. I think we got to a point where Fat Wreck wants to do it, so here we are, it's done, mixed and its out. It means so much that Fat Mike and everybody at Fat really dug the record. For me it's a great opportunity with this record and I think it's a cool thing for Fat as well… I think Fat was always interested in doing different kinds of things, I think this just kinda adds…
It's just adding to their very extensive catalogue…
All these people to contributing to the making of this record in some way - Asian Man, Fat Wreck, Red Scare - were all really essential in making this happen in some way. It just so happens that this one gets the Fat logo stamped on the back.
In regards to The Lawrence Arms, what's up with that new album? How amazing are these 15 songs?
They are the greatest songs that have been probably written in humankind. I dunno.
I am really excited. Obviously there is kind of a veil of smoke over this thing right now. Here is what I can tell you. There is a record, there are actual songs. They have actually been tracked and I think before too long, there will be a lot of news about all of this. That's what I can convey.
I always felt that The Lawrence Arms can wait to make a great record instead of making the next record. That's just how we always operated. I think we all feel really strongly that it's gonna be a great record. I am so stoked on Brendan's writing and what he has put together for this. I have a lot of fun writing for the record. I really couldn't be more stoked on it. Before too long hopefully we will have some hard, tactile info about it. For now there is a record, at some point it will be out.
We're all really excited about it and it's gonna be a great record.
Are there any tour plans for The Lawrence Arms?
Well this year is kind of winding down. Right now we have Riot Fest in Chicago and the FEST in Gainesville. You're probably not gonna see too many dates this year. You can probably expect to see us out in 2014 a little bit more.