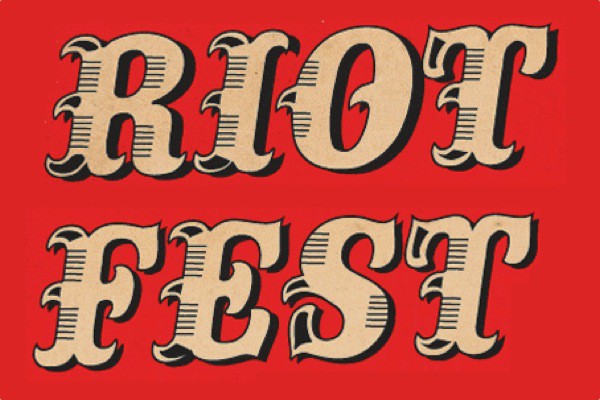 Riot Fest is about to close out its three weekend, three city festival tour this weekend in Denver, CO (or, more accurately, one hour east on the prairie of an unknown town called Byers). In case you missed it, Punknews is a proud sponsor and are pleased to experience this weekend's Side Show event. The event is gearing up, with schedules released this week, live photos of the set up, and social media twittering away about it, the Mile High is ready for the onslaught of visitors (and, the complains about there being no air).
Punknews' Denver-based Copy Editor, Britt Reiser, stretched to the ends of the earth (read: internet) to find out who you all are most excited to see. While you'll surely be distracted by the carnival games, Ferris wheel, turkey legs and funnel cake, these are the top bands you all said were not to be missed.
You'll see we had a couple of ties so it's a few more than 10 bands, but it's Riot Fest so it's okay! We bid you good luck this weekend - two full days of awesome music, food, beer, games and hangs coupled with camping in a cornfield sound like you should have a well-rested and responsible weekend.
Are you going this weekend? Tell us who you think should be seen in the comments.
Need the schedule? Find it here. (Pro Tip: Print it out or screenshot it -- rumor has it Chicago folk had a rough time with the schedule not being posted and a lack of cell service.)
Have questions about everything under the stars? Find that here.
And! Keep an eye on the Punknews Instagram (@punknews) where we'll be posting all weekend long.
Because sometimes it's okay for a grown man to cry in the middle of a crowd of a few thousand people. Based on the the set lists from Chicago and Toronto, and the feedback from everyone who saw them then, they are gonna be amazing, and everything I hoped for. -- Alex Pelissero

There's a good possibility Against Me! are going to release the greatest album of their career and have incorporated talented musicians from impressive backgrounds (Atom Willard of Rocket from the Crypt and Inge Johansson of The (International) Noise Conspiracy) to perform both new and classic songs with them. Front-woman, Laura Jane Grace's energy is stronger than ever and provides for a truly electrifying experience unmatched by other acts. Plus, as a handsome boy so thoughtfully pointed out to me, there will be no stressing over a schedule conflict between AM! and RFTC unless Willard owns a time-turner. -- Brittany Strummer

This is a band I never thought that I would get to see again and are the main reason I'm excited for Riot Fest. They put on such a dynamic and sweaty show and I'm anxiously waiting to find out what songs from their lauded catalogue make it into their set. While I'm excited for the lineup as a whole, RFTC are my only "absolutely, do-not-miss" band of the festival. -- Ross Hostage (For the Love of Punk Reviews Editor)

Gotta check out Public Enemy! I am stoked to see them play "Fight the Power" to what will most likely be an overwhelmingly white crowd. And, we can ask Flava Flav what he thinks of Colorado's new marijuana legislation. -- Ross Hostage (For the Love of Punk Reviews Editor)

I've been a huge AFI fan for over 11 years, and out of the nine times I've seen them in the past 10 years, only four of those shows have been here in Colorado. I have traveled to Chicago, San Diego, Cincinnati, San Francisco, and Hollywood to see the other five shows. They're one of the most incredible live bands I've ever seen, the music of their entire catalog is some of the most near and dear to my heart and soul. Anytime they come to Colorado to play is beyond a treat, and from the set lists I've seen from this current tour, they're playing songs off every album (which they haven't done since 2004). Their presence alone is reason enough for me to go to the festival. -- Aaron Saye

Let's face it, if you grew up between the mid 90s and the present, this band is a staple. The anticipation of seeing this band has completely taken over my life this week, not sure who they're playing against, but I can almost guarantee they are worth missing for 15-20 of the most recognizable, classic punk rock songs of our time. -- Ben Kellogg

I saw their second show after they announced they were back together and was blown away. I only went to see them for nostalgia purposes but couldn't believe how tight they were, it was like they never broke up. After a lackluster full-length, followed by an amazing EP, their set should be something else. I'm still pulling for a Dude Ranch in its entirety set. Maybe dreams can come true. -- Grant Atticus

Bottom line, they don't tour anymore. As bored as Jesse Lacey might look while performing, any chance to melt to his Morrissey croon and clever lyricism is something I will never pass up. Delivering song after song that pulls the audience in and emotionally drags them around is a tough feat for any musician. Brand New not only successfully do so during every live performance, they also keep the fans captivated and choked up. The experience of seeing them live is always special. I eagerly look forward to it. -- Niki Drees

Keith Morris and Chuck Dukowski playing Black Flag tunes would be enough to win this match single handedly, but then you add in Dez Cadena, Bill Stevenson, and Stephen Egerton and you will loose your mind. One of the greatest shows you will ever see. -- John Gentile

Off With Their Heads put out one of the top ten albums of the year in March. This band takes the gritty emotions of real life and assigns it to quick, energetic chords which just toy with your heart. Their live performance is one which picks everyone in the crowd up off their feet and unites in a fury of passion which can only be found in this kind of fast punk rock. OWTH can make even the most jaded get amped while they play. -- Britt Reiser

With their new record out, they've got a lot of new material to throw at the crowd. More importantly, anyone who's heard the new stuff can tell you - the guys have taken THE next step fans have hoped they'd take. Edgier and grittier. Can't go wrong with that. -- Renaldo Matateen

Let's be real. Iggy is the man and puts on one of the best shows of all time. Even in his sixth decade, he rocks out and gets down like a man a third of his age. But… he won't be doing this forever. Get while the gettin' is good. -- John Gentile

Added to Saturday's lineup of Riot Fest one hour short of exactly four days before their performance time, Potato Pirates are the cream of the crop when it comes to Denver punk rock/ska. The fact that a smaller, unsigned band from Denver's wonderful music scene is getting recognized and offered the coveted spot of playing Riot Fest on the same stage as The Replacements, AFI, Alkaline Trio and Touché Amoré is absolutely incredible, and I can't think of a more deserving band. Seeing them play the gigantic main stage at Riot Fest will be an absolute dream come true for me, and I'm sure for them as well. -- Aaron Saye