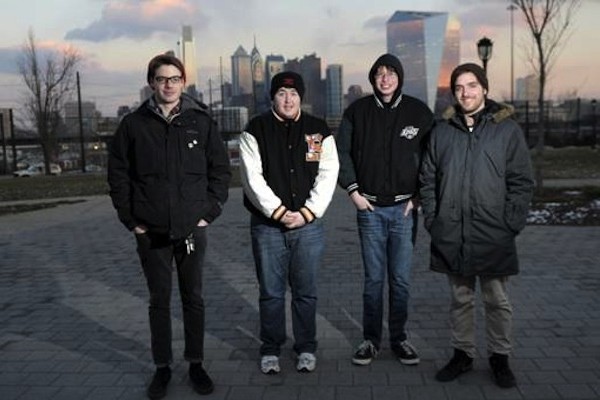 After releasing their debut LP, Sports, in 2012 and embarking on their first national tour earlier this year with Tiny Moving Parts it seems like Modern Baseball is slowly but surely on their way to world domination - or at the very least becoming a household name in the punk scene. Later this year the band will release a 6-way split with the likes of Dikembe and Pentimento just to name a few.
With a schedule like this, with several members being in college, it's amazing how the band finds time to even breathe let alone tour. Luckily bassist of Modern Baseball, Ian Farmer, was able to find a few spare moments to chat with contributing editor & interviewer Armando Olivas. The two discussed school, the recording process, The Fest in Gainesville and much more.
You guys put out Sports in 2012 but I didn't really hear anyone talk about it until this year, so in my eyes it's kind of a sleeper hit. As a band how does that feel?
It's really cool because we had never had a real release before, at least not as a full band. We had that split that came out before but it was all Jake and Brendan. Then this came out and we spent a month in our school's, Drexel University, studio overnight recording before class the next day. So when it came out we were so stoked because people actually started to care.
The first pressing did really well. It was a smaller pressing done by Lame-o and we were so surprised. We did a pressing of about 300 and we didn't think we would sell more than 100. We thought we had made a mistake. Then people started talking about us online. In 2013 things really started to pick up and got crazy. It's a cool thing for all of us to know so many people listen to it and care about it. I think we've even seen one or two people with lyrics tattooed on their body which is insane because we're just some dumb kids making music.
Well, you won't be dumb kids making music for long. So you said you recorded this at Drexel University, does that mean guys didn't pay anything to record the record or at least very little? How did that all work out?
Well Jake and I are both going to school for recording and we wanted a project to work on together and "Sports" ended up being our first real project that we got to work on. We got to record it for free using their studios but we paid someone to mix it because we didn't feel comfortable enough doing that.
Well it sounds great. I was really impressed, you guys are a smaller band, this is your first and the production value was pretty high. I think it's pretty cool you were able to record this without spending too much. A lot of bands have to pay a fair amount to get this stuff done but you're saving money. That's how you gotta do it!
Yeah and it was the only way we could afford it. It really worked out well for us.
So it's only two of you currently enrolled in Drexel University or is anyone else in the band enrolled there?
Right now it's just me and Jake. Sean graduated last year and Brendan took a year off school this year.
How does that work with your guys in regards to balancing touring and school? Do you only tour in the summer and breaks?
For the most part we do little weekends while we are in school and then whenever we have a break we are out on the road. We toured all of last winter break, all of spring break, and then this summer we did our first U.S. tour for most of summer. We have plans to tour again next winter break.
So you just went on your first U.S. tour, I was at one of the California dates and it was PACKED. Was the response for the tour overall just huge crowds or not so much?
For the most part it was way more than we ever expected. There were a few shows where there were only a handful of people but even at those shows there were always at least one or two people who knew every word. That alone was enough to make us feel super good about ourselves and what we are doing. It was really cool. It was amazing to be 3000 miles from home and have kids super stoked to see us play our instruments.
I bet. It's always hard being an east coast band going out to the west coast or vice versa because you never really know how you're going to on the opposite side of the country. Now you mentioned touring over winter break soon, what touring plans do you have coming up and is there a possibility of visiting the UK or anywhere abroad sometime next year?
We are spending a few weeks touring this winter. We are not exactly sure of all the details yet but we have a few dates with Bayside, which is crazy for us. We are playing their holiday shows on the east coast. Then we plan on playing a few weeks out to somewhere, I don't know yet. We are just trying to tour as much as possible this winter. We also have a few shows with The Menzingers in New York and West Chester which we are so stoked on because if we had to collectively choose a favorite band it's definitely The Menzingers. So we are very excited for those. As for the UK, probably not super soon but we are trying to get out there as soon as possible. However, we have been throwing around the idea of a Canada tour during our spring break.
Awesome, you guys could tour Canada easily. Even though it's fairly huge it's mostly uninhabited; so all the cooler cities are somewhat close to each other, for the most part. So would it be either coasts or just one or do you not even know right now?
We don't know. We've only thrown out the idea and that's the ultimate goal but there aren't any set plans yet.
Well just remember to stay out of trouble otherwise you aren't going to get in.
Yeah, we've heard.
So you guys have a 6-way split coming out soon, how did this come about? Was it just a collection of friends? How did the ball get rolling?
Our friend Michael who we had met when he was doing merch for You Blew It told us he was working on this. Originally it was just going to be a 4-way but then he decided to make it a 6-way split and asked us to be a part of it. We had a song we wanted to put out called "Voting Early" which I believe is out now. It's streaming, We had no idea what we were going to do so we decided to put it on the split. It seems like a cool thing, the bands on it are cool.
It's you guys, Dikembe, Pentimento, and a few other bands I can't remember. I just remember seeing that there were enough bands to warrant picking it up. I'm excited for your and Pentimento's tracks the most. Now is that going to be a 10-inch, double 7-inch, or a 12-inch?
We actually just saw pictures of it the other day and it's going to be this really cool 12-inch that is orange and it the middle it has a jack-o-lantern so it looks like a pumpkin. It looks really cool. I'm really happy with how our song came out. I heard a few of the other songs as well and Pentimento's song is really cool. I haven't heard all of them though.
The split is being released at the Fest which you guys are playing this year, right?
Yeah, we are playing the fest this year. I am really excited we are not playing the same time as Dillinger Four because that would be heartbreaking for me. Luckily we get to play and then go see Dillinger Four. I was really worried about that at first. It's really funny; I was making this joke because the chances of us playing at the same time weren't very likely and they're my favorite band but I was saying that if we played at the same time I was going to quit the band. Then it became an actual concern when we were told we would be playing the same day as them but we just missed it. I'm so excited for Fest, I went last year and it was one of the most fun weekends of my life. I mean its Fest. There is a reason why people go back every single year.
I know, if I could afford it I would go again this year. I went to 8, 9 and 10. I'm skipping 11 and 12.
Man, I wanted to go to 10 so bad.
Fest 10 was pretty awesome. Ten might have been my favorite, I mean all of them were great, but 10 was the humdinger. There were so many bigs on the list.
I know, Against Me! played.
I was at that show. It was one of the best if not the best set I ever saw them play. They played at the Florida Theatre formerly known as The Venue and it was packed. Everyone was singing along and drunk, it was a shit show. Then everyone tried to make a run for the stage during the last song and it was epicly awesome and scary.
Oh man, I wished I could have been there so badly.
And who knows if and when they'll play again. They hadn't played in such a long time and I think Tony always asks the bigger bands and they'll say no because of life or other tour plans going on. I think the last time they played prior to that might have been Fest 3. So that's a seven year gap.
Yeah, I know they didn't play for a really long time.
So is this your first time playing the Fest or did you play last year?
This is our first time playing last year I just went on my own.
Just for the fuck of it.
Yeah because it's Fest and because I really wanted to see Propagandhi. It was a fun time and this year now I'm stoked to be playing. I mean I know there are a ton of bands playing but it still is an honor to say we are playing the same Festival ALL is playing. Not to mention a bunch of the other bands I grew up listening to in high school. It's just a crazy feeling.
The Fest's line up touts a lot of bands but many of them have a lot of history behind them to where just about every single attendee has grown up listening to them but even bands playing get to play with all the bands they grew up with as a teenager. So I mean it's pretty cool to say, even if you aren't playing the same day or venue, that you played a festival with some of the bigger bands on the line up.
The Lawrence Arms are one of my favorite bands and I'm flipping out.
Well who is headlining the venue you're playing? Now I'm curious.

J Robbins is actually, which is a bit of weird match up but I think it's cool. He's a super important guy in the scene and recorded a ton of my favorite records. I don't remember if there is a conflict when he is playing but I would love to check him out.
We've talked a fair amount about the Fest which is always rad. I feel like every band I've interviewed this year is either playing the Fest or has played the Fest so we always go off on a tangent about it. It's hard not to. It's become more than a festival, it's an experience now. All your friends you haven't seen in a while, all your friends from touring, all the good food, good vibes, drinking, and partying. You have to go at least once in your life.
Yeah, for sure. It's totally an experience.
We've talked about possible plans for a Canada tour, post fest plans, winter and spring break plans; I have to know what's next for your guys musically? Do you plan to follow up Sports anytime soon? Maybe a split or EP aside from the 6-way split or is that just not something you know yet?
We aren't exactly sure. We have some songs written because Jake and Brendan are always writing. We have been playing one new song live but we aren't entirely sure what we want to do with it yet. There has been talk of a full-length but we have also talked about just an EP so to be honest we aren't really sure yet. We have just been gathering the songs we have done now. I'm not even sure how many they've written, they're always writing.
Such is the life. Now I am sure this question has been asked of you before but I didn't really see anything like that on the internet so I am going to ask it anyway. So you guys are called Modern Baseball but are any of you actually fans of baseball at all?
Yes. Brendan and I are both pretty into sports. It's really funny; when we filmed the music video there is a scene of us playing basketball. It was Brendan and I versus Jake and Sean and we destroyed them. Baseball is my favorite sport but I wouldn't say I am quite as a fan as I used to be. If you had talked to me when I was eight years old I would have known more about most people you would have met. I had a huge obsession with baseball but now I just blindly support my favorite team, The Mets. I don't keep up quite as much as I used to but I still like to keep up and watch games.
That question had been bothering me for a while and it's something I had been wondering or if your name was like Title Fight's where it has nothing to do with the band's interests. I think I asked about that once in an interview and they just told me how they weren't and that they get that question all the time. So I was hoping for an interesting answer on your behalf. Other than that I don't have any questions so this is your moment to say something to the readers and leave them with a final message.
I can't think of anything right now but this was a fun interview. I'm super stoked. I've been reading this site religiously since I was 14. It feels awesome for me.