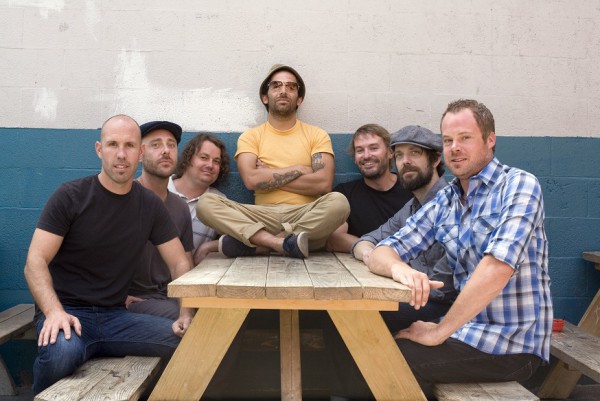 The Mad Caddies have revealed the details for their first full-length in seven years. The record will be titled Dirty Rice and is due out May 13, 2014 via Fat Wreck Chords.
Bassist Graham Palmer had this to say about the record:

After a few years of writing and pre-production, we took the songs back to where it all started for the band- us- at our drummer's studio at his parents' ranch in Santa Ynez, California. After Fat Mike came down in September to help us sort through about 25 songs ideas, we emerged at the end of the year with the twelve tracks that became Dirty Rice. We're excited to hit the road and share our new music with the fans.
We spoke with Chuck Robertson of the Mad Caddies earlier this month. You can read that here.
Mad Caddies will be heading out on tour with Mrs. Skannotto in support of the new record.
Dirty Rice tracklist:
1: Brand New Scar
2: Love Myself
3: Down and Out
4: Shoot Out the Lights
5: Dangerous
6: Bring It Down
7: Shot In the Dark
8: Little Town
9: Airplane
10: Callie's Song
11: Back To the Bed
12: Drinking the Night Away
| DATE | CITY | VENUE |
| --- | --- | --- |
| 04/02/14 | Reno, NV | Knitting Factory w/ Mrs. Skannotto |
| 04/03/14 | Salt Lake City, UT | Bar Deluxe w/ Mrs. Skannotto |
| 04/04/14 | Fort Collins, CO | Aggie Theatre w/ Mrs. Skannotto |
| 04/05/14 | Denver, CO | The Summit Music Hall w/ Mrs. Skannotto |
| 04/06/14 | Boulder, CO | Fox Theatre w/ Mrs. Skannotto |
| 04/08/14 | Dallas, TX | Gas Monkey w/ Mrs. Skannotto |
| 04/09/14 | San Antonio, TX | Korova w/ Mrs. Skannotto |
| 04/10/14 | Corpus Christi, TX | House of Rock w/ Mrs. Skannotto |
| 04/11/14 | Austin, TX | Red 7 w/ Mrs. Skannotto |
| 04/12/14 | El Paso, TX | Ticky Falls w/ Mrs. Skannotto |
| 04/13/14 | Tempe , AZ | Club Red w/ Mrs. Skannotto |
| 05/07/14 | Madison, WI | The Frequency w/ Mrs. Skannotto |
| 05/08/14 | Chicago, IL | Concord Music Hall w/ Mrs. Skannotto |
| 05/09/14 | Grand Rapids, MI | Pyramid Scheme w/ Mrs. Skannotto |
| 05/10/14 | Cleveland, OH | Grog Shop w/ Mrs. Skannotto |
| 05/11/14 | Pittsburgh, PA | The Altar Bar w/ Mrs. Skannotto |
| 05/13/14 | Philadelphia, PA | The Barbary w/ Mrs. Skannotto |
| 05/14/14 | Asbury Park, NJ | Asbury Lanes w/ Mrs. Skannotto |
| 05/15/14 | Virginia Beach, VA | Jewish Mother w/ Mrs. Skannotto |
| 05/16/14 | New York City, NY | The Gramercy Theatre w/ Mrs. Skannotto |
| 05/18/14 | Toronto, ON Canada | Lee's Palace |