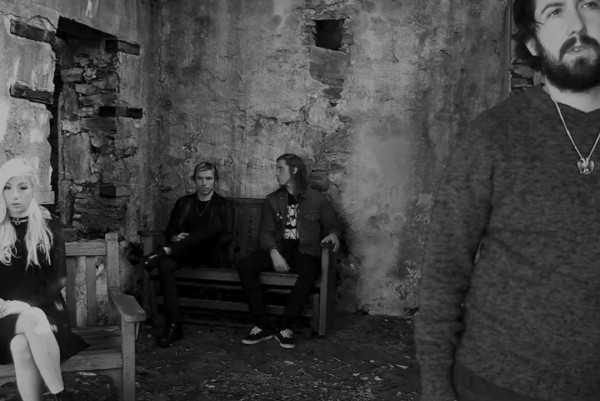 Philadelphia post-punks Death of Lovers feature members of other local acts probably familiar to early 2000s hardcore and shoegaze fans: Horror Show, Nothing, Swan Dive and Night Sins. The group, whose Buried Under a World of Roses EP recently came out via Deathwish Inc., incorporates musical elements of the past but does so with a unique twist that is not easy to pin down. Staff interviewer Andrew Clark spoke with vocalist/guitarist Domenic "Nicky" Palermo a few weeks ago on Skype in what felt like a stream of consciousness dream, touching upon the band's history, Philly being a crappy place and personal musical evolutions.
If you don't mind, please introduce yourself and your role in Death of Lovers for readers. Also feel free to share about anything inspiring you creatively in regards to this band.
Hi, I'm Nicky, or Domenic, Palermo, and I do vocals and part-time guitar for Death of Lovers. I think when we started we planned on recording this record, myself and Nick Basset from Whirr were on tour at the time. This was our (Nothing and Whirr) second tour together and like, everyone was really close and friends, you know. We had two vans, and we were just mixing up in the vans all the time, kinda like whatever van you were by you would kinda just hop in. That's how close everybody was. I mean, Nick and I hit it off almost immediately during the last tour so we were stoked to hang out again. We talked a lot more about music and stuff; he had brought some demos that he recorded at his home. Like very, you know, Cure Pornography-era stuff, and I always expressed the ambition to try to always make that but have it have more a punk vibe to it but still be very pretty. Nick was on-board, and everything that he had written was already fucking incredible. I was like, "Holy shit, when we get back from tour you gotta let me lay vocals over this and lay a couple of guitar things over and re-record it and send it back to you." So yeah, we sent this stuff back and forth for a while then I convinced him to fly in. He flew in and then we re-recorded everything with Jeff Zeigler. We're pretty stoked on it.
Awesome, and you said now he (Nick Basset) is living in Philly?
Yup, now he lives here and plays bass in Nothing, Whirr and Death of Lovers. He's doing another project called Camera Shy with the original singer of Whirr, which is going to be coming out on Run for Cover as well. It's just like a softies project, just acoustic guitar with her singing and stuff. It's really good.
So how's it working with all of the members of Death of Lovers? I know that your girlfriend is in the band.
Yeah, she is, along with Brandon who plays guitar in Nothing, Kyle the drummer. And that's it.
It sounds like it's very much like a group of people you're already hanging out with all the time.
Yeah, it's very incestuous; we're all kinda spilling over into everyone's shit. I mean, we trust each other musically, and we know that we don't have anything else to do fucking anyway. So it's just like, "Hey, uh, I'm playing a show with Night Sins, can you play bass for this?" We're at a point where we all know each other's songs anyway. It's pretty cool though.
That's great, and how's the Philadelphia scene? How do you see yourself fitting into it, if you really care about that?
Philadelphia is always going to be Philadelphia: like it's hard to enjoy anything anywhere, let alone in Philadelphia. People are just constantly punishing anywhere you go, but Philadelphia has been exceptional when it comes to music and the people who go to shows. It's tough sometimes. We've always had good support here but sometimes I'll have friends come in that are in awesome bands from out of state and it's hard to get people to go to shows, unless it's something that people are so pre-hyped about. Deafheaven had no problem, but then you have bands like Ringo Deathstar come through, or Weekend and other friends. It's kinda embarrassing honestly, but it's Philadelphia. There's a reason why everyone hates us. I try to keep myself from it, but I smell like it too. So whatever.
I think that's a really good approach to take: a healthy detachment from all the bullshit.
Yeah, I don't really leave my house when I'm here. Like I hate when friends come through because I have to go see them play, especially with being so fucking involved in music again. Before I would just bail on people but now that I'm into it like I have to and once I'm there around people, I'm stoked. It's a fucking mess to get out of the house sometimes. Especially when you see what happened to me last night ending up on a random couch.
Turning back to the music you're producing with Death of Lovers, you guys just had an EP come out, Buried Under a World of Roses. Awesome work. How do you feel about the reception to it? I know that some people who have followed you from doing hardcore with Horror Show and now with Nothing, have you found people are receptive to Death of Lovers?
It's funny. Before the record came out I filmed our first couple of videos, and I wanted to make them very difficult to watch, like in terms of using shitty effects, awkward camera shots. I wanted to make them awkward, like some of the vintage videos. You can watch an old Depeche Mode video; it's fucking sick. It was the mid-'80s and they look like fucking dumb asses but it's still so fucking tight – I wanted to make something like that where maybe it might go over a million people's heads that see it and they won't really understand it. I would love to make music only for intelligent people, but unfortunately that's not the way it works. But yeah, there was a lot of love for the song and the same with the video; there was also a lot of hate on it. The record came out and we sold, I couldn't fucking believe it, 2,000 records in the first three days. It completely fucking sold out. A lot of that has to do with Deathwish having a huge market now, especially after Sunbather. People buy their stuff just because it's a first pressing; the record looks great. I designed it with Jake (Bannon); I took the photo for the front and we worked it out together. It's always great working with Trey and Jake. But, like, I haven't heard much negative shit since the record has been out so that's kinda cool.
Per my tradition, I would like to let you have the last word in this interview. Thanks again for chatting with us.
Everyone in the world should stop reproducing.