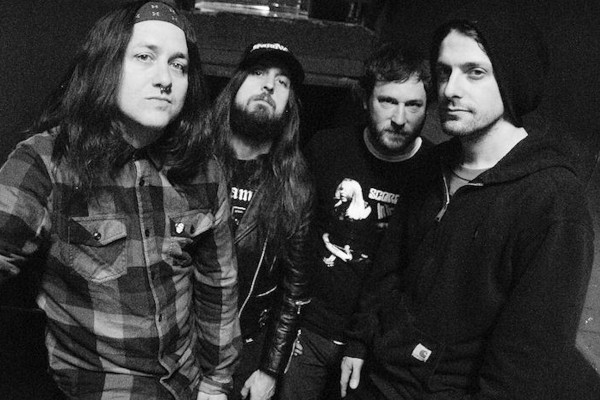 Iron Reagan, the supergroup featuring members of Municipal Waste and Darkest Hour, have released a new EP, online, for free. It's called Spoiled Identity and is available on the band's Bandcamp page. The song "Spoiled Identity" will also be released as a flexi disc in Decibel magazine.
The band recently signed with Relapse Records and are working on their second LP with Kurt Ballou of Converge, who will mix the album.
You can click read more for the track listing and upcoming tour dates.
Tongue Tied
The Living Skull
I'm Regret
Zero Gain
One Shovel Short of a Funeral
Spoiled Identity
Your Kids an Asshole
The Hungry Male (of Wall St.)
Cops Don't Like Me, I Don't Like Cops
Declaration of War
I Spit on Your Face/Grave
Court Adjourned
The Hill Witch
| Date | City | Venue |
| --- | --- | --- |
| 4/2/2014 | Richmond VA | Strange Matter |
| 4/4/2014 | Harrisonburg, VA | MACROCK |
| 4/5/2014 | Nashville, TN | The End |
| 4/6/2014 | Little Rock, AK | Vino's |
| 4/9/2014 | Tempe, AZ | Club Red |
| 4/10/2014 | San Diego, CA | Soda Bar |
| 4/11/2014 | Santa Ana, CA | Constellation Room |
| 4/12/2014 | Camarillo, CA | Rock City Studios |
| 4/13/2014 | Los Angeles, CA | The Roxy |
| 4/14/2014 | Sacramento, CA | Midtown Barfly |
| 4/15/2014 | Portland, OR | Branx |
| 4/18/2014 | Oakland, CA | BRAINSQUEEZE |
| 4/22/2014 | Salt Lake City | Ginos |
| 4/23/2014 | Denver CO | Moe's |
| 4/24/2014 | Lawrence KS | Replay Lounge |
| 4/25/2014 | St. Louis MO | Fubar |
| 4/26/2014 | Munster In | Three Floyd's Brewery |
| 4/27/2014 | Chicago IL | Cobra Lounge |
| 4/28/2014 | Toledo OH | Frankie's |
| 4/29/2014 | Columbus OH | Ace Of Cups |
| 4/30/2014 | Pittsburgh PA | Smiling Moose |