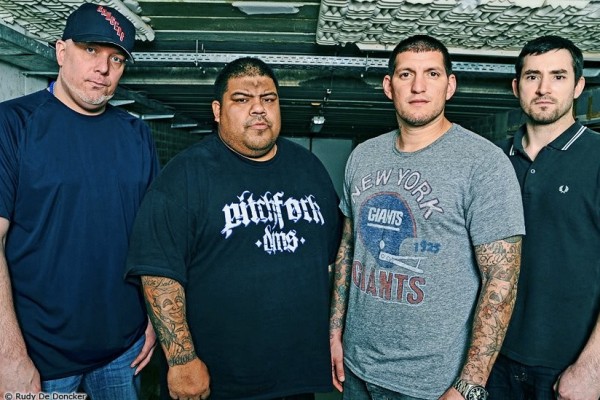 NYHC stalwarts Madball have announced a new album. It's called Hardcore Lives and is due out June 27. The album features guest appearances by Toby Morse of H20, Scott Vogel of Terror, and Candace Puopolo of Walls of Jericho.
Frontman Freddy Cricien stated:

"I shouted 'Hardcore Lives' on Madball's first release, *Ball Of Destruction*, - I was twelve then. It wasn't pre-planned or written down… it was an ad-lib that I just threw out there and we kept it! Back then there was no choice really, not the way we were recording - two track live at *Don Fury*'s… NYHC style! I feel the sentiment behind the expression still holds true today, maybe even more so. That said, Hardcore Lives at least to us, is not just about a cool 'catchphrase' - it's about that rebellious spirit that doesn't give in… In life, music, whatever. It's about growing, evolving, and maintaining your integrity in the process. "
You can click read more for upcoming tour dates.
| Date | City | Venue |
| --- | --- | --- |
| 04/22 | Wien, Austria | Arena |
| 04/23 | Lahr, Germany | Universal Dog |
| 04/24 | Solothurn, Switzerland | Kofmehl |
| 04/25 | Dresden, Germany | Reithalle |
| 04/26 | Copenhagen, Denmark | Amager Bio |
| 04/27 | Berlin, Germany | Astra |
| 04/28 | Hamburg, Germany | Markthalle |
| 04/29 | Amsterdam, Netherlands | Melkweg |
| 04/30 | Magdeburg, Germany | Factory |
| 05/01 | Essen, Germany | Weststadthalle |
| 06/08 | Long Branch, CA | Ink N Iron Festival |
| 07/27 | Philadelphia, PA | This Is Hardcore Festival (Electric Factory) |
| 08/08-08/10 | Montreal, CAN | Hvy Mtl (Parc Jean Drapeau) |