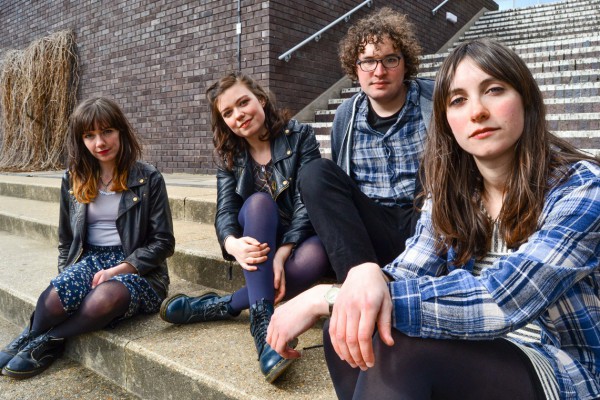 Uxbridge, UK's Colour Me Wednesday have released a video for the song "Sugar Coated." The track comes from an upcoming split with Spoonboy which will be released on Lauren Records. You can check out Colour Me Wednesday's side of the split here.
Colour Me Wednesday and Spoonboy will also be hitting the road together for a US tour beginning later this week.
You can click Read More to see those dates and watch the "Sugar Coated" video.
Date
City
Venue
Support
Details
May 29
MANHATTAN, NY
The Museum of Reclaimed Urban Space (155 Ave C)
ONSIND, Shark Shark, A-E-I-O-U
http://www.facebook.com/events/323844507764348
May 31
BROOKLYN, NY
Death by Audio (49 S 2nd St)
Emilyn Brodsky, The Goodbye Party, Bellows
http://www.facebook.com/events/711181215606969
June 1
MANHATTAN, NY
NY POP FEST
JUST Colour Me Wednesday/NO Spoonboy
June 3
BOSTON, MA
Cuisine en Locale (156 Highland Ave)
Dessert First, Phantom Rides
http://www.facebook.com/events/1417921898476271
June 4
PROVIDENCE, RI
Black Box (95 Empire St.)
Martha, Delay
June 5
PHILADELPHIA, PA
Golden Tea House
The Goodbye Party, Marge
http://www.facebook.com/events/236007233273132
June 6
WASHINGTON, DC
DC9 (1940 9th St. NW)
The Goodbye Party
http://www.facebook.com/events/684706184930667/
June 7
FREDERICK, MD
The Void
The Goodbye Party
June 8
PITTSBURGH, PA
The Roboto Project (5106 Penn Avenue)
The Otis Wolves, Calyx
http://www.facebook.com/events/650540854995423
June 9
COLUMBUS, OH
Carabar (115 Parsons Ave.)
Good Shade
http://www.facebook.com/events/621890107904639
June 10
DETROIT, MI
Trumbullplex (4210 Trumbull Ave.)
Dogjaw, Sharkpact, Casual Sweetheart
http://www.facebook.com/events/695159960545299/
June 11
GRAND RAPIDS, MI
The Tree House of Horror (1020 Neland Ave)
Personal Issue, Mavericks and Monarchs, Dakhma, Mudwitch, La Croix Wingett
June 12
MADISON, WI
Phoenix Co-op (636 Langdon St.)
The Lurk Hards, Ryan Batkie
http://www.facebook.com/events/290712671103495
June 13
CHICAGO, IL
Township (2200 - 2202 N. California Ave)
TIOUOL
June 14
MINNEAPOLIS, MN
Seward Cafe (2129 E Franklin Ave)
Dishpit, Babequest
June 15
IOWA CITY, IA
Public Space One (120 N Dubuque St)
Lipstick Homicide, Rational Anthem, Lovers Speed
June 16
LAWRENCE, KS
Replay Lounge (946 Massachusetts St)
June 17
KANSAS CITY, MO
Art Closet (3951 Broadway)
The Family Band, Jacob Garver
http://www.facebook.com/events/1422467228007331
June 18
COLUMBIA, MO
Cafe Berlin (220 N. 10th St.)
http://www.facebook.com/events/563177663803723
June 19
ST. LOUIS, MO
Cicero's (6691 Delmar)
Babe Lords, Neonbraska, Snooty and the Ratfinks
http://www.facebook.com/events/1435759180012547
June 20-22
BLOOMINGTON, IN
PLAN-IT-X FEST
http://www.facebook.com/events/471137219605551/