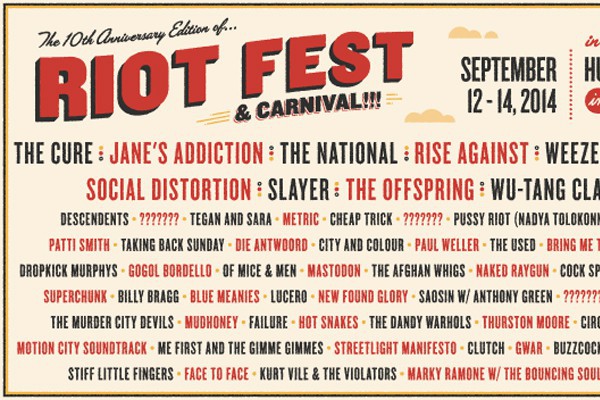 Riot Fest has announced a Pussy Riot Panel for Chicago, as well as daily schedules for both Chicago and Denver's festivals. The panel will be a discussion on the Pussy Riot arrests, as well as the impact of social and political movements, emphasizing their connection with art and music. The panelists will be comprised of Nadya Tolokonnikova and Masha Alekhina of Pussy Riot, Greg Graffin of Bad Religion, and Tim McIlrath of Rise Against, feminist writer Marcelle Karp and Riot Fest founder Michael Petryshyn. The panel will be moderated by Henry Rollins.
The panel will be casual and relaxed, and hopes to be "a catalyst for an entertaining and thought provoking experience." Riot Fest is looking to have panel discussions become a main stay for the festival. The discussion will happen at the Chicago date, on Friday, from 5:45-7pm. You can find more information on it here.
Riot Fest Chicago takes place on September 12th-14th, and you can check out the schedule here. Riot Fest Denver will take place September 19-21st at Sports Authority Field, and you can view that daily schedule here.