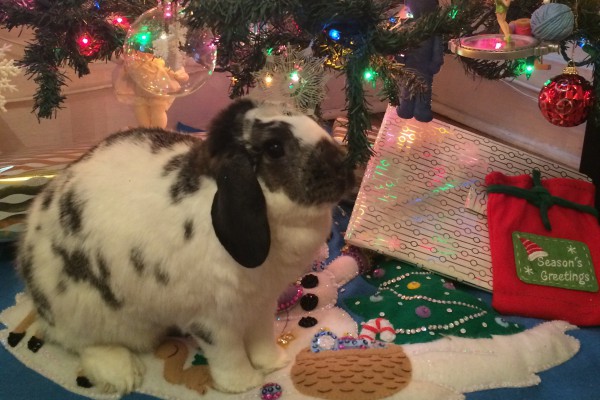 Billie Jean the bunny is indifferent (it's nothing personal; that's her general demeanor) about bringing you the fourth edition of our guest Best of 2014 lists. She's presenting the lists of Toby Jeg (Red Scare), Anika Pyle (Chumped) and Iona Cairns (Great Cynics).
Toby Jeg (Red Scare)
A buncha my friends put out really great albums this year, so my list would be pretty silly. I'm old, biased, and predictable, so I'm gonna pass on making a traditional top 10 for 2014, but I will say I think the best punk record this year was The Lawrence Arms Metropole, with The Copyrights Report getting runner-up, and Bishops Green Pressure winning the bronze. Instead of top records, I'm gonna make a list of my "Top Punk Events of 2014":
| Number | Event |
| --- | --- |
| 10 | Billy Bragg gave me a high five at Riot Fest: The People's Champ even stopped to chat for a second. Great live set too. |
| 09 | Red Scare 10-year pre-party in NYC: The only thing better than The Menzingers acoustic set was that ballsy rat in the pizza place. Wow. |
| 08 | TLA/Sam Russo/Bangers in Southampton, UK: Last show of a great tour. The famous Finnish madman stole the show! |
| 07 | WGN Radio: Me, David from Enemy You, and Jay Nothington were wasted on Chicago's biggest radio station. Brilliant. |
| 06 | Groezrock 2014: Finally got to attend the esteemed Belgian festival. |
| 05 | Love from MRR: they did a feature on our 10-year anniversary and gave the comp a great review. PUNK POINTS. |
| 04 | NOFX in Sweden: I stowed away on their bus after a show in Berlin and finally got to visit the home of Henrik Larsson and RANDY! |
| 03 | Day off in Chicago with Sam and Funburg: We bullied the jukebox and Funburg exposed us to Red Dirt Country, Confederate Railroad, etc. |
| 02 | Hamburg: Got hooked up with a ticket to the St. Pauli game and hung out with Das Punks at the Jolly Roger. Great town. |
| 01 | Red Scare 10th Anniversary Weekend: One for the books. So cool to see so many folks from around the country and overseas come for the party. |
More importantly, here's my favorite movies of 2014:

| Number | Movie |
| --- | --- |
| 15. | Edge Of Tomorrow |
| 14. | No No: A Dockumentary |
| 13. | Noah |
| 12. | Grand Budapest Hotel |
| 11. | For No Good Reason |
| 10. | Birdman |
| 09. | Finding Vivian Maier |
| 08. | Battered Bastards of Baseball |
| 07. | Snowpiercer |
| 06. | Watermark |
| 05. | Jodorowsky's Dune |
| 04. | Fury |
| 03. | Ernest & Celestine |
| 02. | Guardians of the Galaxy |
| 01. | Land Ho! |
There were plenty of movies that were okay (Muppets, No, Rosewater, Nightcrawler, etc), but this year I saw a noticeable amount of films I really did NOT like, and here they are:

| Number | Movie |
| --- | --- |
| 07. | Life Itself |
| 06. | Gone Girl |
| 05. | The Dance of Reality |
| 04. | Chef |
| 03. | Interstellar |
| 02. | Under the Skin |
| 01. | Boyhood |
Wow, music is cool, huh?! A lot of people released great records this year. S/O to all the EPs and singles that I wanted to include here but did not. Also S/O to Taylor Swift.
Here are my 10 fave LPs of 2014 in no particular order.

This record is about 10 minutes long. Since it was the only CD in my car for an entire month, I listened to it about 200 times. It was the ultimate beach-driving soundtrack as there are several references to swimming pools and heart-shaped tattoos. Even though it's the dead of winter, Never Hungover Again is still in constant rotation.
Ok. Cayetana is the best band in the world. If you disagree, I will fight you. When I met Augusta in the Holiday Inn bathroom at Fest like 8 or something I said, "Girl's gonna go somewhere." Then she and Kelly and Allegra went and released the coolest record in a millions years. Nervous Like Me is this honest, haunting, indie punk masterpiece that has lyrics about ice cream. Could you ask for anything cooler?
All I could say when I heard this record for the first time was WTF? There's some weird noodly guitar and crazy time signatures and gang vocals and harmonies and this weird energy that I loved. This record is cool to listen to but it's incredible to see live. If you get a chance, please go see Pup. It'll change your life.
BEYONCE: BEYONCE Columbia
Sorry not sorry. This fucking rules.
Sun Kil Moon: Benji Caldo Verde
This record is piercing. Benji is an 11-song storytelling masterpiece that tells excruciatingly honest tales about life and death. Songwriting elicits empathy and I don't think I've felt more feelings listening to any other record this year than this one.
Tony Molina: Dissed and Dismissed Slumberland
Tony Molina is like if Weezer got a big, BIG muff and got bored after one and a half minutes of songwriting. It's short, sweet, fun and punchy.
Michelle Zauner is by far one of my favorite vocalists to emerge in the last decade. It took me a while to get into this record, mostly because there's something very sad and angry and discordant about it, but once I did, I got sucked in.
Total Treble
This record made me ask myself, "Do I have cunt in my strut?" so it was easily one of my favorite releases upon first or second listen. I've been an Against Me! fan since I was 12 and this is, I think, the most important record in their catalog. "Paralytic States" is just the best song.
Trunkweed: Days of Haze Self-Released
Twinkly, surfy, ethereal, acid trippy emo-pop or something. We played with this band in Baltimore and I was really blown away. Good soundtrack for getting high and pondering life. Sounds like one of those montage scenes in a sad summer break up movie. Listen to Youth Society and tell me you don't have your beach jam for 2015.
Frankie Cosmos: Zentropy Double Double Whammy
There was something very delicate and fleeting about this record. The songs are simple but profound and they manage to captivate even though not one comes in at over three minutes. I have no idea what she's talking about but it really doesn't matter.
I'm sorry that Courtney Barnett's album came out in 2013, not sorry enough to leave it out though. I only found out about her in February so it counts? I listened to it all year and it was really nice. Also I was biased and put my brother's album in there, arguably the most underrated album of the year. If you like Weezer you should probably go listen to it! So yeah, here's my thingy.

Martha: Courting StrongFortuna Pop
Really Records
Big Scary Monsters
Alisdair Cairns: All The Other Girls Are ShitSelf -released
Courtney Barnett: The Double EP: A Sea of Split PeasMilk! Records
Poison City / SideOneDummy
Total Treble