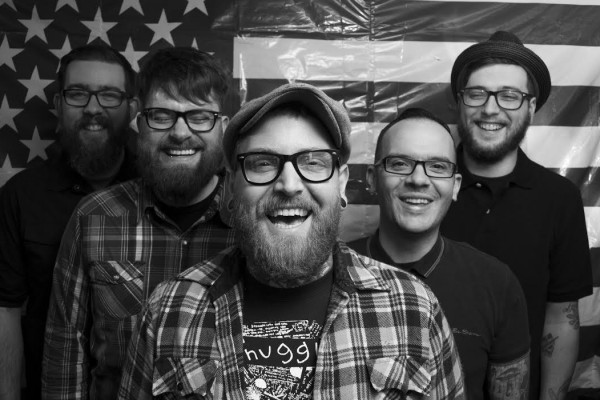 Seattle's Success have released the details for their Red Scare debut Radio Recovery. The 10-song album was produced by Steve Rizun (The Flatliners, Junior Battles) and is due out digitally March 24, 2015 and physically March 31, 2015. Red Scare's Toby Jeg shared some kind words about his excitement for the label's newest signing:

This is an especially cool project for Red Scare because even though they are now based outta Seattle, Success comes from the same hilarious cowtown that I grew up in (Enumclaw, WA). They've been in touch with me since they were kids in high school and given that Red Scare has always been a community and family of bands, they fit right in. I've had my eye on them for years and they've grown into an awesome band with awesome songs. There's a lot of people excited about their record and that's pretty neat.
Pre-orders for Radio Recovery are available here. Success will be heading out on tour in support of the record including a run of dates with Masked Intruder.
Radio Recovery
01. Believe In
02. 22nd St.
03. Revolution Schmevolution
04. Mr. Know It All
05. Nowhere Kids
06. Lives That We Deserve
07. Head For The Hills
08. Flowers
09. The Impossible Truth
10. Resignation
| DATE | CITY | VENUE |
| --- | --- | --- |
| 3/14/15 | Seattle, WA | Showbox (with MxPx) |
| 3/29/15 | Denver, CO | Moon Room (with Masked Intruder) |
| 3/30/15 | Albuquerque, NM | Launchpad (with Masked Intruder) |
| 3/31/15 | Tucson, AZ | 191 Toole (with Masked Intruder) |
| 4/1/15 | Tempe, AZ | Yucca Tap Room (with Masked Intruder) |
| 4/4/15 | San Diego, CA | Soda Bar (with Masked Intruder) |
| 4/5/15 | Tijuana, Mexico | Mods Bar (with Masked Intruder) |
| 4/7/15 | Sacramento, CA | Blue Lamp (with Masked Intruder) |
| 4/11/15 | Seattle, WA | El Corazon (with Strung Out, Masked Intruder) |
| 5/13/15 | St. Louis, MO | The Demo |
| 5/14/15 | Chicago, IL | Beat Kitchen (with Direct Hit!, The Brokedowns) |
| 5/15/15 | Hamilton, ON | Club Absinthe |
| 5/16/15 | Montreal, QC | Pouzza Fest |
| 5/17/15 | Toronto, ON | Smiling Buddha |
| 5/18/15 | Chicago, IL | Gman Tavern (with Drag The River) |
| 5/19/15 | Kansas City, MO | Vandals |
| 5/23/15 | Las Vegas, NV | Punk Rock Bowling |