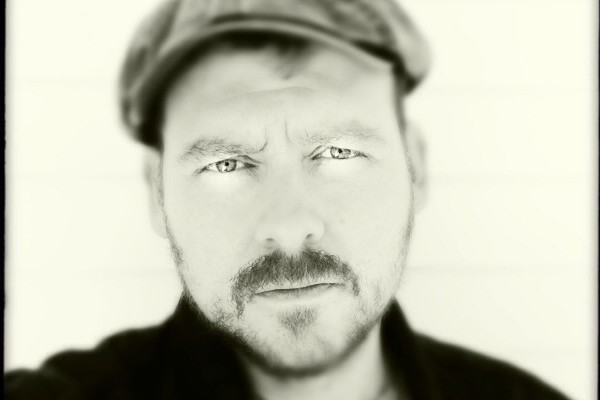 Derek Grant has been an essential member of the punk rock community for over 20 years being behind the drum kit for Alkaline Trio since 2001 as well as being involved with the likes of The Suicide Machines, The Vandals and Face to Face. Earlier this year Derek released his first solo album on Red Scare and played a short run of dates in support of the full length.
With his warm up out of the way Derek is ready to take on the world as he embarks on what looks to be his busiest year yet. He currently has dates set with Alkaline Trio, The Suicide Machines and The Vandals, not to mention more solo dates in the works. With such a stacked year ahead of him we were lucky enough to score a chat with the man. Derek was willing to talk about anything and everything we could throw at him. You can read our interview after the jump.
How has 2015 been for you so far?
It's been pretty incredible, man. It's kind of flying by which is a bit scary because it's just begun. I just played my first batch of solo shows and that was huge for me. Just going back to Chicago to play music with a lot of old friends of mine. It was an honor to play music with those guys and hear these songs I had written performed by a band. It really brought this new life to the stuff I had written so many years ago. It was a learning experience for me. I had never really led a band or run a show before. There is a lot that I have to learn but I am excited about that. I'm excited to be 38 years old and still have things to learn. I've been playing music for so long that there is so much about it that I take for granted. It's great to have these new frontiers.
Well you actually dove into the first topic I really wanted to get into. What's the difference between drumming versus leading a band? How was that for you? You said it was fun but was it also weird or difficult for you at first?
Absolutely! It was strange on a lot of levels. Geographically I am in a different state on stage and I am so used to this buffer of drums between the audience and me. I'm very comfortable there and I don't feel disconnected back there but being at the front of the stage with the drums behind me is a just a bizarre feeling. It's a bit disorienting at times and having to talk between songs is still something I have to figure out. Banter and having a rapport with the crowd; I don't do that much talking with Alkaline Trio. There's all these new skill sets that come with being the front person of a band and it gave me a huge amount of respect for singers; even Matt and Dan in Alkaline Trio, I have an immense level of respect for what they do, but this gave a whole new appreciation for what it means to be out there bridging that gap between what's going on stage and what's going on with the audience.
Nice. Well you just wrapped up those shows a while back; do you have any more planned for the rest of the year in between tour dates with Alkaline Trio?
Yeah. This is kind of set up to be one of the busiest and one of the craziest years for me. I just did these solo shows, which I said was a completely new experience for me. In a few weeks I head out to Australia with The Vandals to play some festival shows out there. Hopefully I will be playing a show in Adelaide or Brisbane over there. I'll try to squeeze a solo acoustic show while I can. Then I come back for a few weeks and then I'm doing a tour with The Suicide Machines. I haven't played drums for The Suicide Machines since about 1997.
Yeah, maybe even '98?
Yeah, so it's just Jay, myself and Rich, who was the bass player who played with the band during the second half of their career, and then our friend Justin playing guitar. So it's not quite a reunion but we are going to do the whole first record. It's just a short run of shows but I'm hoping to open up those shows acoustically as well. So there is going to be a lot of activity for me with a lot of different projects. It's going to be really interesting, it's an overview of all the bands I've toured with over the past few decades.
Yeah, you've done a few shows here and there filling in for Josh Freese right?
I've been filling in for The Vandals pretty consistently since 1997 actually because Josh is such a busy guy. I at least do one or two shows a year and around the late '90s early '00s I would do full tours. Josh, he was playing in Guns N' Roses at the time, and has been a member of Devo off and on, he was playing with Nine Inch Nails, he's such a busy guy that thankfully I get to sit in and play with these guys. That's been my most consistent musical endeavor pretty much my entire career.
What's it like playing for The Vandals? It seems that despite having such distinct personalities they all make it work on stage and it's always a fun show.
They taught me so much. I credit The Vandals with saving my life. Back when I quit the Suicide Machines I had sort of given up on music. I had become so disillusioned with music and the music industry and I lost the passion for the music. So I went back to working regular jobs, spent a couple years trying to figure out what I wanted to do but I was fully prepared to never be able to tour again. I had this wonderful opportunity with The Suicide Machines; we had a big record contract, we were able to tour the world, and I walked away from that. You don't typically get a second shot at that. Right when I had given up hope The Vandals gave me a call saying they needed to go to Japan and Europe. So that brought me out of the funk I was in and gave me the opportunity to travel and have these new experiences. They taught me so much; their show as you know is equal parts music and comedy. They taught me a lot about improvisation because I never knew what was going to happen on stage. Jokes in between songs would run on kind of long, Warren would get naked and start running around the audience and then jump on the drum set. There was this element of surprise to the show and it really taught me to stay on my toes and think about what's going on around me. So The Vandals was the master class in music or the crash course depending on how you look at it…
If you can tour with The Vandals you can tour with anybody.
Absolutely. They're great guys, they all have their own sense of humor, they all bring something different to the table, and obviously they've been a band a long time so I'm always honored that I get to play with them.
You mentioned the Suicide Machines touring earlier, how did you link up with Jay and get into the mix to play some more shows?
Jay and I are brothers. We kept in touch over the years. We had a bit of a falling out when I stepped away from the band. There was a gap where didn't really keep in touch but if we ran into each other we would kind of hang out, say hello and catch up. Jay started doing shows under the Suicide Machines name again a few years back. Initially he was doing benefit shows to raise money for friends who were in some kind of financial trouble. The original drummer had passed away and we did a show to raise money for his children. He called me and asked if I wanted to come to Detroit and do a couple songs. Royce, one of the early bass players, played bass and I played drums. Even Jay Break who was the original bass player of the band came out and played bass on a song. So it was like a really cool reunion and celebration of the band, its music and its legacy. It was a really good time and over the years there have been a few times where I have sat in with the band for like a song. I got this random text from Jay a couple months ago saying, "we'd really like to do this tour in April and Ryan can't do the tour so what would you say to coming out, doing these shows and playing the whole first record?" I was on the fence about it; it's been a long time since I played those songs. I didn't know if playing a full set of music with Jay was going to feel right. So I went to Michigan around Thanksgiving to see family and we got together for one rehearsal and it was great. It was fun and everything just came back and felt comfortable. Jay and I had a great time. Doing two weeks of shows seems like fun and if it's fun, why not do it?
Yeah and it's always nice seeing some kind of incarnation of the Suicide Machines playing music. I only got to see the Suicide Machines play once pre-break-up so I went years without seeing them. So when they played Fest 9 it was great to relive those memories. Is there any chance of the Suicide Machines coming out to California sometime this year?
It would be cool. We will see how things go with this run but I am not opposed to doing more stuff with them. We just gotta take it one step at a time. I don't know if it's anyone's priority at this point. I mean Jay has a ton of bands that are all great and I think everyone playing these shows has other bands that they play in or jobs and stuff. We'll see how things feel on this run and if things feel right then I definitely wouldn't rule it out. You know, I've run into to so many people that tell me Destruction by Definition is the first punk record they ever heard or that it means to much to them. I hear that from metal kid, hardcore kids, punk kids and people from so many walks of life so I'm really glad and proud that I was able to be a part of something like that. It's going to be a blast to go out and play those songs again.
It's a phenomenal record. It finally got repressed on vinyl so a friend of mind got it for me for my birthday so it's become one of my most cherished possessions. So we have been talking a lot about The Vandals and the Suicide Machines so why don't we bring it back to the solo record and maybe close things out with a Trio question or two. When writing the songs for your new solo record, I know a lot of it has to deal with your divorce, how did you go about taking that situation and turning it into an album?
Initially I wasn't working towards an album; I was just trying to write a song a day. I was trying to exercise my skill as a song writer. Not to go off on too much of a tangent but I wrote a lot of music for the Suicide Machines and then I sort of stopped. When I met up with Alkaline Trio, Matt and Dan are such strong lyricists I didn't want to step on their toes at all so I've written songs for Alkaline Trio but never lyrics. I got to this point where all this unfortunate stuff was happening in my life and I was traveling around and I happened to have an acoustic guitar with me so I just decided I was going to try and write a song day. Lyrics, music, the whole nine yards. It didn't have to be a great song, it didn't have to be a long song, and as it was a lot of songs I wrote were ridiculous silly songs. Sometimes some real emotion came out and after so many years had passed I reached the point of closure with a lot of the stuff that was going on with my life at the time. I straightened myself out and things worked themselves out. It got to the point where I had this small fraction of the songs that I wrote that all made sense together and told this story. I wanted to put it out but wasn't sure if anyone was going to want to listen. Toby from Red Scare, who is a dear friend of mine, listened to the record and was really excited about it and wanted to put it out. So that gave me some encouragement to do an actual release. It was about a five or six year period writing these songs, understanding what they are, figuring out how they work together and seeing it as a cohesive album.
That pretty much answered it all. Speaking of Alkaline Trio, you've been with those guys for such a long time and recently did a few Past Lives shows last year and are doing more this year; how does it feel revisiting the entire back catalog?
It's great. It's very daunting; it's like 94 songs or something like that. Stylistically, the band has changed a lot through the years and of course the band had a few drummers before me so it's really interesting and cool for me to get up there. We did two albums a night and often it was one album that I didn't play on and one that I did play. I try to adapt my style and play it as much Like Mike or Glen as I can. So it's really challenging and there's definitely certain albums that resonate with the audience more than other ones. That can be a little bit of a struggle sometimes if you're playing an entire album that the audience isn't going as nuts for as they did the last record or whatever. So it's been really interesting but the really cool thing is we learned and played our entire catalog. We're ready to go into working on a new album later this year and I think we're going to have this great foundation and understanding of where the band has been and where the band should go.