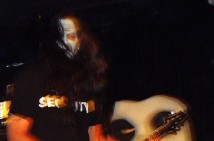 It appears that Dez Cadena is no longer in The Misfits. Just this past Thursday, Punknews' own Ricky Frankel went to see the Misfits. Cadena was not with the band. Instead, a person that bassist/vocalist Jerry Only introduced as his son was handling guitar duties. Meanwhile, on June 19, Cadena posted this on his facebook page:

"Folks, I'm not with the Misfits anymore,this is what I do for a living now, sorry if you were expecting to see me in Cali.All the best to the band and fiends.Carry on."
The post also had a picture of a vintage baseball player.You can see the post here. Notably, in March, Cadena had a "Malignant Neoplasm from [his] larynyx" removed. Shortly after the surgery, during the recovery process, he could speak, but could not sing.