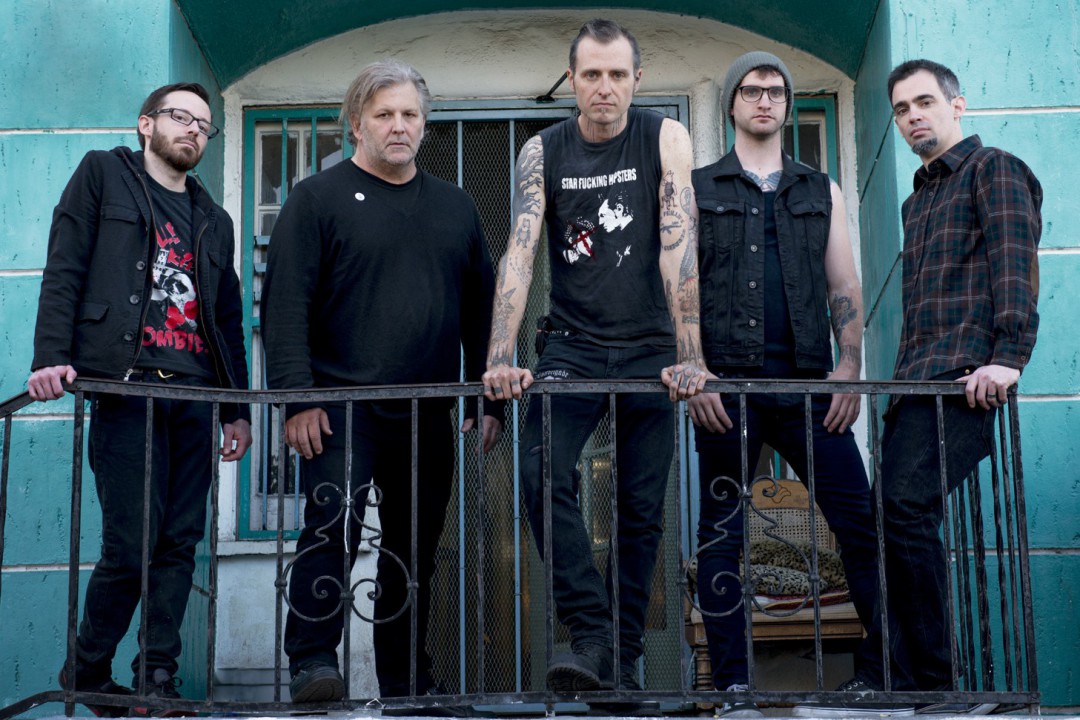 Today, our "Sonic Reducer" series continues. In the series, Punknews writers compress a band, genre, theme, or time period into a playlist that would fit on a single CD. Along with the playlist, you'll get either an overview of the topic, such as a band introduction, or a story about how the music in the playlist moved or changed the writer. This series is intended to be educational as well as rockin'.
Today, Punknews writer Ricky Frankel gives on overview of The Crack Rock Steady genre, which includes a loose collection of bands that revel in ska-punk, drug use, and (pseudo) Satanism. Ricky gives a brief overview of Leftover Crack, No Commercial Value, Morning Glory, Star Fucking Hipsters, INDK, and Rats in the Wall. Check out his thoughts and picks below.
Seeing how Constructs of the State, Lefover Crack's first full-length in over ten years comes out in October, and the band's reissue of Fuck World Trade was released earlier this year, I thought this would be a good time to take a look back at just how much the Crack Rock Steady sub-genre has accomplished as well as expanded, grown, and influenced punk rock and ska.
The playlist that is before you was my best attempt to capture all of the different projects current and former members of Choking Victim and Leftover Crack have been involved in. It all started in depths of C-Squat with the Sturgeon's early three-piece No Commercial Value.
But what really got the scene's attention was Choking Victim (both the first and second line ups). Though they only released three EP's and one full length, this small collection is hailed as some of the most influential ska-punk ever recorded. No Gods/No Managers is an absolute classic and songs like "Infested," "500 Channels," and "Crack Rock Steady" make the crowds at current Leftover Crack shows go absolutely nuts.
After Choking Victim ended came the crust-punk juggernaut that is Leftover Crack. I think this is really where Sturgeon and the rest really found their sound. The band's ability to mix ska with hardcore, crust punk, and even metal is mind blowing. I do feel that their -- lets call it --"radical political views" tend to distract people and make them very underappreciated artists. It's really hard to argue that Mediocre Generica and Fuck World Trade are not classics with lyrics like the ones in "Rock the 40oz.," the musicianship in "One Dead Cop" and "Gay Rude Boys" (and a ton more), and the awesome collaboration they did with The World/Inferno Friendship Society for the song "Soon We'll Be Dead."
And let's not forget about Star Fucking Hipsters. SFH kept us all entertained with crusty ska-punk tunes, while Leftover Crack was taking a (long) break. Sure the SFH sound was generally lighter sounding than the LoC discography, but they were just as politically and socially aware and vicious sounding. By adding a second lead vocalist and getting basically a whole new set of band members together, Sturgeon still kept true to the Crack Steady sound all while keeping it original and not derivative of his other projects. I think as time passes Never Rest In Peace, Until We're Dead, and From The Dumpster To The Grave will be even more appreciated than they already are.
And remember it's not just the bands that Sturgeon has been involved with that have contributed greatly to this sub-genre. It's also Brad Logan's hardcore bands like F-Minus and Rats In The Wall that really bring out the darker side of the Crack Rock Steady sound.
Ezra Kire's bands INDK and Morning Glory not only reinforced the ska side, but also brought out the more anthemic sounds especially in M-Glory's last two full-lengths Poets Were My Heroes and War Psalms, both of which are excellent contemporary releases. But the older Morning Glory material is just as valid here as the new. Remember it was Morning Glory that originally wrote "So You Wanna Be A Cop," which the Crack Rock Steady 7 covered on their split with F-Minus, and the band wrote the anti-police brutality anthem "Gang Control" that Leftover Crack not only covered on Fuck World Trade, but also play live still to this day (Yes, they still play it live. I saw them play it in February this year).
And even though Ezra has left LoC, he's still making killer music with Morning Glory and the rest of Leftover Crack still put on amazing shows. I have faith that Constructs of the State will be up to par with their other full-lengths. It may sound a little different without Erza's presence, but Sturgeon, Alec, Brad, Chris, Donnie and whoever else they bring into the studio to help out will give us something that will make this ten years of waiting well worth it.
Until then, crack open a 40 oz, relax, and enjoy. -Ricky Frankel