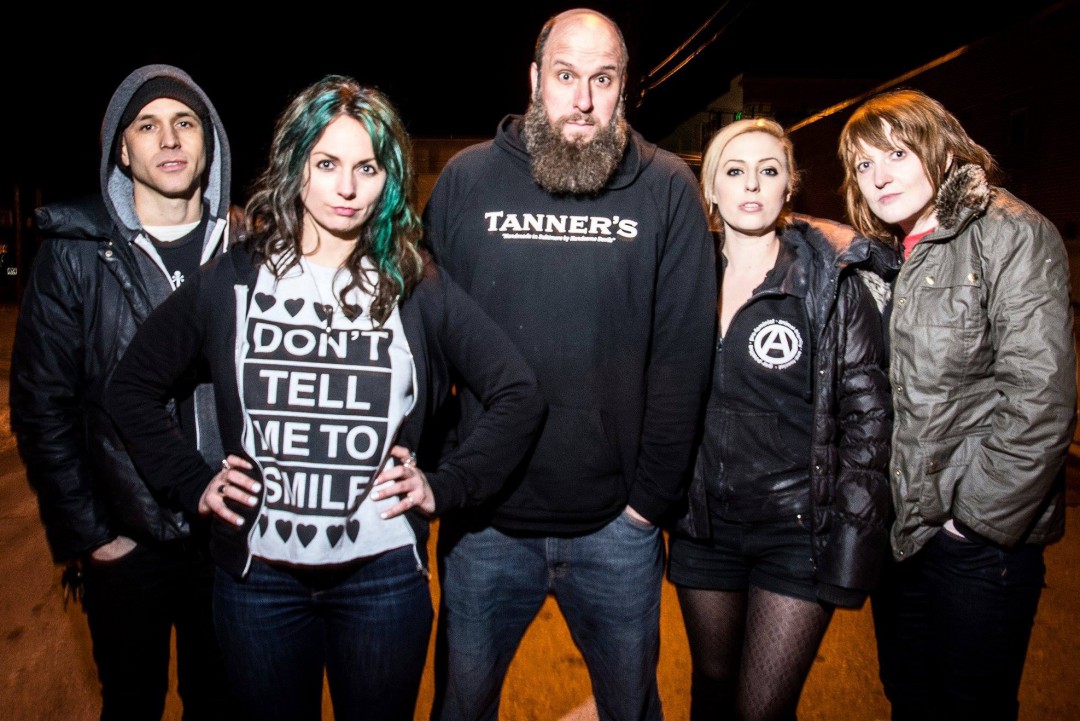 Punknews is very proud to debut the new video by War On Women.
"Say It," which is off the band's fantastic self-titled album, deals with the important topic of sexual assault. Frontwoman Shawna Potter spoke to Punknews about the video:

"For this video we wanted to highlight the work of The Monument Quilt Project, which is based in our hometown of Baltimore, as well as give local survivors of sexual assault and rape an opportunity to sing along with us, without shame or stigma.

Shooting this video was an incredibly moving experience for everyone in the band. We know that not all victims have the opportunity to speak out about their experiences, or are shamed when they do. For people who are ready to speak out, or need to, we hope this song can be a safe way to say 'I was raped' out loud. You're not alone."
The album is out now on Bridge Nine Records and you can check out the video below.
| Date | City | Venue |
| --- | --- | --- |
| Oct 29 | Richmond, VA | The Camel (w/ Government Issue) |
| Oct 30 | Charleston, SC | Tin Roof Tavern (w/ Government Issue) |
| Oct 31 | Gainesville, FL | High Dive (The Fest) |
| Nov 01 | Atlanta, GA | Masquerade at Purgatory (w/ Government Issue) |
| Nov 02 | Carrboro, NC | Cat's Cradle (w/ Government Issue) |
| Feb 19 | Houston, TX | Walter's (w/ Anti-Flag, The Homeless Gospel Choir) |
| Feb 20 | Dallas, TX | The Prophet Bar (w/ Anti-Flag, The Homeless Gospel Choir) |
| Feb 21 | San Antonio, TX | Korova (w/ Anti-Flag, The Homeless Gospel Choir) |
| Feb 23 | Tucson, AZ | The Rock (w/ Anti-Flag, The Homeless Gospel Choir) |
| Feb 24 | Phoenix, AZ | The Nile (w/ Anti-Flag, The Homeless Gospel Choir) |
| Feb 25 | San Diego, CA | Observatory North Park (w/ Anti-Flag, The Homeless Gospel Choir) |
| Feb 26 | Santa Ana, CA | Observatory (w/ Anti-Flag, Leftover Crack, The Homeless Gospel Choir, Blackbird Raum) |
| Feb 27 | Los Angeles, CA | Troubadour (w/ Anti-Flag, Leftover Crack, The Homeless Gospel Choir, Blackbird Raum) |
| Feb 28 | Las Vegas, NV | Vinyl (w/ Anti-Flag, Leftover Crack, The Homeless Gospel Choir, Blackbird Raum) |
| Mar 01 | San Francisco, CA | DNA Lounge (w/ Anti-Flag, Leftover Crack, The Homeless Gospel Choir, Blackbird Raum) |
| Mar 02 | Reno, NV | Knitting Factory (w/ Anti-Flag, Leftover Crack, The Homeless Gospel Choir, Blackbird Raum) |
| Mar 04 | Seattle, WA | El Corazon (w/ Anti-Flag, Leftover Crack, The Homeless Gospel Choir, Blackbird Raum) |
| Mar 05 | Portland, OR | Hawthorne Theatre (w/ Anti-Flag, Leftover Crack, The Homeless Gospel Choir, Blackbird Raum) |