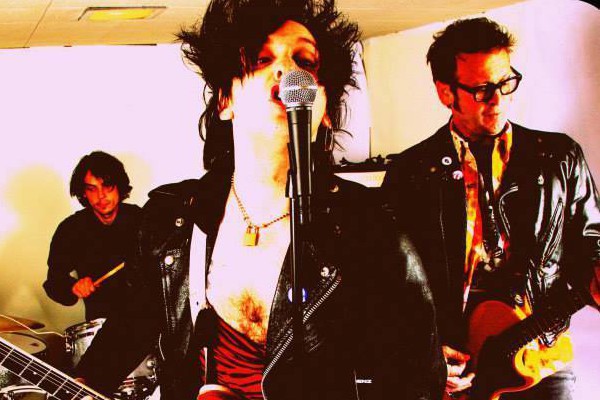 Once again, we are back with a new installment of Collector's Corner, the feature where we ask musicians, DJs, producer, and fans about their record collections. Today we talk to Ryan Switzer of The Disconnects!
The Disconnects are NYC punk rock incarnate. The band kicks out bluesy, slamming three chord punk rock that has touches of New York Dolls, Testors, and Dictators. Their newest record, …Wake Up Dead , is a distillation of the band's core strength. That is to say, it rocks the hell out. Read on to learn about Switzer's favorite records, where he shops, and records that slipped through his hands…
What is your earliest memory of hearing a record? It wasn't a record I heard, but my earliest memories of hearing music was in my dads truck. He would take me to school in the mornings and play Black Sabbath or AC/DC a lot. If he played Tom Petty it was a quiet morning. I was really lucky to be exposed to such cool music at such a young age. He took me to see Sabbath when I was 8! It probably explains why I'm such a delinquent now! Songs that stuck out to me were "War Pigs" and "Electric Funeral." As a child I would listen to the lyrics and my imagination would run wild.
What was the first record that you bought with your own money? My first trip to the record shop I purchased three LPs from the dollar bin. The first of which is still in my top ten ever was Lou Reed's Transformer. The second was Joan Jett's Bad Reputation which is pretty good. The third was Blondie's Auto American, which in my opinion is a stinker. My second trip was much more successful thanks to the clerk who saw me with Elvis Costello's This Years Model and turned me on to other Stiff Records artists like Wreckless Eric, Nick Lowe and Ian Dury. He also gave me Baby's Got A Gun by The Only Ones. That was a great day!
Why do you collect records? The rare music? The art? You like a particular medium? All of the above. It's exciting too. Whether you're shopping at a record store, flea market, garage sale there are records and you never know what you'll find. It's a life long scavenger hunt. Finding the rare stuff is great. I'm also a sucker for different presses and whatnot. Why do I need eight different versions of Johnny Thunders' LAMF? Because I do.
What is the crown jewel of your collection? There are a few that I'm very happy to have, nothing crazy expensive but great original copies of The Nubs "Job" seven-inch. Also an original Vom Live at Surf City and Alan Milman Sect's Punk Rock Christmas EP.I have a bunch of tour-only LPs from The Spits. The covers were made by the band and I'm pretty sure their name is written on there in nail polish! Ha ha! Also, a very cool test press of Kepi Ghoulie I Bleed Rock N Roll with a hand painted cover. Think he did a couple different paintings and I have the one with the sasquatch with bleeding wrists. Other than that I love collecting whole discographies. If it counts the crown jewel of my collection would really be my complete Chuck Berry discography!
What is your most exciting story wherein you tracked down a record that you wanted? I wish I had a cool story but, I don't actively search out records for the most part. If I want something really bad I will just order it. I was also fortunate enough to work at a record shop for a couple years so there were collections of cool stuff coming in all the time.
There's the old adage "You never regret records that you buy, but you always regret the one's you *don't* buy". What record got away from you? There isn't any record that I don't regret buying really. There was someone in a recent collectors corner that said they regret not picking up music from bands they've played with and I feel the same. I've toured across the USA and recently in the UK and I do regret not picking up some of the bands music because some of them were really great and I may never have the chance to get it.
But, is there any record that you *do* regret buying? Yes, Teenage Jesus and The Jerks. I was and still am into collecting New York Punk LPs and I'd read a lot about the band and Lydia Lunch so when I found it I was pumped and decided to pick it up. I paid $50 for an original copy which is fair, but I really didn't like the album. I guess the whole No-Wave thing isn't for me.
How precious are your records- That is, do you play them regularly, or do you keep them safe and locked away? Why collect records if you're just gonna lock em away? I play them all the time. Some of my more rare records I will buy the reissue and play them instead of the original but that's few and far between. They are precious to me though, there are always on the shelf in alphabetical order and in sleeves!
Is medium itself important to you? Yeah I suppose it is being that I'm an avid record collector. I will listen to any format but I prefer vinyl. It's ritualistic in a way. I put a record on and sit back listening, analyzing the cover and liner notes and geek out. CDs are great for the car but I find myself not caring about them as much. I love the sound of tapes too!
What's your white whale record? I'd love a copy of Damned Damned Damned with the misprint of Eddie and The Hot Rods picture on the back, or, an original copy of Jesse Malins first band Heart Attack "God Is Dead" 7-inch. Throw in a Beatles Butcher cover too!
Do you have a favorite record shop?I usually do my shopping at Princeton Record Exchange in NJ, great shop! Generation in NYC , Twist and Shout in Denver, Amoeba, Bleeker Bob's in NYC (RIP)
Any other comments? Keep buying music, support the independent record companies. Listen to everything you can and get inspired. Also, the plural of vinyl is vinyl!!
Just for kicks I put together a playlist of some of my favorite punk.
Radiators From Space- "Television Screen"
The Users - "Kicks In Style"
The Valves - "For Adolfs Only"
Heart Attack - "Shotgun"
Forgotten Rebels - "Tell Me You Love Me"
The Kids - "This Is Rock N Roll"
Alan Milman Sect - "Stitches In My Head / I Wanna Kill Somebody"
Vom- "Punkmobile"
The Shapes - "What's For Lunch Mum?"
The Nubs - "Job"
Detention - "Dead Rock N Rollers"
La Peste- "Better Off Dead"
Controllers - "Killer Queers"
Simpletones- "I Like Drugs"
Victims - "Television Addict"
Automatics - "When The Tanks Roll"
Los Reactors - "Dead In The Suburbs"
Young Canadians - "Hawaii"
The Gizmos - "Progressive Rock"
The Nips - "Gabrielle"
The Banned - "You Dirty Rat"
Uncalled 4 - "Grind Her Up"
The Elevators - "Your I's Are Too Close Together"
The Dils - "Class War"
The Features - "Floozie of The Neighborhood"
Pork Dukes - "Bend and Flush"
The Skunks - "Earthquake Shake"
The Maggots - "Tammy Wynette"
Deadbeats - "Kill The Hippies"
Hollywood Brats - "Sick On You"