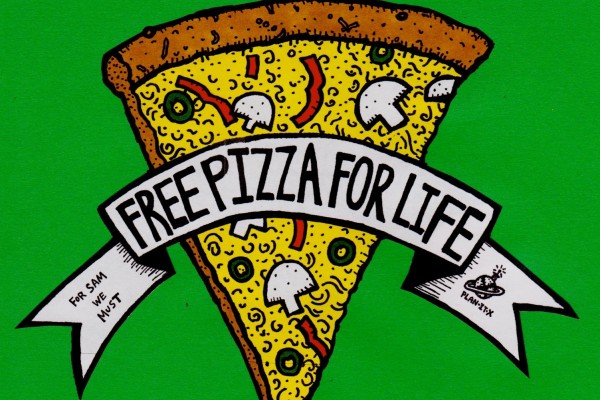 Chris Clavin of Plan-It-X Records and author of Free Pizza For Life will be going on a book tour this month in the south. He will be doing some live readings from the book and his friend Morgan Eldridge will be reading poetry. You can find more information about the tour here.
You can also read the blurb Chris made about the tour and see the tour dates below.
Hey, I wrote this book called Free Pizza For Life. It's not really about pizza (that much), it's about getting into punk and my best friend Samantha and there is some pizza, pizza crime, pizza scams and stuff like that. I'm doing a short book tour DEC 9-13 with my friend Morgan Eldridge. I'll be reading some stories from the books and maybe playing songs. Morgan will be reading poetry. You should come (if you live in the south).
| Date | City | Venue | Other Info |
| --- | --- | --- | --- |
| DEC. 9 | ATLANTA, GA | Parts Unknown | Affordable Art Mart + Chris Clavin (Ghost Mice), Dakota Floyd, Morgan Eldridge, Rebecca Flax & More |
| DEC. 10 | TALLAHASSEE, FL | Franklin Manor | 12/10 Ghost Mice(solo set and pizza crime stories reading), Morgan Eldridge(poetry), Nostradogmus, Murmurs |
| DEC. 11 | PENSACOLA, FL | Ground Zero | Chris Clavin (Ghost Mice) reads "Free Pizza for Life", Solo Show / Morgan Eldridge (Spoken Word) (Bloomington, IN) |
| DEC. 12 | NEW ORLEANS, LA | Clouet Garden | New Orleans Bookfair 2015! |
| DEC. 13 | NASHVILLE, TN | Charlie Bob's East Nashville | FREE PIZZA FOR LIFE BOOK READING Chris Clavin/Morgan Eldridge/Emma Berkey |