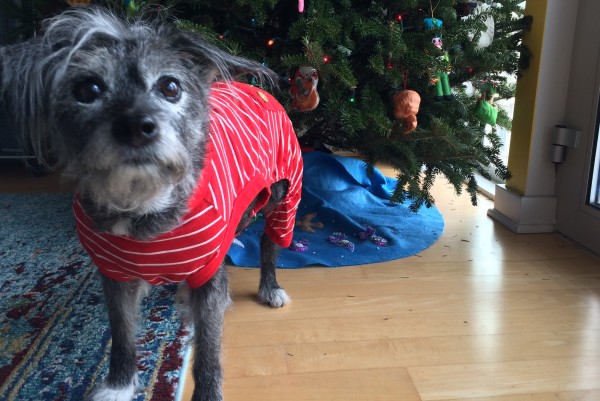 Today we're bringing you the final set of guest year-end lists for 2015. Today's lists come from Officer Bradford, who you all know as the hard-ass cop who never gives the guys in Masked Intruder a break, Todd from Baldy Longhair Records and Tony Teixeira, bass player for the mighty Western Addiction. Today's lists are brought to you by Brillo, whose Christmas sweater is cooler than yours.
Officer Bradford
Officer Bradford is the 5-0 that keeps those Masked Intruder criminals in check.
An Englishman and his guitar. I spent a summer in a decommissioned shuttle bus touring the US with this guy. I'm willing to bet that some of the words and ideas he'd constantly scribble in his notebook later made it onto this album. Minimal but missing nothing. Standout track - "Runaways": A slowly building ballad about the road. Check out the video for some shots from the tour we shared!
A self-indulgent and expansive double album from the most difficult to categorize Wisconsinites. Moments of rock and roll genius peek out of blankets of fuzz and noise. Standout track - "Crop Circle Nation": I'm not entirely convinced that these dudes are from Earth.
Kicking Records
Smart, efficient weirdos from France. Every note and beat perfectly in place and yet subtly bending and subverting the pop pretense. Standout track - "Disconnect the Dots": Disjointed rhythms and melodies manage to lead way to hooks that will have you singing along by the end.
Hectic post hardcore angst out of Chicago. It was the perfect soundtrack to this year's super blood moon phenomenon. Standout track - "Delusion Moon": A well chosen titular track that sets the mood for the whole album.
The Isotopes and I have some history yet I can't seem to quit them. Baseball themed pop punk at its finest. Someone tell the US/Canada border to let them back in the states already! Standout track - "Hiroshima Dreamin": Having just returned from Japan, I found a new appreciation for this jam in all its weirdness.
This much awaited follow up to the self titled debut did not disappoint. Each song is a quick burst of joy and heartbreak all at once flying past and into the next like a relay race. Standout track - "Pretty Girl": This closing song ends the album with an exclamation mark.
Jack Dalrymple's latest endeavor is an exercise in style. The guitars are mostly clean yet full of attitude. Constantly twitching hi hat refuses to let you listen motionless. You're going to move. Stand out track - "Is It True?": Miles's lead guitar glides across the song like a girl at the roller rink.
Phobiact
Israeli pop punks navigate break-neck tempo changes with tight harmonies and instrumentation. Singer Sima's voice jabs like a young Gwen Stefani. Standout track - "Waste of Time": Classic hardcore guitar progressions matched with sometimes salty sometimes sweet vocals.
Oops Baby
Atlanta garage rock all-stars, fronted by Adrian Barrera, sing mostly about being creeps and jerks. You'll want to hang out with them anyways. Hooks spill like quarters from a kicked over jukebox. Standout track - "Backup Plan": The piano driving through the background gives this song a glam feel that I can't help getting behind. Is glamthem a word? It is now.
1.Carly Rae Jepsen: Emotion
I really really really really really really like this album. Standout track - "I Really Like You": I really really really really really really like this song.
Todd from Baldy Longhair Records
Todd runs Baldy Longhair recordings. They put out really cool records by Rentiers, Crazy and the Brains, The Disconnects, The Sick Livers and more! He likes cassette tapes.
"Who WOULDN'T want to read a top ten list from a late 30s dad who works as an accountant by day and runs a bedroom punk label the rest of his waking hours?" That was my pitch to Punknews. Their reply was simple: "Give us $1,000 and a top 10 list of no more than 1,064 words." Thankfully they accepted PayPal and so here we go (in no particular order, sorta). Oh and thank you the Punknews reader for reading my stupid Best of 2015 list. I thought long and hard about it. I had a lot of notes for true. Some notable omissions include Beach Slang and Night Birds. Listen I'm as cuckoo for Cocoa Puffs for those two releases as everybody else is but they're gonna be on a lot of lists so I thought maybe I could squeeze a couple others on mine. Also missing from my list are things that I've only just gotten in the last couple weeks. So as much as I dig the new Leftover Crack and Juliana Hatfield Three albums they didn't meet my strict self-­imposed time requirements. Also not on this list are reissues, cover albums, or live albums. I had to get the number down to 10 alright. Punknews was very clear that each album past 10 would cost me an additional $250.
Not a lot of punk bands as old as they are are still putting out records this good. There's a reason people are rabid about these guys. They can make almost any hardcore band look like Justin Bieber by comparison. Darby Crash rides again and again and again.
Warner Bros.
This album initially annoyed me because it was an RSD exclusive and I have RSD "issues." Also annoying was the blue vinyl was "randomly inserted." After a few weeks I picked one up on Discogs for a fair price and got over myself. Doug Martsch and a band made up of his roadies from his previous tour still do indie rock proud even if my copy ended up being on black. Why can't Pavement still put out records too?
Harvest Records
After their first record this band dropped off for me. A Lot of what followed felt (to me) like more of the same. But I'm glad I gave this one a chance cause it's pretty damn good. I listened to it a lot this summer and hope it's a sign of more good things to come from them. It's winter now so if you're in a not-so-warm climate (like NJ) this might help.
Nuts. Just nuts. Viva Canada! From their freaky music videos to their awesomely packaged vinyl to their music that makes me want to rip my skin off and run down the street screaming I can find no flaw in their game.
El Camino Media
I'd put it next to American Thighs in their cannon and while I don't know if this will be their last record it would be a great way to cap off their story. They went from putting out a breakthrough indie record, to following up with a sorta overblown major label debut, then on to a kinda blah breakup record only featuring one original member and ending at Ghost Notes where all four original members are back and conjuring up everything that made them great at their onset. If you're a sucker for '90s indie rock (like me) you can't go wrong with this one.
I wasn't sure we'd ever hear from these two again after they ran into some "legal troubles" a little while back. But here they are fat-gutted and adorned in costumes that really accentuate their nipples. They're also still at the top of their garage rock game absolutely killing it with songs about killing the wolfman and kissing their sister's fists. Clear purple vinyl too!
It doesn't happen often that I'm listening to a record for the first time and I call up one of my friends before it's even over and start telling them about how great it is. SXE HC for sure but also has an Oi! feel to it which could just be because they're from England and the accents are throwing me. Also at times remind me of Negative Approach stylistically. If you're into HC on any level you need this. Clear gold vinyl looks pretty darn sweet too.
People love Ty Segall. He's good and all but I don't know I think I like his friend and frequent collaborator Mikal Cronin a little more. This one has been in my rotation since I got it. It's a little more Beatles and less Rolling Stones than you'd expect from their camp but man these are some beautiful songs. And the horns! The horns! He gave a pretty sweet interview on Marc Maron this year that made me enjoy this LP even more than I already did. I recommend checking out both if you haven't already.
I only just found out about this guy this year when he signed to Merge. Turkey is his third album (get it?) and it's nine songs in 18 minutes that you'll play again and again and again and again. Lo-­fi ass shaking garage punk that also is funny in a lot of ways. Just look at the album cover. If it doesn't make you happy then you'll probably hate the songs on it. He also has a record called I Hate Jazz. How can you not like this guy?
What's Your Rupture?
I saved this one for last and as much as I didn't want to number these I'd give this the #1 spot if I did. These Aussies rule. Kick ass garage rock stompers like "Need You," "Garbage" and "Electric Shock" and also slower songs like "Wouldn't You Know" and "Carolina" that give all kindsa feels. I read somewhere that their singer is somewhat insane. Why does that always work to a band's advantage? Well it does. In fact if this was a top 10 songs of 2015 list "Carolina" would be my #1. I have no idea how many times I've listened to this one this year but it was a real dang lot.
Here's to 2016! Thanks Punknews!
Tony Teixeira
Tony Teixeira is the base for ace bass in Western Addiction. He puts the bass in its place, which is right in your face, if you will. The band released I'm Not The Man That I Thought I'd Be [7-inch] this year.
It's dark and well recorded. A different attitude than their earlier work. Everything associated with Marked Men is genius in my opinion.
I'll never forget the first time I saw Night Birds live. It was one of those shows where I literally had to take a few steps back from the stage because they were frightening me. I was hooked. This is the best stuff they've done. Angrier, smarter, scarier.
It's like the record I wish Built to Spill would have made. That is in no way an insult. I'm not sure why it took me so long to get into his band. They write smart, catchy pop rock songs that will get stuck in your head. Great recording: nice job, Epitaph.
I grew up loving Good Riddance. They've influenced me a lot over the years. It's always great when a band you love that's been around for a long time and has a huge body of work continues to release ripping tunes. It's one of their best records.
Grave Mistake
A killer collection of b-sides and 7 inches. I had most of this stuff already but it's always nice to have things compiled. Tenement does not have a bad song. In fact many of their best tunes lie on their 7 inch singles. "Spaghetti Midwestern" is one of their best songs.
I couldn't believe how much hype this band got this year, but most of it is definitely warranted. One of the only tasteful nods to Jawbreaker I've ever heard. The recording is very powerful. These guys have integrity and a humble sense. I love how this record sounds.
I've said it before and I'll say it again. Jack has the best voice in punk rock, no questions asked. Its fucking beautiful and brings me to my knees every time. Such a fun record that gets better every time I hear it
What's Your Rupture?
Great melodies, great recording. I can't wait to see these guys live as I've heard they put on quite a show. I can't get these songs out of my head. Excellent pop punk.
I randomly caught Superheaven's set at this year's Fest having never heard them before. It was the closest I've come in many years to getting into a pit. Their live sound is blistering. This band blends Nirvana and Weezer is such a sweet comforting way. Ours is Chrome has a guitar tone, vocal edge, and melody to it that I've been searching for for years. I've been hooked on it for months now.
I like to describe this record as "The White Album of punk." I've been in love with this band since I heard the Napalm Dream LP a few years ago which I consider to be a pop punk / hardcore Descendents-style masterpiece. Predatory Headlights proves that Tenement is a band that can truly do anything. They create interesting, moving, beautiful songs that soar beyond the boundaries of punk and pop rock. This band is very, very special.