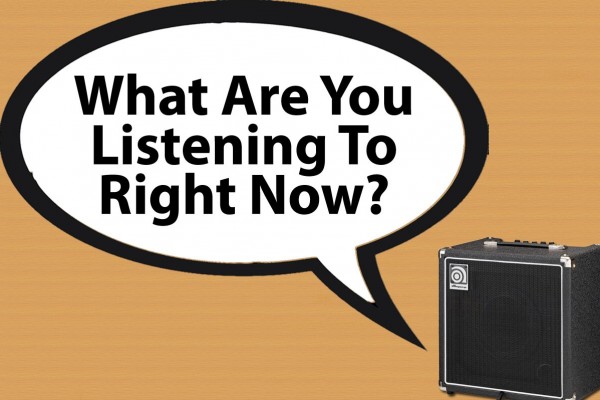 Welcome to a new installment of What Are You Listening To Right Now? Today we've got another roundup of everything we've been putting into our ears lately. Remember, this feature isn't just about us. We want to hear from you, too, so be sure to share what you've been listening to lately in the comments section. You might just help us discover the next big thing.
Gouge Away - Dies
My hometown of Fort Lauderdale is not exactly known for churning out bands. You'll generally hear about us when Florida man does something stupid, a new designer drug hits the streets or an alligator wanders into a grocery store. So it warms my heart to know Gouge Away is cranking out moody, politically savvy hardcore right here in my backyard. On their debut LP, Dies, the band twists and turns through 13 tracks with thoughtful lyrics, chugging riffs and pounding drops, and adds just a touch of the sort of soundscapes you may remember from Paint It Black's New Lexicon. If you think that's a lofty comparison, give Dies a spin and you'll quickly realize, Gouge Away have earned it. -- Adam Eisenberg
Nerf Herder
If you've been on the site at all in the past week, you've seen me talk about Nerf Herder. My review of Rockingham just posted. I've got an interview with Parry Gripp posting soon. Yes, I am a nerd and a punk rocker. I've once again become obsessed with Nerf Herder, and my obsession goes back 20 years now to 1996 when I bought the My Records version of their debut. I've talked at great length about the band in my review of the new album, so let's just play an older song that sums up the band perfectly: "Vivian," the opening track to their sophomore album How to Meet Girls. Gripp is pining about a girl who is a super-smart nerd and he wants her to play keyboards in his new wave band, but alas she's gone away to med school. It's bubblegum Ramones-meets-Weezer geek rock, and if you don't like this you're a sosh or a jock and you don't like fun. -- Greg Simpson
Black Randy and the Metro Squad -- "I Slept in an Arcade"
I've been listening to Black Randy, one of the nastiest, meanest, drugged up scammers to ever grace the LA Punk scene. The music is a weird combination of Bo Didley, Devo, The Eyes, and who-knows-what-else. And the lyrics? Pure misanthropy. The dude was a piece of shit… and he made some fabulous, weird-as-hell music. -- John Gentile
Pinegrove - Cardinal
New Jersey's Pinegrove just released their sophomore album Cardinal, which I played pretty much twice all the way through once I sat down with it. It's a sweetly uneasy mix of country and old school emo, "Then Again" for example mixing twangy guitars and mid tempo punk rhythms. Evan Stephens Hall's rusted, off-key vocals ground this collection about picking yourself off the ground and trying to find the right people to spend your life with. Being (just about) in my mid-twenties so many songs ring true that it's uncanny, and it's good for getting home after a few drinks and lying in bed, staring at nothing. Highly recommended. -- Conor Crockford
CJ Ramone - Last Chance to Dance
If there is one record that did not get the recognition that it deserved in 2014 it was CJ Ramone's Last Chance To Dance. Admittedly, I found a little late to put it on my "Best of 2014" list, but if I had gotten a hold of it before then it would have definitely made it on there. This album is a really fun, lighthearted throwback to the Ramones with CJ's updated edge added to it. It's much more than just Ramones-style punk record though. It is pretty varied in sound. You can hear the influence heavy metal had on his writing style as well as '60s rock and roll. At the same time he honors the Ramones' legacy by still staying true to their overall style of instrumentation. In terms of his lead vocals, he is at his best here. CJ's voice continues to get better and better as his career progresses. Plus, add the fact that he had help from legendary SoCal punk band the Adolescents, how can this album not be great? -- Ricky Frankel