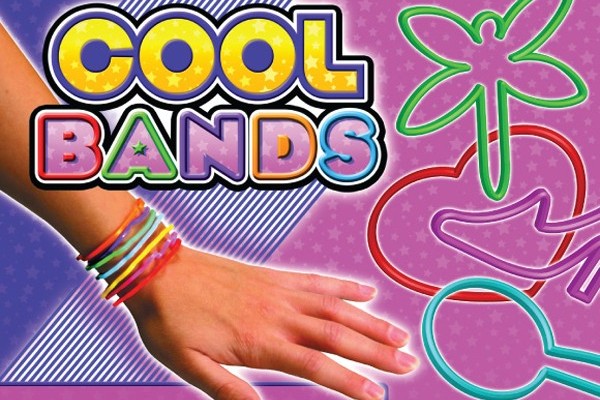 We said it last year, but we're saying it again this year: There are A LOT of cool, new bands just hitting the scene. And more than that, there are a lot of cool band that are diverse from one another. It seems that the punk scene is getting wild and wacky again, and we are very, very excited.
To that end, we've put together a list of 16 cool new bands (or so… math ain't punx) that you should check out this year. As always, this isn't a definitive "16 best punk bands of 2016," it's just a bunch of bands that the Punknews crew thinks are cool. By all means, post your picks in the comment section below!
Bong Mountain
2016 is shaping up to be a big year for Bong Mountain. The Grand Rapids quartet is playing The Fest in October and they just played Pouzza fest. In the meantime, they're going on a short tour and putting out a couple of splits. On September 23, they will be releasing their debut LP You're Doin' Great! (for the record) on Stonewalled, which will contain all of their recorded material to date. Bong Mountain's sound is gruff, catchy pop-punk with plenty of Midwestern angst. The songs are layered and well written and you'll probably find yourself shouting along in no time. This will almost certainly appeal to fans of bands like Hot Water Music and Iron Chic. Pot puns aside, Bong Mountain is definitely a band you should check out in 2016. -Tom Crandel
Dead Elect
Living in the dirty streets of Allston, Dead Elect play rollicking, cathartic bluesy punk, mixing tender, sweaty lead guitar and the kind of charging rhythms that will propel any crowd in a heated basement. On songs like "Good Luck Doll (She's Gone)" and "Flat Iron Blues" from their EP I'm Dead, singer/bass guitarist Brett Folger's swampy, tortured vocals mourn any number of heartbreaks as the band drives forward, finding salvation in their own passion, the barrel-house piano underscoring every grievous wound and muffled drum fill. Their live show is raucous, exciting, and fun as hell – a must see and essential listening. -Conor Crockford
Down Memory Lane
Evoking the sound from the heyday of 90's punk, Down Memory Lane pulls no punches in their modern interpretation of the best that era had to offer- all while still employing the evolved stylings that the years of punk rock in-between have given us. This Montreal five piece band plays tunes that are fast, hard, and catchy as all get out. Featuring guitars that are influenced by the spirit of speedy, heavy punk accompanied by solid bass and percussion, the music is as tight as it can be. Both the main and backing vocals intertwine seamlessly, with the backing enjoyably reminiscent of early Millencolin. This band is highly recommended for fans of energetic, melodic punk rock, especially the mid-90's Fat and Epitaph stable of bands. These songs will get stuck in your head. -Jeff Sorley
G.L.O.S.S.
You have probably heard about the juggernaut of a band that is G.L.O.S.S. (or Girls Living Outside Society's Shit) from when Whirr took a some shots at them over Twitter, maybe you've seen their demo EP on a bunch of "Best of 2015" lists, or perhaps you have already listened to it. Hopefully, it's the latter. This is the band's only release and they have already taken the punk scene by storm. The band is hardly on social media, but everyone knows who G.L.O.S.S. is and what they stand for. If 2015 was just the beginning for G.L.O.S.S., then 2016 should be where they really explode onto the scene whether they tour more or release some new material (hopefully both). If you haven't had the pleasure of coming across G.L.O.S.S. yet let me just say that what you hear on this EP, you get even ten times more when you see the band live. -Ricky Frankel
Hiccup
Do you like three chords buzzsaw guitars? Do you like pop-punk melodies? Do you like music that bops like music from a sock hop but wasn't written for 14-year-olds with goo-goo eyes? Hiccup is the ticket. This band pays homage to the pop-punk heroes while coming at you from the brain of actual adults. Moreso than almost any other band, Hiccup proves that you can rock and be a grown person, and there's more to life than "do-you-like-me" songs. In fact, their monster jam, "Whatev, it's cool" is basically a I-don't-like-you song. That's my favorite kind of song! (Fun fact, a couple of the bandmembers in Hiccup are in the LLC, the Chris Gethard show house band). -John Gentile
Open City
Quite a bit has already been written (mostly by us) about Open City, despite the fact that we've heard no recorded output whatsoever. That's likely to change in 2016, as the band's already noted via social media that they're putting the finishing touches on their debut LP. The pedigree is strong, too, as the band features Dan Yemin (Kid Dynamite, Paint It Black), Rachel Rubino (Bridge and Tunnel), Andy Nelson (Ceremony, Paint It Black) and Chris Wilson (Ted Leo and the Pharmacists). It's hard to think of a not-excellent release from any of those individuals, so getting them together is likely to result in something good. -Adam Eisenberg

Patsy
With two 7-inches on Total Punk under their belt, New Orleans' Patsy has started off strong, and hopefully it's just the beginning. Patsy features Candice from Mystic Inane on vocals, but the band is a different flavor of punk rock than her other project. Whereas Mystic Inane often slides off the rails into experimentation, Patsy stays on the tracks with straight-ahead punk, so much so that you could almost hear the band careening right into a brick wall -- and possibly plowing right through it. Here's hoping there's a lot more to come in 2016. -Adam Eisenberg
Posers
Posers have been destroying Philly for the past year and a half. Indebted to the early English pogo crew, the band salutes the concept of punk as punk was before all the small minded bullshit tookover. And yes, they are influenced by the first wavers, but this no retro show. With fireball Jade Anna on vocals, shredder Rory Cain on guitar, and minor-thunder-deity Johnny Mick on bass, there's no other way to describe this band than "nuclear explosion." I mean, it's got a poppy beat to it, but it's an explosion for sure. -John Gentile
Posture
Posture is two twin sisters and some guy. I think people call the guy "The Lege," as in, "The Legend," but I am not 100% on that. Anyways, this three piece really makes a racket. Fully embracing the distortion-chaos aesthetic of bands like Sonic Youth and Yo La Tengo, the trio will often revel in pandemonium before pulling back the reigns and rolling through some sweet, lo-fi indie rock goodness. So few bands can pull off this style well, but Posture not only does it well, they have release two very, very compelling demo tapes. They also cover the Suburban Lawns which is an automatic two thumbs up in my book. -John Gentile
Pulling Punches
The members of Pulling Punches are all hardcore scene veterans and it shows in their music. Certainly there are marks of the famed NYC and Cleveland scenes in these grooves, but the bands zags where most would zig. "Embracing" introspection and melody, the merges two disparate ends of the hardcore punk scene into a continuum of anger- that is to say, these guys are pissed off, but they've thought about why they are pissed off a great deal before laying down their crushing riffs. -John Gentile
Pure Disgust
Pure Disgust's Chained 7-inch turned a lot of heads in 2015 thanks to the way it injected a surprising amount of melody into classic-sounding DC hardcore. That sound, topped with a too-seldom-heard perspective on race relations, sets Pure Disgust apart and makes them worthy of your attention. In 2016 the band is planning on dropping their first full-length LP on Katorga Works, and if you aren't pacing back and forth anticipating your first listen, well, you should be. -Adam Eisenberg
Rebel Spies
Rebel Spies! is a newer band made up of older guys. The Detroit quintet has an impressive pedigree and features members of Suicide Machines, Hellmouth, Fordirelifesake, HiFi Handgrenades and Telegraph. 2016 appears to be the year we get a Rebel Spies full length to follow up their excellent debut 7-inch, which came out on East Grand in 2014. The band's sound is a loving homage to classic, melodic 80's punk and hardcore. 7 Seconds, Bad Religion, Dag Nasty and Misfits are good starting reference points. Rebel Spies are another great example of the high quality and wide variety of bands currently kicking out the jams in the Motor City. -Tom Crandel
Regulate
Long Island's Regulate have been slowly and surely moving their straight-edge thrash style of hardcore to the forefront of the genre for a couple of years now. You can check off the obligatory energetic live shows and the DIY-ethic. But with their new EP, Years of Rage, Regulate is poised to take on 2016 in a much bigger way. Frontman Sebastian Paba is finding his range as a vocalist and the band as a whole has begun to draw on a variety of musical influences while also keeping their music hostile and gritty. Oh and if that isn't quite enough, check out their cover of Bad Brains' "She's Calling You." Absolutely killer. -Mike Musilli
Shitty Friends
God damn Shitty Friends kick ass. The band has released a mere 7-inch (and a track on a comp) but they've already established that they are the East Coast reigning champs of early West Coast hardcore. Taking the snappiness from the Circle Jerks, the hard smash from the Germs, and the wry humor from the Dead Kennedys, the band busts out mosh worthy bangers that are as intelligent as they are primal. -John Gentile
Thomas Gun
Since 2011, Tommy Gun has been the singer, guitar player and primary songwriter for Grand Rapids' horror punk favorites Murder Party!. It turns out that when he's not writing songs for his main band (or his other band The Westside Rebellion), he's working on material for his solo act. Going by the more proper Thomas Gun, he's just released his newest studio recording You Probably Won't Listen to This. The four song EP features Gun's unorthodox vocal delivery in a folk punk setting. While the stuff he writes for Murder Party! tends to deal with blood and guts, the solo tracks are earnest and from the heart. Don't expect James Taylor though, he's still plenty twisted. -Tom Crandel
Going off the band's own oblique updates, it seems that VCR might already be broken up. That's too bad because this Toronto band is a chaotic mash-up of aggressive synth-punk, cop hatred, and BDSM stories. Singer Sportsboy squawks and screams like Tomata Du Plenty while the band just makes the nastiest 80s computer racket you can imagine. This is wild, freaky, and genuinely messed up music. -John Gentile
Whoopi Sticks
Whoopi Sticks are everything a modern punk band should be. With the sheer rage of Bikini Kill and the damaged perspective of X-Ray Spex, the band rejects the very concept of being a human, all set to a stomping, hardcore Bo Diddley beat. This is raw and savage. Also, the drummer sings, which is cool. -John Gentile