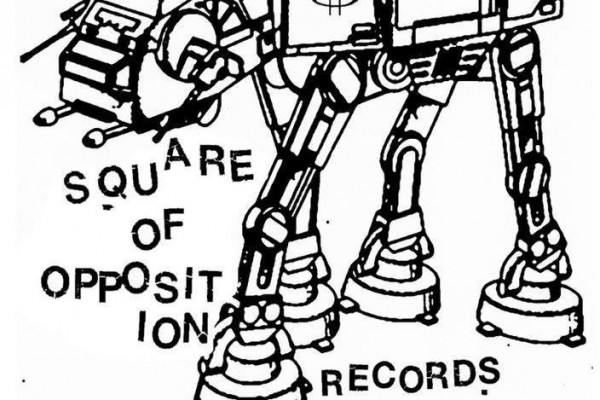 Record label Square of Opposition is throwing a music festival celebrating it's history on July 15, 16 and 17. It takes place in Allentown. The lineup has been announced, which includes bands such as Mischief Brew, Plow United, Iron Chic, Pissed Jeans, and many more.
The festival will also include custom lathes that you can order beforehand. You pick out the tracks you want on your records and they will be pressed live at the fest. There will also be mini-golf.
Chris Reject, owner of Square of Opposition, spoke to Punknews, "Double Decker Records turning 20 is a huge deal: Jamie Holmes has had an immeasurable impact on the DIY scene here, which has led to a very noticeable ripple outward as folks migrate to places like Philly or wherever. I think that's something worth throwing a party for. I don't know if Square of Opposition Records turning 15 is as impressive, but I've certainly lost a lot more money than Jamie, so it'll be nice to get consoled by hundreds of friends over a three-day span. We've lined up some really unique stuff in addition to the bands and vendors that I'm especially excited about - live lathe cutting of 7"s, a mini golf putting green, and even tattooers that'll be permanently etching souvenirs into folks' bodies. Punk is worth celebrating sometimes, you know? It's going to be a fun weekend."
See the full lineup below.
Saturday 7/16
Doors at 4
MARGE (whig, weiss, and gabby)
THE BROOD (ex witchhunt)
PHET PHET (ex paramedic, get bent)
THE HEADIES (delaware, ex martin)
CRYBABY (philly emo, better than beach slang)
GLITTER (philly psych pop, ex snow fairies)
SUMMER VACATION (Winter Break/only east coast set ever!)
DIGGER (travel back in time to the 90's LV pop punk scene)
MISCHIEF BREW (alternative tentacles recording stars)
IRON CHIC (side one dummy/bridge 9/dead broke rekerds)
SNOWING (one more go 'round for the fam, then back to the grave)
Sunday 7/17
Doors at 2:30
BROSKI (lehigh valley twerpcore)
SOUL GLO (philly hc)
ORDINARY LIVES (ex bridge and tunnel, off minor)
THIN LIPS (member of 1994!, ex dangerous ponies)
NONA (one-shot reunion, ex-spraynard)
WHITE PISCES (brooklyn, ex street smart cyclist)
CASSILIS (semi annual live outing, ex snowing/boy problems)
ULTRAMANTIS BLACK (relapse records, nazi killers)
NAH (beats and samples, ex 1994!)
THE BEDS (everyone from slow warm death)
LITERATURE (austin/philly pop sensations, slumberland rec)
SLINGSHOT DAKOTA (LV prom king and queen)
PLOW UNITED (the best live band on the planet)
PISSED JEANS (sub pop, ex gatecrashers)
--------------
Friday 7/15 (PreFest/*NO advanced tickets*)
Doors 6:30
[Venue TBA/not merchants square]
DOGS ON ACID (jade tree, ex algernon/snowing)
SPILL (broken world media, ex we were skeletons)
FLORENCE & LIBBY (penns woods hardcore)
CASUAL (nj pop punk)
KIDS (pocono woods hardcore)