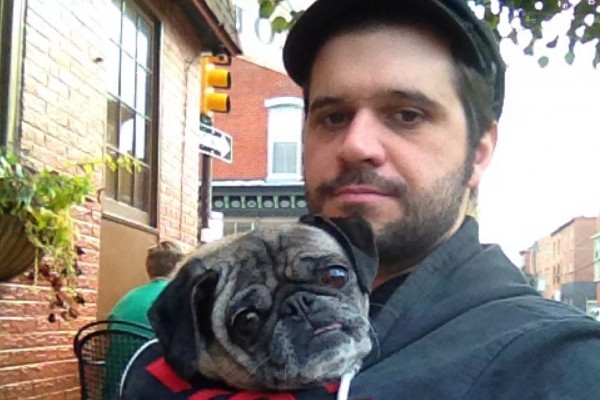 We have some terrible news to report. Erik Petersen of Mischief Brew passed away recently.
Mischief Brew was preparing for a European tour and had released This is Not for Children in 2015 via Alternative Tentacles.
Petersen became interested in punk rock as a teenager. After playing in high school bands, he formed The Orphans, his first band to release an official studio recording. The Orphans made a name for themselves in the local Philadelphia and West Chester scenes with their Germs meets skate punk style.
After the Orphans broke up, Petersen formed the short lived Kettle Rebellion, which would be a precursor to Mischief Brew. The band played a few shows before folding, but not before recording an album that would eventually be released in 2014 as Kettle Rebellion .
Petersen then began recording as an acoustic, solo artist. This project would eventually use the name Mischief Brew.
Mischief Brew's first incarnation was fairly unique for the time, blending anarcho punk with folk and medieval imagery. Eventually, the project would become a band and record acoustic and electric tracks. The band's first album was Smash the Windows , which was an almost fifty-fifty mix of anarcho punk and folk music. Then, in 2011, the band released The Stone Operation. , which was a substantial evolution for the band, finding them delving deeper into anarcho punk, using Crass and Rudimentary Peni as reference points. Their third and final full length, This is Not for Children , was released on Alternative Tentacles and again found the band evolving. This release bore the traces of the post-Crass record scene, with the clean propulsive style of bands like New Model Army.
The final incarnation of the band included Shawn St. Clair, Petersen's brother Chris Petersen, as well as the occasional appearance from early member Chris "Doc" Kulp. The group also released several archival releases which documented the band between their albums, including Songs from Under the Sink and Bacchanal 'N' Philadelphia .
Petersen is survived by his wife Denise as well as their treasured pugs, which adorned many Mischief Brew items. The band's final show was on July 8, with Culture Shock and World/Inferno Friendship Society. You can read a statement from editor John Gentile below.
John Gentile's statement

I thought it would be nice to say a few things about Erik outside of the "news" context because he was an incredibly important figure to me. My very first band interview ever was with Erik at Philadelphia's LAVA space, an anarchist center, for now-defunct Origivation magazine. Erik was full of warmness and always seemed to shuffle a sort of impish glee with a solemn understanding of the world itself. It was a rare combination that I don't think I've ever seen in anyone else.

I had to the pleasure to interview Erik many times, and each time, found him to be a thoughtful, intelligent, gentle soul who truly lived by the golden rule. People often say "So and so was a great guy." Well, Erik really WAS a great guy and I don't know a single person who could say anything bad about him at all. He was intelligent, funny, kind, and generous. A better person you'd have a hard time finding. And his music? I, personally, will always treasure that, because it is, without a doubt, some of the greatest music, regardless of genre, that I have ever heard, ever. Erik, thank you for your friendship, generosity, insight, and creativity.

Erik Petersen, you will never be equaled.