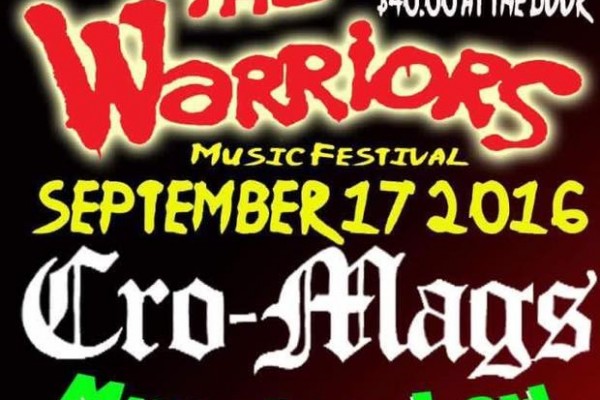 Warriors Music festival took place on September 17 in Coney Island, NY. The festival was in celebration of the movie The Warriors and included appearances from actors in the film and band performances. Bands that played the fest included Cro-Mags, Murphy's Law. G.C. Mashers and Crazy Homicides. Well, according to Cro-Mags frontman John Joseph, things did not go as planned. According to Joseph, the promoter Eric Nyenhuos did not pay any of the bands on the bill. Bands were informed that they had not been paid before the fesitval took place, but played the festival anyway on the promise that they would get paid the next day. Joseph states that no band has been paid yet. The Festival suffered apparently similar issues last year as reported by Adweek. You can see Joseph's statement on the issue below.
John Joseph Statement:

"Definitely not my style to come on here and put someone on blast. But this drug addict ASSHOLE right here, Eric Nyenhuos who promoted The Warrior Fest - ripped everyone off for tens and thousands of dollars. He lied and bullshitted his way since Saturday even faking a heart attack (his meth-head girl called 911) because people wanted their money and shit was about to get ugly for him. Do not trust this guy ever! He's a low-life P.OS. who swore he's a friend and would never rip us off. Well, all I can say is I hope it was worth it because he's in a world of shit right now on many, many levels. And btw us and Murphy's Law (who also got ripped off) both played for our people who came out. 'Cuz that's what men with HONOR do… unlike that parasite. Please spread his photo around - This ain't no Warriors Movie dumb ass - this shits for REAL and you ain't gonna be running much longer - people in his home town of San Diego have been alerted - a dude went to prison for doing a similar thing for a fest he promoted - he'll be lucky if he ends up there - PLEASE SHARE THIS!"